Here's a fun Warhol for kids lesson — making your own original Campbell's Soup canvas. Andy Warhol popularized this image with his large, multi-colored prints, and now you can have fun with the same image.

I'm providing a can template below so all you need to do is trace it on to dry wax paper, color with Sharpies, and then decoupage on to a canvas. It will look like you drew on the canvas, without the risk of actually doing so.
MATERIALS
Canvas board or stretched canvas, 11″ x 14″ size
Sharpie marker, ultra fine tip, black
Sharpie markers, fine tip, assorted colors
Scissors
White glue
Paint brush, I like the foam ones because no broken bristles come off
DIRECTIONS
Trace Campbell's Soup can template on to dry wax paper with a thin black Sharpie. Color the can and the background. Cut out with a scissors.
2. Mix white glue with water, 50/50 ratio. Brush watery glue on to canvas and also brush on to back of drawing. Place the drawing on the canvas and brush more watery glue on top to saturate. Brush off excess with fingers. Smooth with fingers again to eliminate and bubbles. Let dry until it is no longer sticky, usually 30 minutes or so.
3. When the dry wax paper dries, it kind of shrinks on to the canvas and looks like you drew on the canvas. A great way to get the look without the risk of actually drawing right on the canvas. A much more practical solution.
Warhol Trading Cards
If you are familiar with Andy Warhol's art, then you might know that he celebrated repetition that came with popular art images like the Campbell's soup can. I made an ATC template that you can download so students can come up with their own creative soup flavors.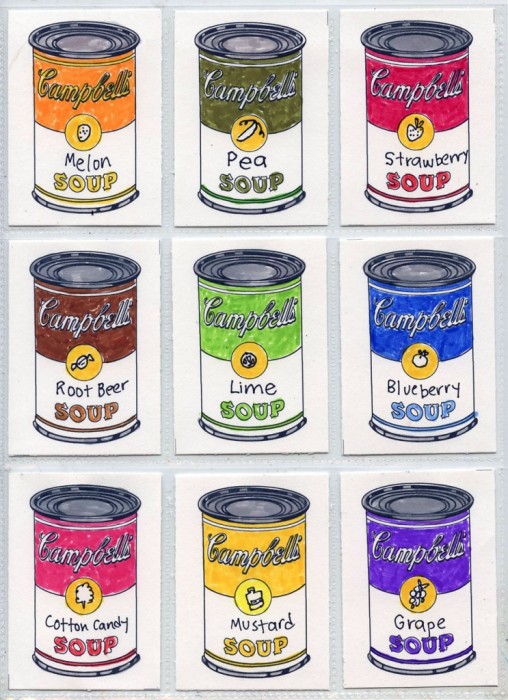 MATERIALS
Drawing paper
Printer
Marker
DIRECTIONS
1. Print one sheet of soup can drawings on white card stock paper for each student. They are to color the top half with any marker color. I like the Stabilo brand you can find at Aaron Brothers.
2. Using the color for inspiration, students write in the flavor of their soup with a thin black marker.
3. An icon drawing that describes their soup is added inside the circle. For example, the Strawberry Soup has a strawberry that is drawn inside the circle.
4. When all 9 cards are colored in with markers, they are cut apart on the crop lines. Slide them into plastic trading card sleeves that you can find at Staples, and have fun!
Warhol Soup Can Label
Pop artist Andy Warhol wanted to make a statement about art being everywhere – even in grocery stores – hence his famous Campbell's soup can.
Students can color my printed PDF label that has the vital logo in place, and an empty space to fill in with a creative new soup flavor.
MATERIALS
Drawing paper
Printer
Marker
Soup cans, old, washed
Tape
DIRECTIONS
1. Save your old soup cans and wash them carefully. Download my label template and print one for each student.
2. Students are to think up their own soup flavor, and write the name center bottom. A small symbol of that flavor needs to be drawn in the circle. All pencil lines are traced with a black marker.
3. Students color their label with markers that match their soup flavor.
4. The label is cut out and wrapped around an empty can, open side on the bottom and sealed with tape.