Here's an idea for using leftover textured paper from a Coffee Filter Tree Collage. I have a hard time throwing any of it away, it's just too pretty.
MATERIALS
• Large Coffee Filters, 13 x 5 size (Amazon link)
• Plastic Embroidery Canvas
• Recollections Card Stock Paper, blue
• Recollections Card Stock Paper, black
• Crayons
• Plastic plate (not pictured)
• Liquid Watercolor Paints. I tried the watercolor tray variety, but just couldn't get the colors bright enough for my taste.
*The above product links are referrals. If you click through and take action, I'll be compensated a small amount, at no extra expense to you.
DIRECTIONS
Supplies needed for tree project.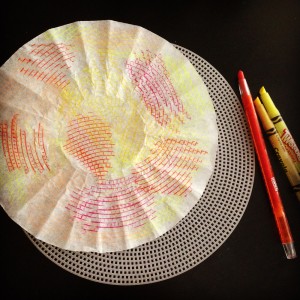 1. Make lots of scribble, scrabble crayon rubbings. A blotchy bunch of colors are all you need to make an interesting tree.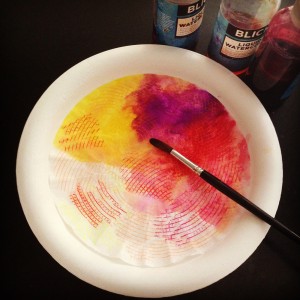 2. Place coffee filter on a paper plate and paint. (It's best to avoid coated paper plates as they seem to stick to the filters a bit.)
Have fun experimenting with overlapping shapes and adding dots for possible flowers. Paint at least two filters and let dry on your plate.
3. If the filter is wrinkled after drying, run an old steam iron over it to crisp it up. Cut out cloud shape tops, and black cardstock trunks. Don't be afraid to have the sides of the trees go off the paper so that they can all fit. Glue all down with glue stick. Cut out additional leaves from scrap paper and glue. Note: Another option shown here is to make grass with green crayons and paint.
Art Projects for Kids
Average rating:
0 reviews