I found this witch drawing easy for students (with a little help), and also a good lesson about symmetry. Join my email list below to get a complete tutorial.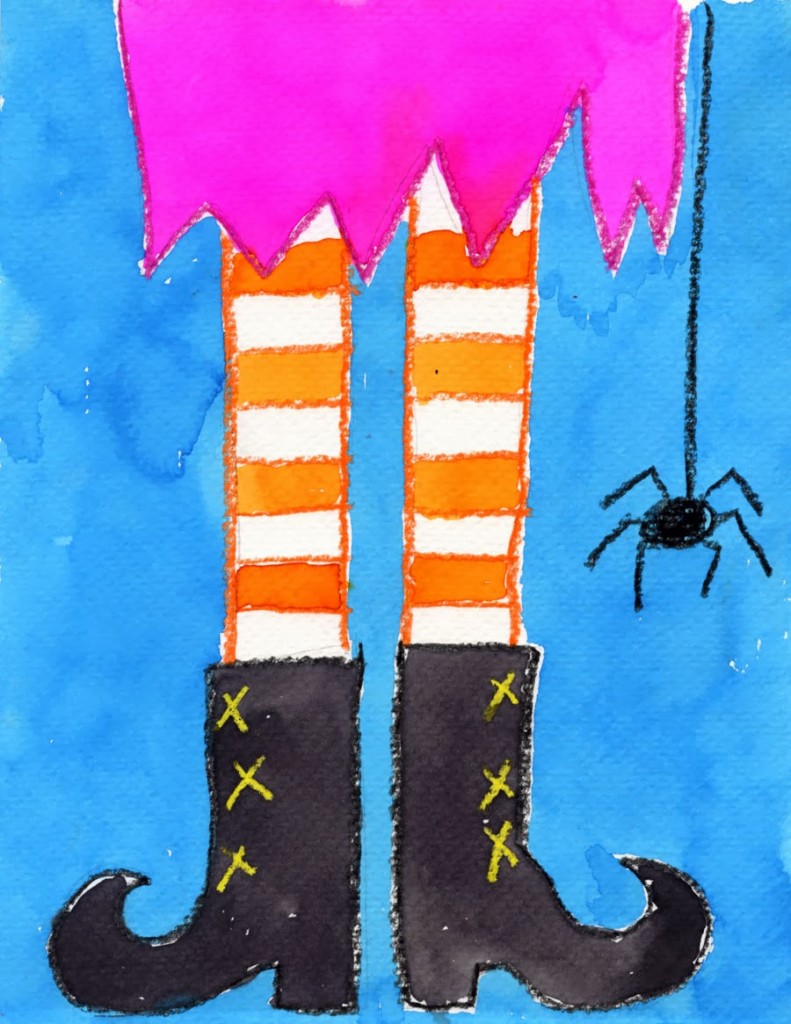 This drawing project offers colorful seasonal fun, and some good symmetrical drawing practice too with those curvy, funky boots. It's unique point of view also shows students how their art doesn't always need to fit on the page. You can crop things to just focus on the fun stuff, like curly black boots and a spider.
To download this tutorial (which even has a handy shoe template) just join my email list. You'll be the first to know about new tips and products and special sales. As soon as you click on your confirmation email, the PDF file will pop up for you to save and print.
Like to learn how to draw this?
Subscribe now to find out why over 14,000 teachers have joined my email list. You'll receive drawing tips and updates on new projects from someone who has spent hundreds of hours drawing with children.
MATERIALS FOR DRAWING WITCH FEET
PDF Witch Feet Tutorial (see above)
*The above product links are referrals. If you click through and take action, I'll be compensated a small amount, at no extra expense to you.
DIRECTIONS
Students start drawing the boots in very simple steps. For instance, two centered lines for the backs of the boots, then the right and left heel, then right and left toe, and so on. I've found that students are better able to match shapes in this manner. After the shoes are drawn (in pencil), the legs are added above and a zig-zag hemline.
Trace with crayons, including X's on the boots.
Paint the drawing with liquid watercolors. I find they make the brightest colors.
LIKE THIS DRAWING PROJECT?
There are more fun and easy drawing tutorials like this one, in my HALLOWEEN DRAWING ebook. It contains 25 brand new tutorials that first timers can try out to draw new shapes, and the more experienced can use as a starting point before adding their own twists, and details, and shadows.
Each project includes easy to follow step-by-step tutorial, a full size line drawing for reference, and finished color sample. Just click on the title or book to learn more.