Looking for some bee art for kids projects simple enough for kinders? Try these simple shapes that are cut and glued for a cute collage.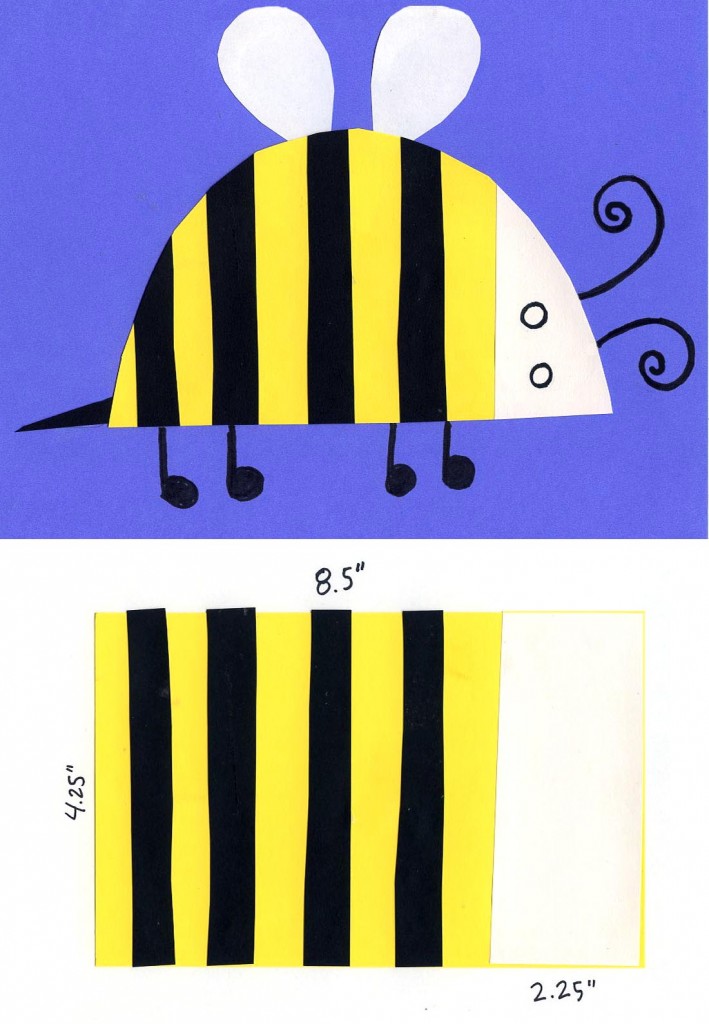 I think it's a good way to introduce children to collage as the colors are fun and bright and the cutting is pretty basic.
Older students (2nd and up) could take the same approach and make smaller bees for display or for their art journals. Using circle templates and strips of black and white paper will make it easy to assemble a swarm of little flying insects.
MATERIALS
Card stock paper: yellow, black, white, purple
Paper cutter
Scissors
Glue sticks
DIRECTIONS
PREP FOR SINGLE BEE: Cut yellow paper in quarters, or 5.5″ x 4.25″. Cut white in 4.25″ x 2.25″ rectangles. Cut black card stock into 5.5″ x 4.25″ rectangles.
1. Students glue white rectangle to one side of yellow paper. Students cut strips from the long side of the black paper and glue them with a glue stick as shown.
2. The yellow paper is turned over, and a half circle is drawn and cut on the line.
3. The body is glued to the center of the paper. Wings are cut from white, and glued under the top of the bee.
4. Legs, eyes and antennae are drawn with a black marker.