If you've every tried painting on a paper towel, and enjoyed the way the color just soaks in, then you will love this fall tree art project. Turns out that coffee filters create the same effect, but as a bonus, are great for crayon rubbing too. They are both thin and strong, which is perfect for some colorful rubbings. Put that together with some liquid watercolor paint and you have all the makings of a beautiful fall collage.
MATERIALS
• Coffee Filters, jumbo size
• Plastic embroidery canvas
• Recollections card stock paper, blue
• Recollections card stock paper, black
• Crayons
• Plastic plate (not pictured)
• Liquid watercolor paints (I tried the watercolor tray variety, but just couldn't get the colors bright enough for my taste)
• Old steam iron (optional)
DIRECTIONS
Assemble materials needed for this project.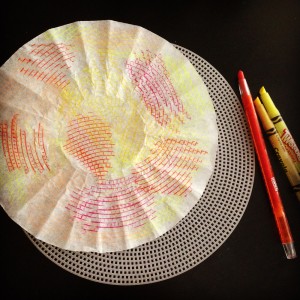 1. Make lots of scribble, scrabble crayon rubbings on two coffee filters. A blotchy bunch of colors are all you need to make an interesting tree.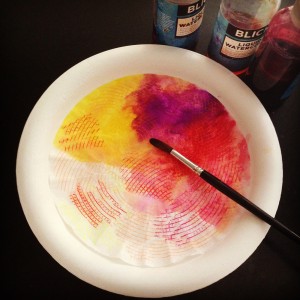 2. Place coffee filter on a plastic plate and paint. Have fun experimenting with overlapping shapes and adding dots for possible flowers. Paint at least two filters and let dry on your plate.
3. If the filter is wrinkled after drying, run an old steam iron over it to crisp it up. Cut out tree shapes from filters, and tree trunks from black card stock paper. Don't be afraid to have the sides of the trees go off the paper so that they can all fit. Small leaves may also be added at the bottom. Glue all the papers down with aglue stick.
Save
Save
Save
Save
Save
Save
Save
Save
Save
Save