A fun Giacometti art project is drawing a skinny body with glue on black paper. It will look a lot like the unique metal sculptures he is famous for.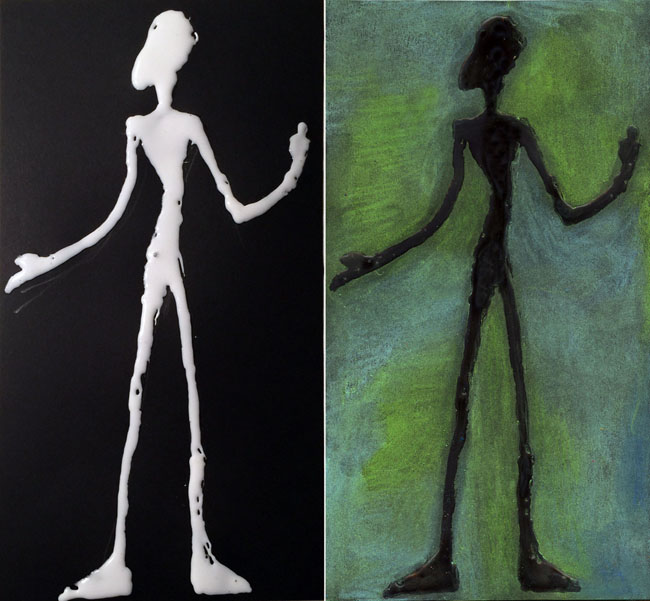 Drawing these Giacometti inspired figures with glue is the perfect way to match the texture in his famous sculptures. It turns out that the glue kind of naturally makes some very bumpy looking bodies, which is exactly the texture that Giacometti's work had in real life.
I've made a tutorial to help students draw their own figure in a pose of their choosing. All they need to do is sketch it in pencil, trace it with white glue and let dry. The dried glue will stay black, so it's very forgiving when it comes to filling the background in.
MATERIALS
*The above product links are referrals. If you click through and take action, I'll be compensated a small amount, at no extra expense to you.
SESSION ONE
Students draw guidelines on a sheet of 6″ x 11″ sheet of black cardstock or construction paper.
A figure is drawn as desired with pencil.
The figure is traced and filled in with white glue. Allow to dry overnight.
SESSION TWO
Students choose 2 or more chalk pastels and color randomly all over the paper.
Important: the chalk must be blended with fingers to create a smooth look and to get color in all the edges close to the glue.
The glue figure is rubbed carefully with a tissue so that stays black.
Spray with a fixative or hairspray to minimize the dust.