Once you learn how to draw a shark with this step by step tutorial, add some realism with a little watercolor paint. See below for some painting tips.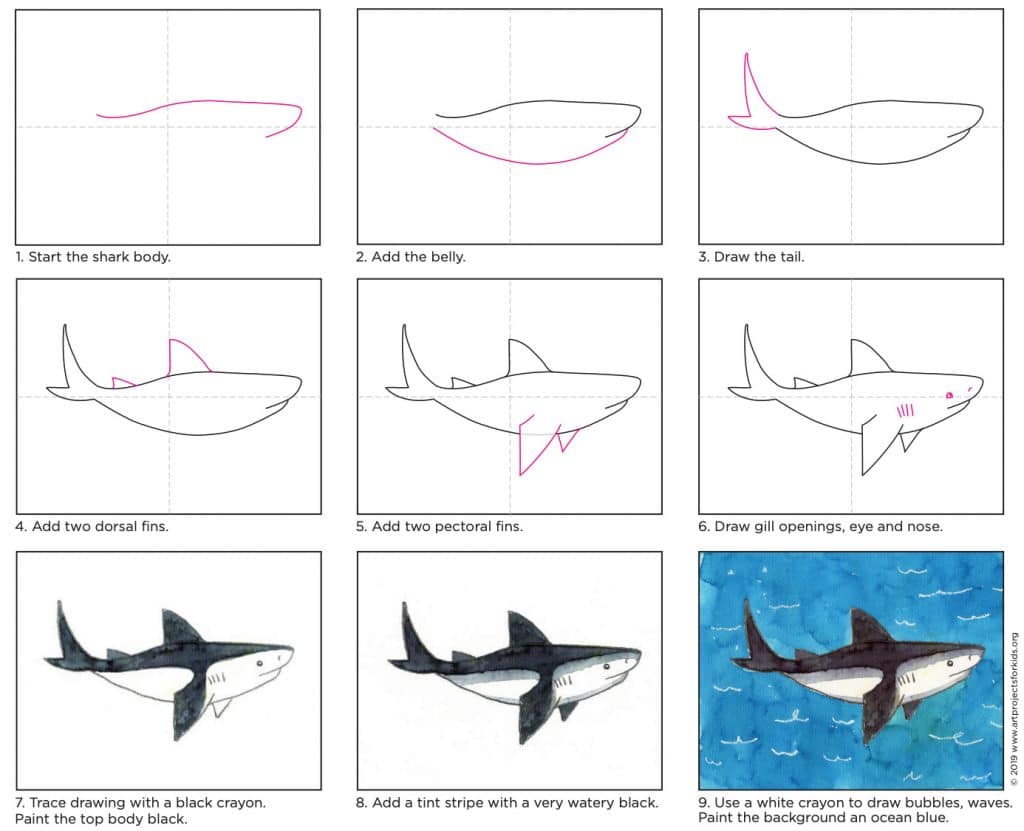 If you paint his top a shadowy black, and then the sides a watery gray, you end up with a very dimensional, and striking, shark painting. Make sure you have a good small brush and use just a little water to keep those puddles from happening.
MATERIALS
*The above product links are referrals. If you click through and take action, I'll be compensated a small amount, at no extra expense to you.
DIRECTIONS
Time needed: 1 hour.
Draw a Shark
Start drawing the shark body.

Add the shark belly.

Draw the tail.

Add two dorsal fins.

Add two pectoral fins.

Add the gills, eye and nose.

Trace the drawing with black crayon. Paint the top black.

Add a tint with very watery black paint.

Use a white crayon to draw waves and paint the water blue.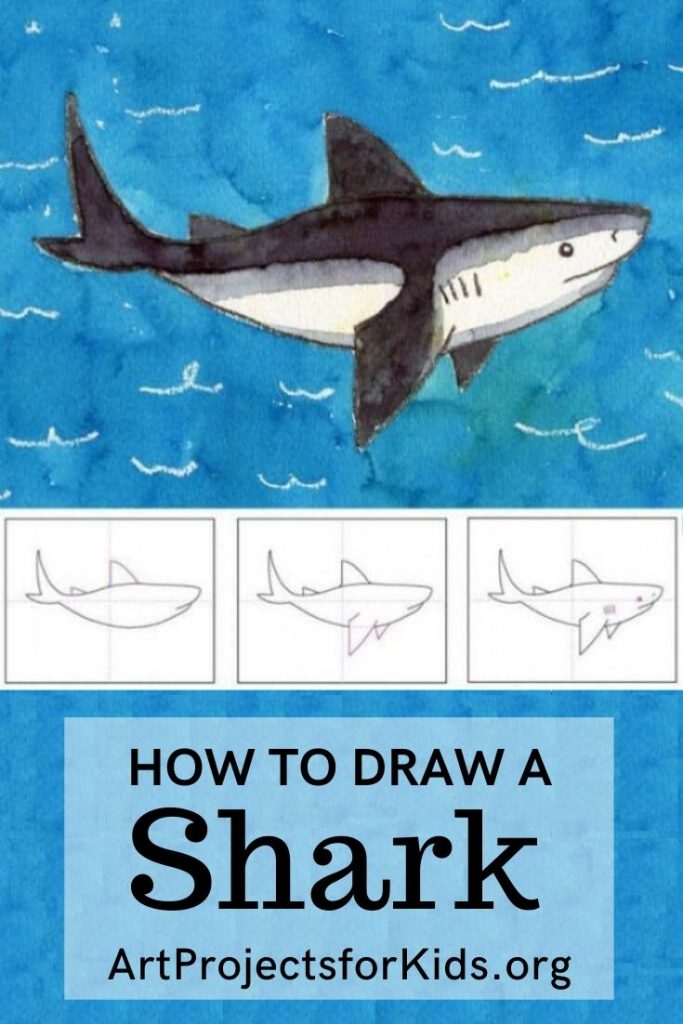 Paint a Shark Head
This great idea for a shark drawing comes from Dream Big Kinders, and I knew that my first graders would love it.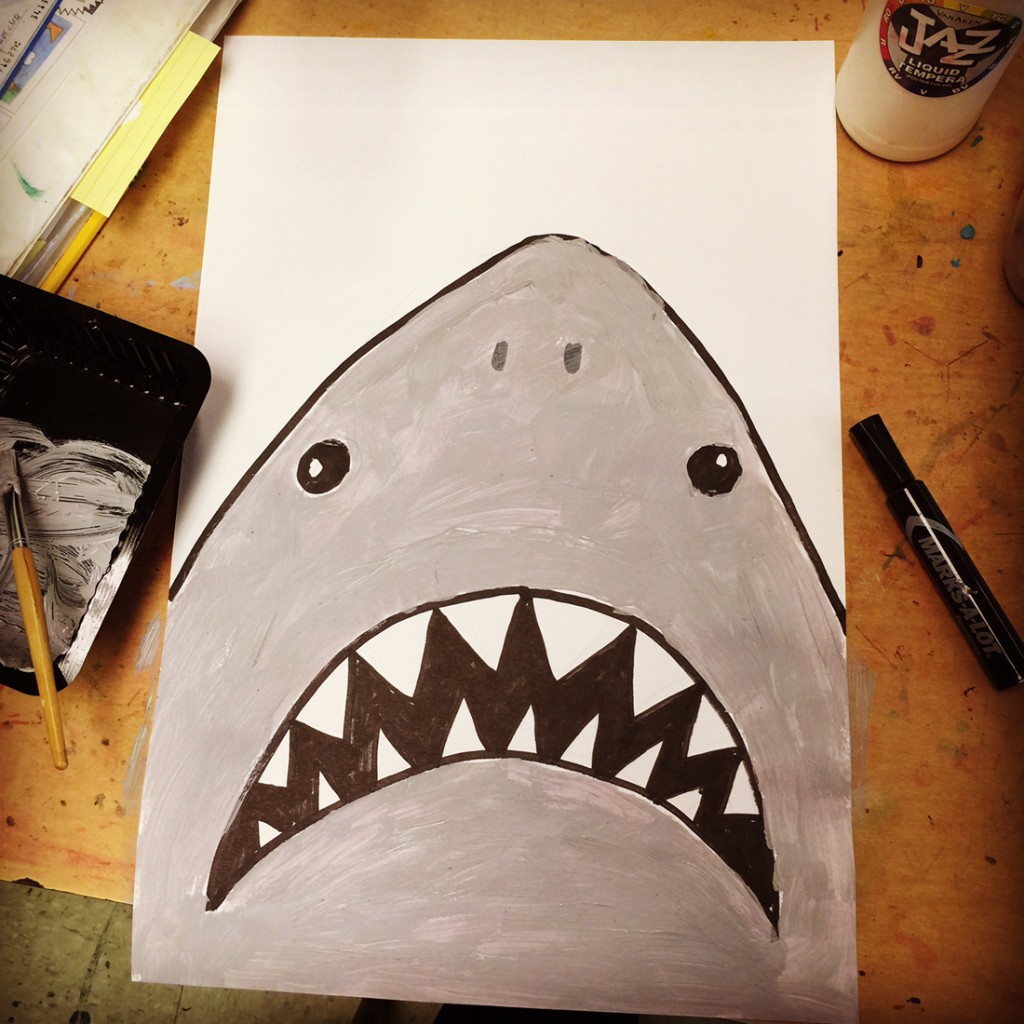 Instead of a collage though, turn the shark into a painting project to learn how to mix gray. It works great for tinting and shading for older students. Try adding a little more black to one side so the shark has a shadow.
MATERIALS
Multimedia paper
Black Sharpie marker, chisel tip
Tempera paint, white and black
Paint brushes
DIRECTIONS
Fold and crease their paper in half both ways to help draw a symmetrical image.
Draw the shark mouth, centered on the middle fold.
Draw the eyes above the mouth.
Draw the outer shape of the shark.
Add details, such as the teeth and nose lines.
Trace the shark drawing with a thick black marker. The inside of the mouth is colored in with the marker.
Mix gray paint (black + white) to paint the shark body.
Shark Drawing with Crayons
Here's my favorite way to make a simple shark drawing, and modify it for different grade levels. Younger students learn about symmetry, older can add a shadow.
This is an example of how I learned to modify a lesson to work with different grade levels throughout a week of classes. It's the best solution I found after years of trying to constantly do different projects for EVERY grade. That's a lot of draining work. This keeps thing simple and allows you time to make one really GOOD descriptive step-by-step display for your classroom. Students can visually absorb the information, and they are encouraged to answer their own questions with it accordingly.
MATERIALS
Cardboard for template
Drawing paper, 9″ x 12″
Black marker, I like Staples Chisel Tip
Crayons
DIRECTIONS
PREP: Cut a half head template for each student out of cardboard.
Fold the paper in half and place the template on the fold (note symmetry lesson) and trace with a pencil. Open the paper, flop the template, and trace again (note again that symmetrical shapes have a line of reflection). Draw the mouth by making two symmetrical "frowns". Add the rest of the details, such as teeth, eyes, nose and water setting.
Trace the drawing with a thick black marker.
Color the shark with crayons. Older students (2nd and up) make add a shadow by changing the VALUE of their shark drawing.
Draw a Cartoon Shark
This shark head drawing tutorial has all the angry biting motion that seems to thrill a lot of young students. The slight cartoonish feel though still keeps it on the fun side.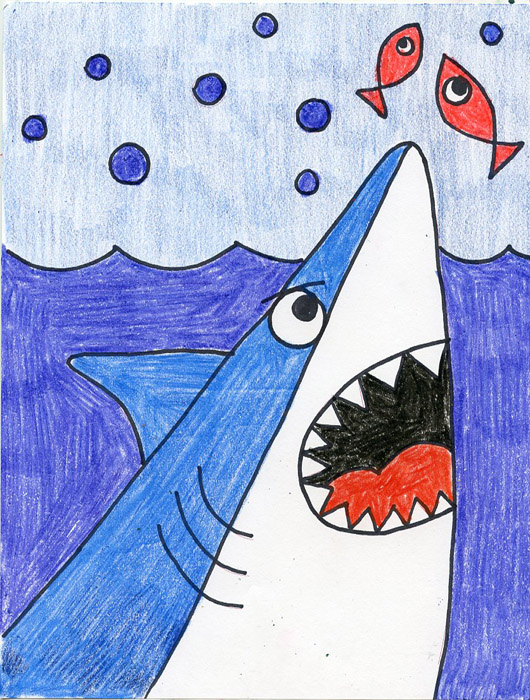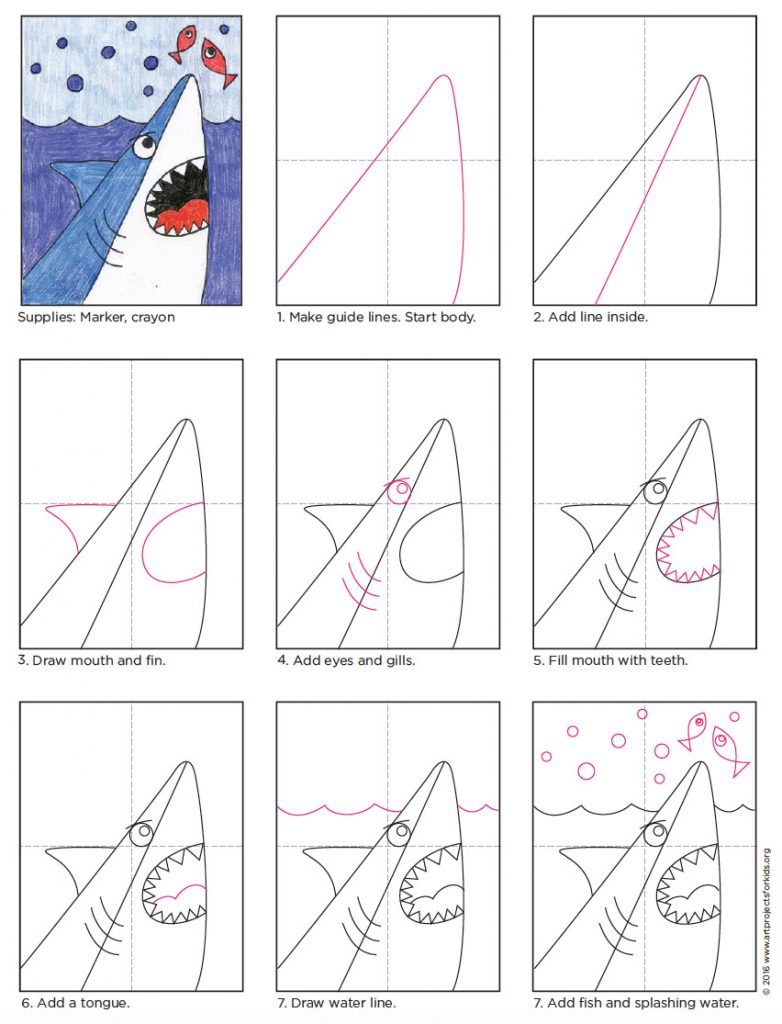 MATERIALS
Drawing paper
Black marker
Crayons
DIRECTIONS
Prep: Print tutorial for each student.
Draw guide lines on paper or fold to make creases.
Students follow the tutorial to draw the shark in pencil.
The shark is traced with a black marker.
The shark is colored carefully with crayons.