I created this Jasper Johns project for kids so they could make a miniature version of his paintings, and recycle an old CD case as well.

Students can get as messy as the want with their painting and the numbers will still show up because they are raised. Plus it's a pretty good way to recycled some old CD trays, which I hear have half life of a gazillion years or so.
MATERIALS
Old CD case, 1/4″ thick version
Gesso
Acrylic paint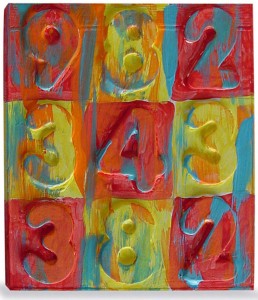 DIRECTIONS
Peel and arrange six 1 1/2″ foam numbers on an old CD case.
Paint everything with gesso to make the background opaque, so the entire CD front and sides are white and let dry.
A second coat of gesso is painted over all and let dry.
Draw checkerboard lines between the numbers. Choose two colors of acrylic and paint the board in a checkerboard style, let to dry.
Use one color of acrylic to "dry brush" a few vertical strokes in random spots.
Finally, paint one last color in the same manner. Note: Restraint is needed here, the goal is to have a layered look with all of the colors still showing at the end.
Note: This post contains an affiliate link.
Save
Save
Save
Save
Save
Save
Save
Save