Here's a lesson about the Mayflower for kids to trace and paint. It's a map of the Mayflower's journey, and will look old and wrinkled when complete.
• View and download PDF Mayflower Map for Tracing

MATERIALS
• Printed copy of tracing map for each student
• Tracing paper or Sandwich Paper from restaurant supply store, like Smart & Final
• Tape
• Black Sharpie, fine tip and ultra fine tip
• Brown markers or pencil crayon for boat
• Watercolor paint, I recommend the liquid kind
Note: List contains a affiliate link.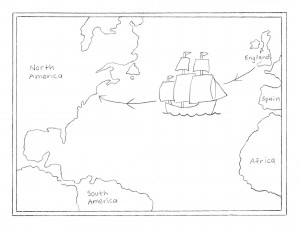 1. Click on this map and download to your desktop, or download PDF from list. Print a copy for each student.
2. Tape a sheet of tracing paper over the map, trace with a Sharpie marker, and add details such as border, trees, ocean life.
3. Finish by painting with watercolor paint. Recommend light painting with as little water as possible to avoid puddles. Let the map draw taped to the back sheet. Remove when dry.
Save
Save
Save
Save
Save
Save
Save
Save
Save
Save