This Metal Tooling Sun art project needs two circle templates to get started. It's only taken me a few years to learn to find ready-made ones, as in old CDs, and the inside of a roll of masking tape.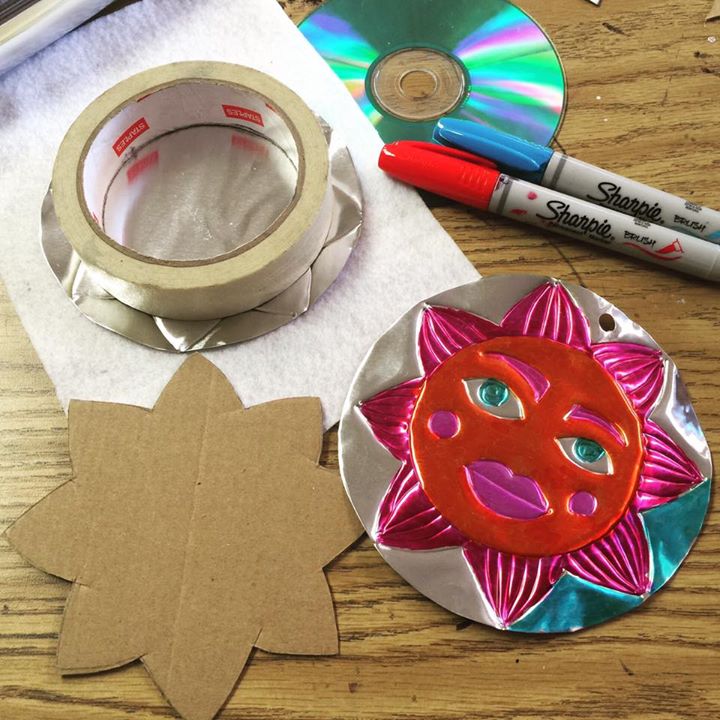 MATERIALS
• Chipboard for templates
• Metal tooling
• Scissors
• Masking tape roll
• Felt
• Pencil
• Sharpie markers, brush type
• Hole punch
DIRECTIONS
PREP: Make sun templates from chipboard. Cut metal tooling into circles, a little larger than the template. Cut felt squares a little larger also.
1. Students place tooling circle on the felt. They trace a sun template on top with a pencil.
2. A roll of masking tape is used to draw a circle for the face.
3. Details are added by continuing to draw heavily with the pencil. The goal is to make clear indentations.
4. The sune is colored with Sharpies. The brush markers are recommended as they easily color in all the textured lines.
This post contains affiliate links.
Save
Save
Save
Save
Save
Save
Save