This tree collage art project is a great way to teach young artists about cutting and overlapping shapes. The branches are simplified to keep things easy.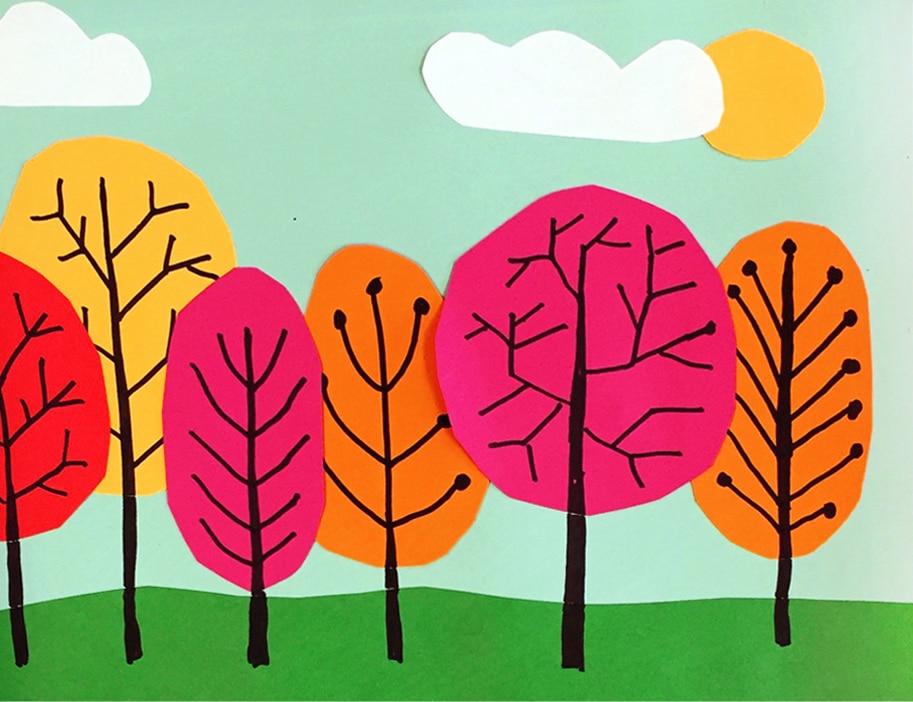 ABOUT THIS PROJECT
This pretty tree collage is obviously just cutting ovals and drawing some abstract trunks and branches with markers, but it teaches a lesson that sometimes things we look are bunched together, and one may be in front of the other.
The easiest way to get this look is not to glue down all the ovals, and then draw all the branches. Students will have a hard time imagining how the marker lines are to end with the background trees.
I recommended that you have students cut 3 – 4 background trees, that are cut, glued and drawn. Then they cut 2 – 3 foreground trees, that are cut, glued and drawn. Then the overlapped branches will happen naturally.
MATERIALS
• Card stock paper: blue, green, yellows, reds, oranges and white*
• Scissors
• Glue stick
• Sharpie marker, fine tip, black*
*The above product links are referrals. If you click through and take action, I'll be compensated a small amount, at no extra expense to you.
DIRECTIONS
PREP: Cut green card stock into long strips, about 2″ x 11″. Cut yellow, red, orange and white card stock into rectangles about 3″ x 4″ or so. This will help you save paper, yet give students lots of colors to choose from.
Take a strip of green paper and cut one long side so that it has a wavy edge. Glue it to the bottom of the blue paper.
Choose 6 to 7 precut squares and rectangles of warm colors. Cut the squares into circles and rectangles into ovals.
Select about 3 cut shapes to be the background trees. Glue them down with space in between and draw a trunk and some fun branches with a marker.
Decide which 3 or 4 trees are going to be foreground trees. Glue them down, overlapping the others, and finish with drawing trunk and branches.
Add white clouds and a sun in the space left over.
Save
Save
Save