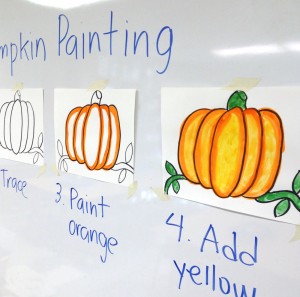 Here is a look at my how to paint a pumpkin instructions, if you'd like a peek at one of my classroom boards. I wanted students to see how easily they could make a dimensional looking pumpkin. Drawing a circle and painting it orange would not produce nearly the same results, so it was important to follow these steps. And after finding this idea recently at Grande Park Art Blog, I was really happy to see how well it worked. Very simple, but so effective in creating you-can't-go-wrong shadows.

MATERIALS
• Multimedia paper
• Sharpie marker, black, chisel tip
• Tempera cake paint: orange, yellow and green
DIRECTIONS
1. Students draw a large simple pumpkin, starting with the center oval, and then adding sections on both sides. A vine may be added below.
2. The drawing is traced with a black marker.
3. Students paint over the lines with orange tempera paint.
4. The insides are filled with yellow tempera paint.
5. Vines are painted with green paint.
Save
Save