I have a few Valentine card ideas for kids, but this is definitely my favorite. Start with some pretty patterned paper and you're guaranteed lovely results.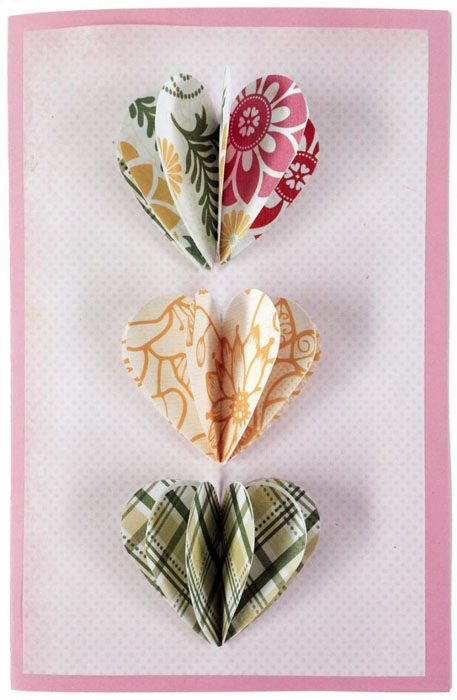 MATERIALS
• Heart Punch, 2″ size*
• Cardstock paper, Valentine colors, 8.5″ x 11″*
• Scrapbook paper (Valentine pads found in stationary dept.)*
• Glue stick
*The above product links are referrals. If you click through and take action, I'll be compensated a small amount, at no extra expense to you.
DIRECTIONS
Time needed: 1 hour.
How to make a Heart Pop Out card
Punch 15 hearts for each card.

Fold 5 pairs, pattern side together.

Glue white sides together to make one heart. Repeat.
PREP: Punch out about 15 hearts per student. Also cut some of the pattern paper into 5″ x 8″ panels, one per student.
1. Glue a pattern sheet of 5″ x 8″ paper to the front of a folded card.
2. Choose five hearts, and fold them in half with the pattern on the inside. I called them "white ice cream cones".
3. All five are folded hearts are lined up together, making SURE that the fold is on the same side. A glue stick is used to glue them together.
4. Open the fan heart and glue to the front of the card. The process is repeated to make heart two and three.
Save
Save
Save
Save
Save
Save
Save