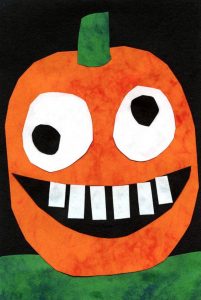 This silly pumpkin art project can't help but make you smile, what with the goofy teeth and all. I once found this wonderful marble construction paper sold both in packs of green and orange, which made for easy class projects. It now seems to come in just multi packs, which won't work for groups, but may still make for a great home project. I'm happy credit this idea to this art teacher's wonderful posting over on Flickr. It's cute and funny, no matter how you complete it.

MATERIALS
•
Marble Art Street construction paper, orange and green
• Black construction paper
• White construction paper
• Scissors
• Glue stick
DIRECTIONS
1. Start with a sheet of black, orange, green and white paper. Cut a strip of grass out of the green and glue it to the bottom of the paper.
2. Fold the orange paper in half and cut out a circle. Glue it down, and add a green stem on top.
3. Cut out white circles for the eyes, and a black mouth. Glue down.
4. Cut black circles for the eyes, and strips for the teeth. Arrange to make as silly as possible and glue.
Save
Save
Save
Save
Save