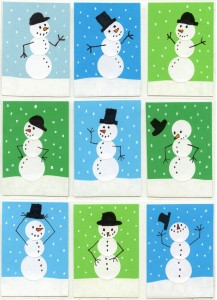 Students can learn how to make their sticker snowmen card come to "life" by altering where the face and buttons are placed on the body. The fact that they can easily do this all with stickers and markers makes it even more fun.
• Black Sharpie marker, ultra fine tip
• Black Sharpie marker, fine tip
• Orange Sharpie marker
DIRECTIONS
PREP: Cut lots of cool cardstock paper into the panels sizes of 2.5″ x 4.5″.
Students start by cutting a white 1.5″ x 4″ mailing label in half the long way, and apply to bottom of the card. The card is turned over and excess is trimmed.
A 1″ circle label sticker is used for the bottom of the snowman. Two 3/4″ mailing labels stickers are used for the top.
Students draw the snowman face arms and buttons with an Ultra Fine Point black Sharpie marker. They are encouraged to find a different pose for each card. The nose is colored with an orange marker and the hat is colored black.
Snow dots are added, if desired, with a white poster paint marker. Cards are glued to an 8.5″ x 11″ folded sheet of card stock. Story telling would be another great use of this kind of layout. My students had some of their snowmen get progressively more melted, so clever!
Save
Save
Save
Save
Save
Save
Save
Save
Save
Save
Save
Save
Save