Learn how to paint vegetables while you study their root systems. A cross section lets you see what's both above and below the ground.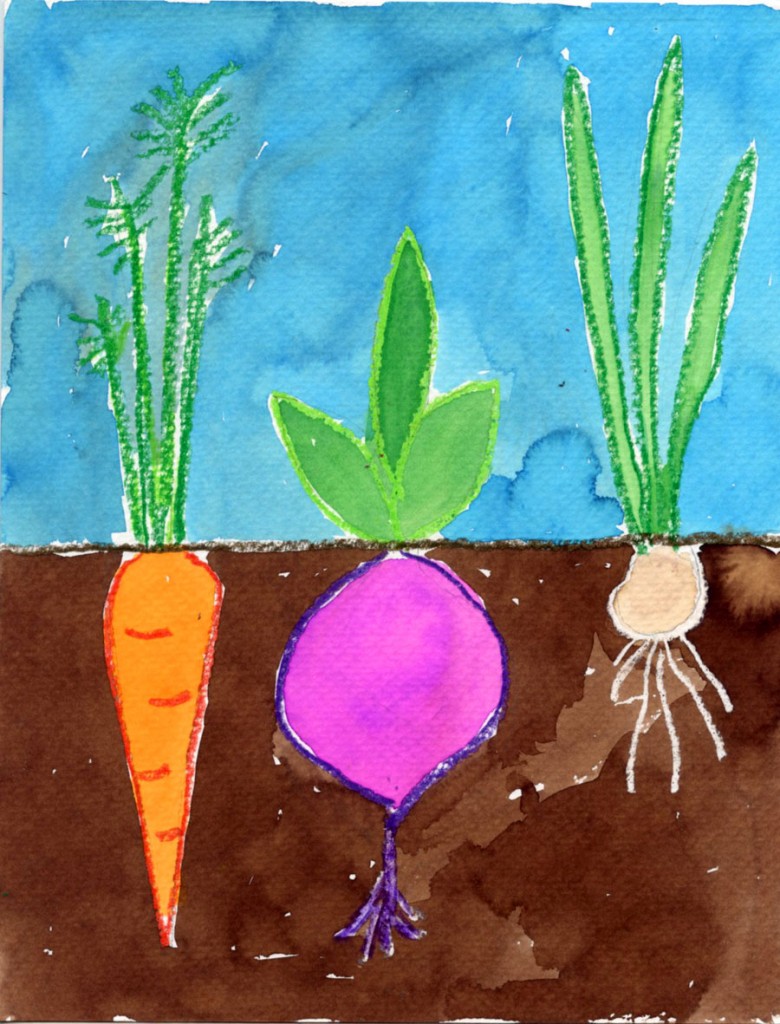 This subject matter is great for a watercolor resist project. The crayons make nice edges for the plants, add some texture, keep the paints from running together (hopefully!) and allow for some easy white roots.
TIP: I just learned that there is a great book to accompany this project. It's called "Tops and Bottoms" and is a favorite among teachers. Apparently it's all about plants and what lives above and below the ground, so what could be a better match than that?
LIKE THIS VEGETABLE PAINTING PROJECT?
There are more fun and easy ones just like it in my "Botanicals, Fish & Insects" ebook.
These three books in one include drawing and painting tutorials for 30 Botanicals, Fish and Insects projects.
Each includes a full page sample, tutorial, coloring page, and gray line version for tracing.
Just click on the link or the photo to go to my PDF Shop to learn more.
MATERIALS
*The above product links are referrals. If you click through and take action, I'll be compensated a small amount, at no extra expense to you.
DIRECTIONS
On watercolor paper, students draw in pencil a horizontal line across the middle of the page. They add a variety of underground vegetables below (carrots, beets, scallions, etc.) and stems and leaves above.
All pencil lines are traced with a crayon, pressure is needed to create dark lines.
The vegetable shapes are painted in with watercolor paint. When complete, the ground, leaves and sky are painted as well.
Save