Students used sandwich wrap paper to draw symmetrical kimono shapes, and then finished with liquid watercolor paint.
The transparent tissue allowed for drawing one side and then tracing the other so they matched. The paper was also strong enough to handle the liquid watercolor paint, and looked a bit like rice paper when dry. A bonus? The sandwich paper is really cheap and lasts a LONG time.
MATERIALS
• Sandwich Wrap paper
• Scrap paper
• Black chisel tip Sharpie marker
• Liquid Watercolor paint
DIRECTIONS
1. Place scrap paper on work area so markers and paint do not bleed through. Fold sandwich wrap paper in half length wise. With the fold in the middle, draw half of a T shape as shown in the diagram. Trace with the marker.
2. Flip the paper over and you should be able to see the drawing through to the other side. Trace the lines with a pencil. Open the paper and trace the lines for a basic T shape. Add side panels and decorations as desired.
3. Add a title to your art with block letters and trace with marker.
4. Use liquid watercolors to fill in kimono. Let dry on flat paper or plastic sheet of some sort.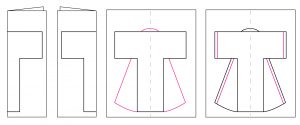 Note: This post contains affiliate links.
Save
Save
Save
Save
Save
Save
Save
Save
Save