Sorry, this product cannot be purchased.
Tropical Landscape Mural
This Tropical Landscape Mural makes lovely wall art and easily illustrates a mountain top and underwater ecosystem at the same time.
Just print, color and tape together for a quick and easy mural that finishes in no time.
Especially if everyone works together.
$

12.00
Add to cart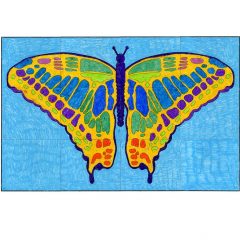 Butterfly Mural
There are many ways to color this symmetrical butterfly.
Kinders and 1st graders could color freely, while older students might use warm and cool colors for a more vivid image.
Either way, all you need to do is print, color and tape together to make one large collaborative work of art.
$

8.00
Add to cart
Canvas Butterfly
My New Butterfly Mural comes in two standard frames sizes, for those looking for a more permanent mounting.  PDF FILE INCLUDES: • 15 Coloring Pages (8.5″ x 11″) • 36 Coloring Pages (8.5″ x 11″) • Assembly instructions • Single … Read More
$

8.00
Add to cart