Still not sure what to make for Father's Day? For an artsy, colorful solution, bring out the markers and oil pastels. Messy, but beautiful.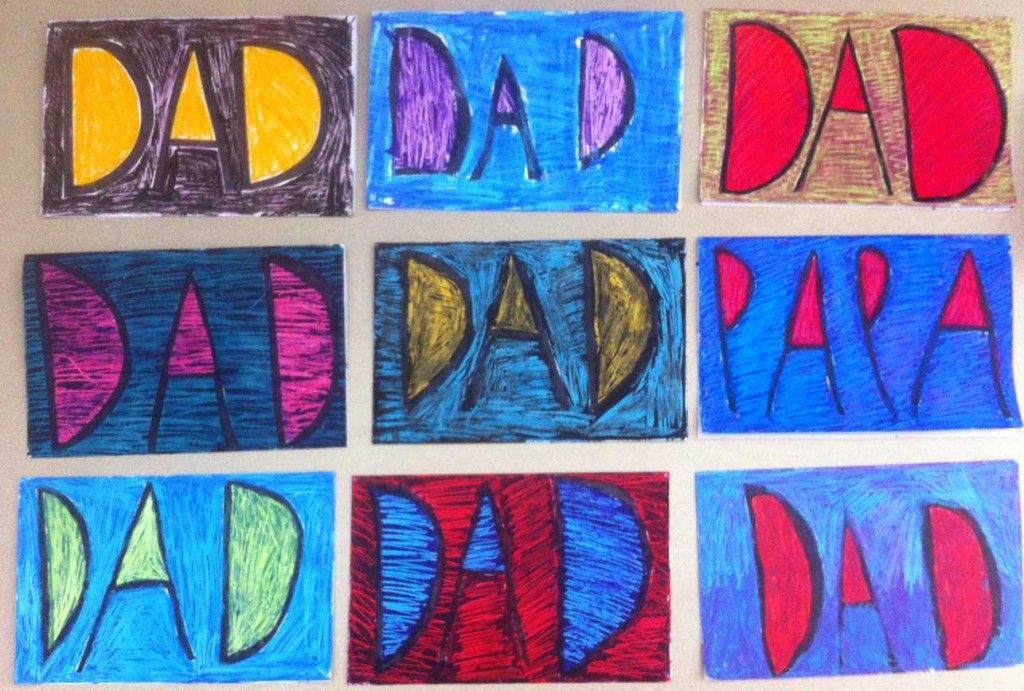 One of my readers, Laura T., shared her 2nd grader's art with me. I love how colorful they look all side by side, they are so inspiring. Thanks so much for sharing them with me Laura!
MATERIALS
• Cardstock paper
• Black Sharpie marker, chisel tip
• Wood stylus or skewer
• Oil Pastels, I prefer the Portfolio brand*
*The above product link is a referral. If you click through and take action, I'll be compensated a small amount, at no extra expense to you.
DIRECTIONS
Be sure to line your tables with newspaper or something similar. The oil pastel scratches will make lots of "crumbs".
Write D-A-D in either block letters or very fat stick letters on card stock paper.
Trace the letters with a permanent black marker. Make the lines really thick.
Students choose a combination of light pastel colors to color the inside and outside of the letters.
A dark pastel color (dark blue, dark purple, or black, etc.) is selected and colored over the entire page. The pastel really needs to be applied well, with no paper showing, to get the maximum effect.
Use a wooden stick to scratch their designs into the oil pastel. This could be just lines, or patterns or writing too.