Easy How to Draw a Gingerbread House Tutorial Video and Gingerbread House Coloring Page
Below you'll find an easy step-by-step tutorial for how to draw a Gingerbread House Tutorial Video and a Gingerbread Coloring Page. The lesson includes a few tips on how to make the house look dimensional.
Gingerbread House Drawing
Gingerbread House Tutorial Video
Drawing Gingerbread Houses
This How to Draw a Gingerbread House tutorial keeps things simple, but includes just a few extra touches to make the house look a bit more real. An added side gives it some depth, and a little man and candy in the yard make for some extra color too.

When it comes to coloring your drawing, here's a tip that will keep your student's snow looking white and fresh. All they have to remember is NOT draw the little snow circles first with a black marker. They need to stop when they're done tracing the house and candy and draw the snow circles with the sky blue crayon or marker instead. When they color in the background they will have some very pretty and soft looking snow without any black outlines. It makes for a much lighter and more delicate looking sky.

Also, older students might also enjoy including a few shadows as shown in the sample above. It only takes a bit of gray to make the shapes really stand out in the white snow.
Quick Gingerbread Drawing Video
Join "The Daily Draw" below to get this free download!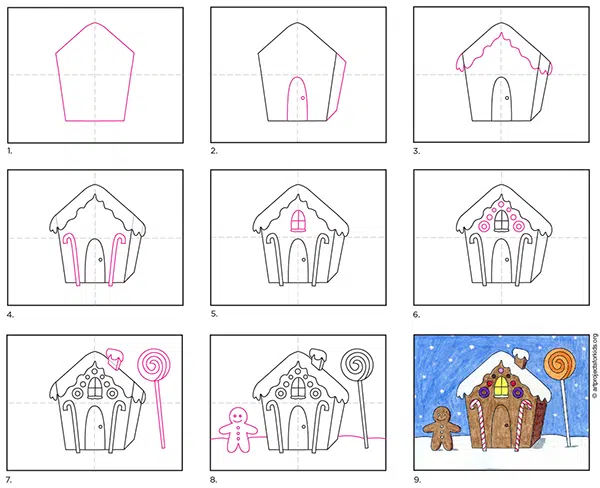 Pin me to your Pinterest Board!
Gingerbread House Coloring Page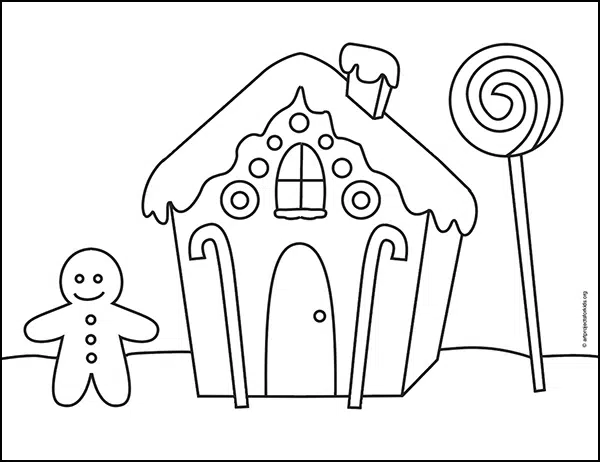 Materials
Drawing Paper. This is the good stuff you can buy in bulk for a good price.
Pencils. I like how this brand always makes nice dark lines.
Black Marker. A permanent marker will give you a dark black color.
Note: All of the above are Amazon affiliate links.
Step by Step Directions for a Gingerbread House
Time needed: 45 minutes
Easy Gingerbread House Drawing
Draw a basic house shape.

Add a side to the house and a door.

Draw some snow dripping from the roof.

Erase the lines and add two candy canes next to the door.

Draw a small window in the front.

Add the candy decorations around the window.

Draw a chimney and a large lollipop next to the house.

Add a gingerbread boy and a horizon line.

Trace the drawing with a marker and color.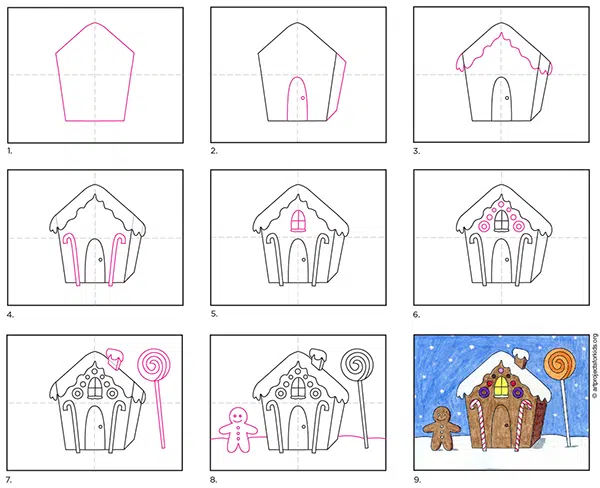 Already subscribed to "The Daily Draw"?
Great, then use the download button below to get your free Gingerbread House tutorial. And thanks for wanting to bring more step-by-step, no-prep art lessons to your classroom!
How to Draw a Gingerbread House, the Deluxe version