Peter Max Mini Murals
Why fill in one Peter Max coloring page when you could do several and turn them into a mini mural?
This template gives you the shadows of Lady Liberty so you can concentrate on making her surroundings as colorful as possible. Just like Peter Max.
$

10.00
Add to cart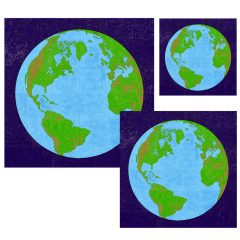 Mini Blue Planet Murals
Make colorful murals of our blue planet with these three mini mural templates.
Have each student color a page, tape it back together, and you'll have a large, beautiful mural in no time.
$

10.00
Add to cart