California Missions
$12.00
A collection of drawing tutorials for all 21 Missions in California, which include:
• Finished drawing of each mission
• Sample line drawing on grid paper for reference
• Step by step tutorials
• Matching grid template to print
There's even cover art to print and make your own binder like this one!
Description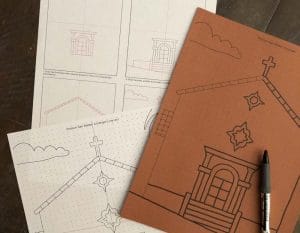 Many 4th grade mission project ideas involve actual construction of buildings, but students can learn plenty from an architectural drawing project too. Recreating architectural features of missions and learning how to draw in a neat and organized way (like an architect) can teach valuable lessons. It might even give some the inspiration for a possible career path.
With over ten years of making 4th grade mission projects, I've found that if you provide them with good tools and inspiration, they just might draw something that exceeds everyone's expectations.
My first California Mission Drawing ebook included just the line art for all 21 missions. To resolve those previously unanswered questions of "how do I start my drawing?" and "how do I color my drawing?" my newest ebook includes:
COLOR SAMPLE. No more guessing or searching through Google.
TUTORIAL. Four steps to show how to start and how to finish each and every mission.
DESCRIPTION / MATERIALS LIST. Advice on what paper and colored pencils seem to work best.
DOT GRID PDF TEMPLATE. Print your own grid paper to aid in drawing straight and with symmetry. It leaves a much light footprint than the previous line grid paper, which could easily leave lines that were hard to cover up.
LINE ART SAMPLE. For actual size reference, to see how their drawing is progressing.
COLORING PAGE. Finished early? Color another mission that you are fond of.
BINDER ART. For the front and spine, so you can make your own just like mine.
TUTORIALS FOR: La Purisima, Nuestra Soledad, San Antonio de Padua, San Buenaventura, San Carlos, San Diego, San Fernando Rey, San Francisco de Asis, San Francisco Solano, San Gabriel, San Jose, San Juan Bautista, San Juan Capistrano, San Luis Obispo, San Luis Rey, San Miguel Arcangel, San Rafael Arcangel, Santa Barbara, Santa Clara, Santa Cruz, Santa Ines
How To Buy this California Mission Drawing ebook
• To purchase this ebook as a guest, simply add the item to your cart. You can use a credit card or PayPal, and you'll be sent a page with download links.
• To buy this ebook so it may be downloaded whenever and wherever you want, you need to take one extra step.
Create an account first.
THEN log in and make your purchase.
You will still get an email with a download link, but the file will also be kept for easy access on your account page. Opening an account AFTER you make a purchase does not allow this process to happen.
• If any files become lost or damaged, please email kathy@artprojectsforkids.org for replacements.
Save
Save
Save
Save