Easy How to Draw a Cardinal Tutorial and Cardinal Coloring Page
Below you'll find an easy step-by-step tutorial for how to draw a Cardinal and Cardinal Coloring Pages. The bright red color against a snowy blue can make a very pretty drawing or painting any time of year.
If you need a fun winter project that has some built in color appeal, and honors the season, you can't go wrong with learning how to draw a cardinal bird. They have a simple shape with distinctive pointy head and black face, and when set against a snowy sky, always make a charming winter work of art.
On this page, you will find no less than three cardinal bird projects – the one here that is a watercolor resist, and two below that are drawing projects. The painting tutorial that explains the painting project above will explain the crayon and watercolors used, and the two cardinals further down will focus on two other drawing poses. They could be colored with crayons, markers, or oil pastels – whatever works best for your classroom situation. If you can't decided, choose the media that has the brightest red color, and go with it. It's all about having a bright red bird so that's what's most important, if you want this art teacher's opinion.
My school used to have an annual art fundraiser for the holidays, and having students draw and color or paint a cardinal seemed to always make all the parents happy. We had a pretty diverse student body, so bringing out a nature-themed project always felt like a good solution.
Join "The Daily Draw" below to get this free download!
Use the Button below to download this Cardinal Drawing Tutorial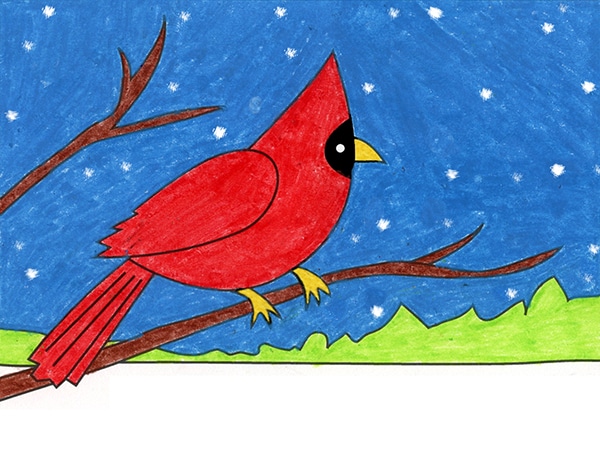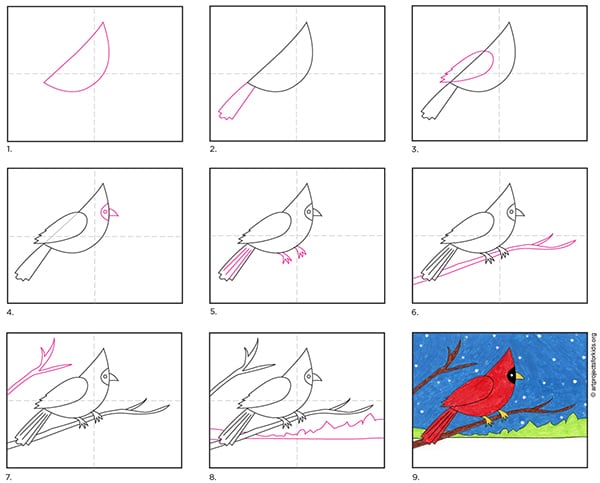 Save me to your Pinterest Board!
Cardinal Coloring Page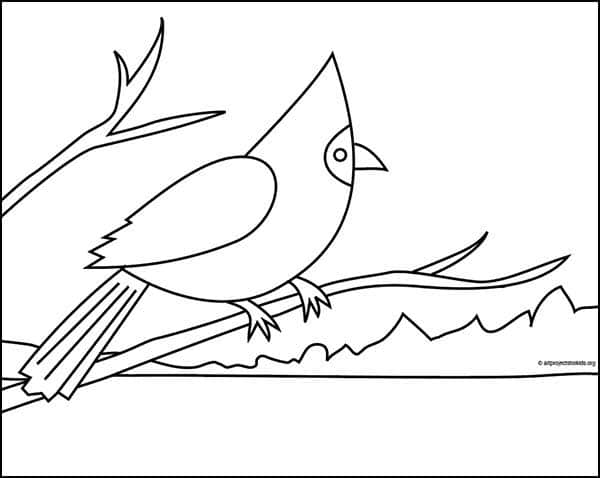 How to Draw a Cardinal Bird with Berries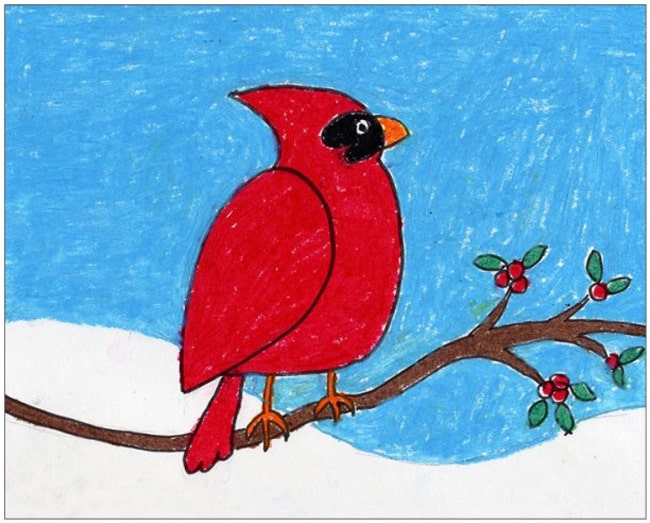 Cardinals by Tukwila Elementary Students
Materials for a Cardinal Drawing
Drawing Paper. This is the good stuff you can buy in bulk for a good price.
Pencils. I like how this brand always makes nice dark lines.
Black Marker. A permanent marker will give you a dark black color.
Note: All of the above are Amazon affiliate links.
How to Draw a Cardinal Bird Step by Step
Time needed: 30 minutes.
Draw an easy Cardinal Bird
Draw a half circle at an angle.

Add a tail.

Draw a wing on top.

Erase inside the wing, and add a face.

Draw tail lines and add two feet.

Draw a branch underneath the feet.

Add another branch above.

Draw a tree line in the background.

Trace with marker and color.
More Winter Drawing Projects