Learn how to draw a fish with this easy step by step tutorial. It only takes a few more steps to make him look like an extra real one.
If any of your students have ever said "this is how I draw fish", and then proceeded to draw a very generic one? If so, it might be time to show them how many how to draw one with a few more real life details.
This tutorial is based on the bluegill species that is found in North American waterways, and very possibly one that some some have fished for before. They are some of the most popular breed in the sport of fishing.
This bluegill does have the basic eye shape that most students tend to draw, and the familiar fins, but with a bit more work, can look SO much more like a real fish.
There's a narrowness that connects to the tail, and the fins have both smooth AND pointy edges. Small changes that are not that hard to draw, and end up making a big difference in one's study of a fish.
Lastly, when it comes to coloring, the iridescent color is admittedly tricky to do if one was still going for realism. However, just making the bellies lighter than the rest of the body is easy, and true for most fish in any body of water. Easy, peasy.
Preview of the step by step Fish tutorial
RECOMMENDED MATERIALS
Black Sharpie Marker. These fine point permanent marker pens make nice black outlines, have a good tip for coloring, and never bleed when they get wet. Use them with good ventilation and add extra paper underneath to protect your tables.
Prang Crayons. These are a bit softer than other crayons so they sometimes look like oil pastels. They also have a some nice brown shades that Crayola does not have unless you buy their larger boxes.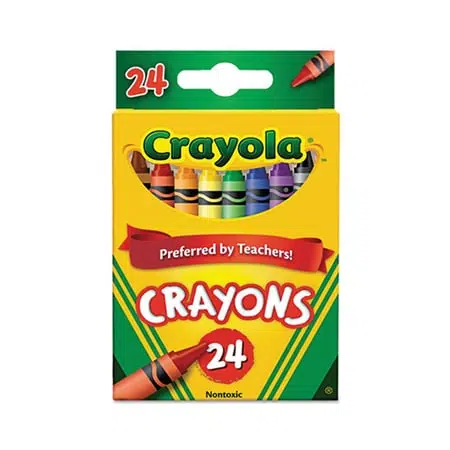 Crayola Crayons. The reliable brand that always works well. The 24 pack has some of my favorite golden orange and yellow colors that seem a bit richer and warmer than the ones Prang has.
DIRECTIONS
Time needed: 45 minutes.
How to Draw a Fish
Start the fish body.

Finish with the tail.

Draw the face.

Add pectoral fin, and start top dorsal fin.

Add the lines to the dorsal fin.

Finish dorsal fin and draw bottom fins.

Finish bottom fins.

Add some random scales.

Trace with a marker and color.
More Fish Drawings