Try this rocket drawing easy enough for even very young artists. It's kind of your old-fashioned version made from a few simple shapes.
If you are ready for an extra challenge, try shading the background from black to purple or blue. Sometimes even ordinary supplies, like crayons, can produce some pretty extraordinary results.
Whatever you choose to draw though, color it in carefully. The darker you make your sky, the more our rocked stands out against it.
MATERIALS
*The above product links are referrals. If you click through and take action, I'll be compensated a small amount, at no extra expense to you.
DIRECTIONS
Time needed: 1 hour.
Draw a Rocket
Make guidelines. Draw curved sides.

Connect the end. Add lines.

Draw two side panels.

Add a window.

Draw the rocket flames.

Draw the earth in the background.

Add a planet or two.

Add lots of small stars.

Trace with a marker and color.
How to Draw an Astronaut
Learn how to draw an astronaut by turning their suit into a few simple shapes. Add a spaceship and planets for a really fun drawing.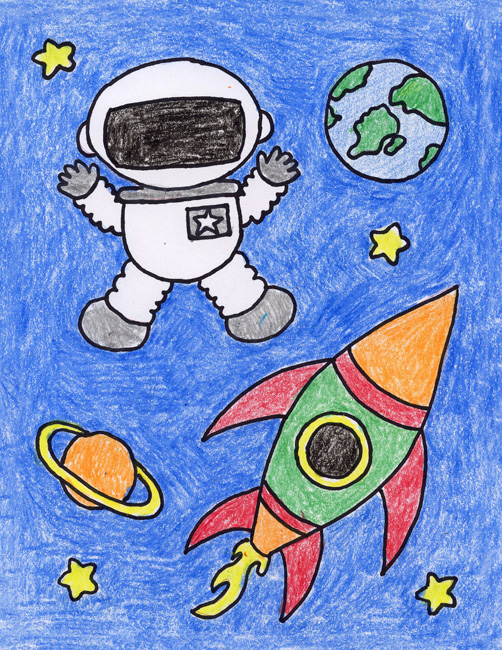 Once students know how to draw some of things that are seen in outer space (planets, rockets, stars), they can make up their own composition.
My biggest tip is that the background needs to be colored really well. The best way to make the outer space things really stand out is to have them in the middle of a very densely colored sky.
MATERIALS
• Draw an Astronaut Tutorial
• Drawing paper
• Pencil
• Black marker
• Crayons

LIKE THIS DRAWING PROJECT?
There are 200 more fun and easy drawing tutorials like this one, in my giant How To Draw ebook in my PDF Shop.
All were created with lots of hands on classroom testing, and designed to take beginner artists from the first step to the last with clear and simple diagrams.
It's all you need to provide hours of drawing fun with tutorials for Animals, Fish, Insects, Birds, Landscapes, Plants, Transportation, People and much more.
Draw Outer Space
Learn how to draw outer space with a project that has close shapes looking large, and faraway looking small. What better place to do that than in our own galaxy?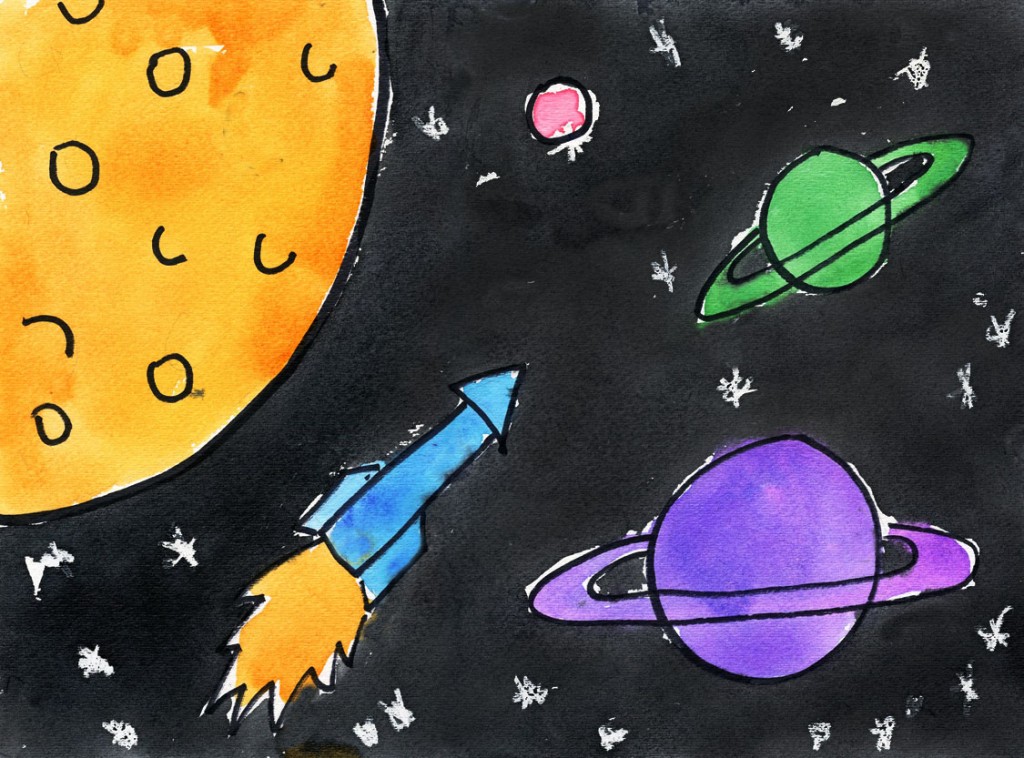 It's also the perfect time for a little watercolor resist as lots of white crayon stars and dots will really add the to outer space feel. Tip: For really dark black, I recommend using liquid watercolor paint. Young artists can sometimes struggle with getting the right amount of water mixed with tray paints, and the liquid gives them that really black background that makes this painting so much fun.
MATERIALS
*The above product links are referrals. If you click through and take action, I'll be compensated a small amount, at no extra expense to you.
DIRECTIONS
Make the guide lines on the paper with pencil. Draw part of a very large planet in one corner of their watercolor paper. Next, add a rocket, several medium and few small circle planets until the paper is full. Details like bumps and rings around the planets could be added to make their picture more interesting.
Trace the drawing with a black Sharpie marker.
Use crayons to draw white stars in the sky. Be sure to press really hard to leave lots of crayon on the paper. Light drawings will get covered up.
Paint the planets with watercolor. I believe the liquid type is easiest for those just learning how to paint.
If possible, paint the sky when the planets are dry. If not, take care not to create puddles that might make the colors run together.