Easy How to Draw a Superhero Tutorial and Superhero Coloring Page
Below you'll find an easy step-by-step tutorial for how to draw a Superhero and a Superhero Coloring Page. Draw some basic shapes and then mix and match to make your own customized self portrait.
Superhero Drawing
One of the really good things about drawing a superhero these days, is that there are so many classic models to get inspiration from. From the obvious Superman and Wonder Woman, and all the spinoffs that came before and after, a superhero can be as varied as say … all their super powers.

This tutorial gives both boys and girls some basic shapes to start with, but hopefully inspires some mixing and matching of their own. Add a cape, adjust a skirt, change the monogram, or change the colors. Encourage students to use this tutorial as a starting point, instead of an end, to see what kind of new superhero they can dream up.
Use the Button below to Download a PDF Tutorial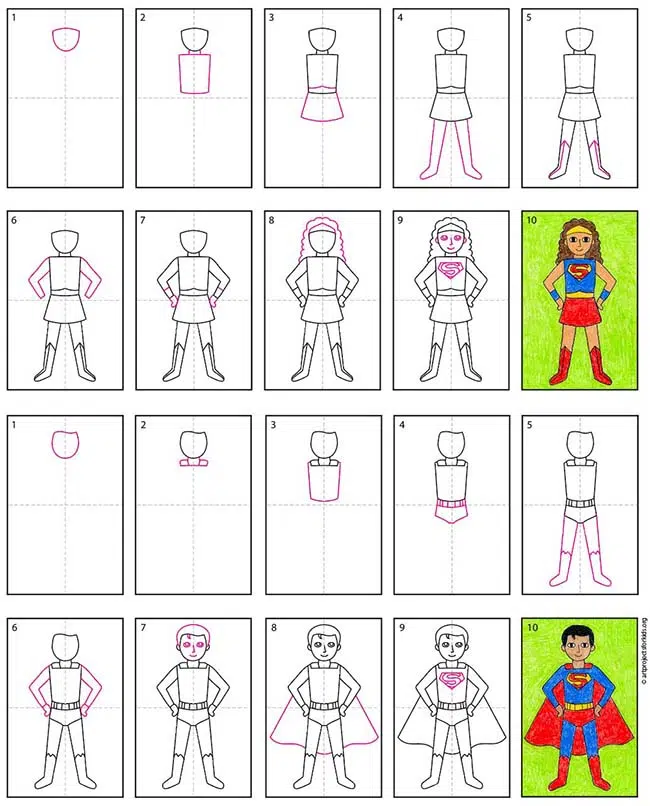 Save me to your Pinterest Board!
Superhero Coloring Page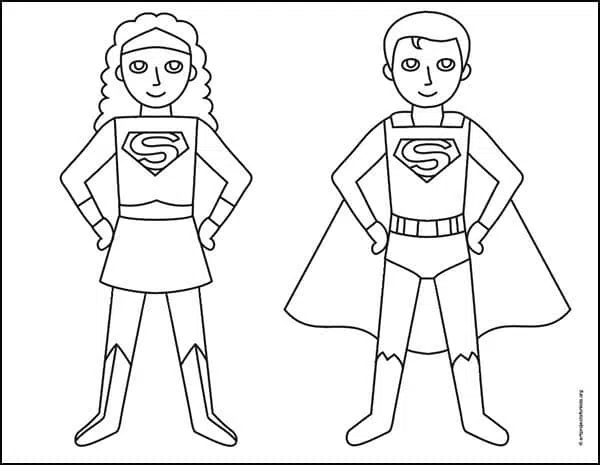 Materials for Superhero Drawing
Drawing Paper. This is the good stuff you can buy in bulk for a good price.
Pencils. I like how this brand always makes nice dark lines.
Black Marker. A permanent marker will give you a dark black color.
Note: All of the above are Amazon affiliate links.
Step by Step Directions for Superhero Drawing
Time needed: 45 minutes
How to draw a Superhero
Draw the head.

Add a neck and torso.

Add a belt and skirt.

Draw two legs.

Add boot lines.

Draw two arms

Add hands and cuff lines.

Draw your own hair.

Finish with your face and super logo.

Trace and color with crayons or markers.

Draw a Superhero Boy
Draw the head.

Add the neck and cape lines.

Draw the torso.

Add the pants and belt.

Draw two legs and boot lines.

Add the arms with hands.

Draw the hair and face.

Add a cape in the back.

Finish with the super logo.

Trace and color with crayons or markers.
More fun Superhero Characters to Draw