Learn how to draw Spiderman and his very muscular body. A step by step tutorial shows you an easy way to do it.
Spiderman is a superhero created by writer Stan Lee and artist Steve Ditko. He appears in comic books published by Marvel Comics, as well as in a number of movies, television shows, and video games.
In his story, Spiderman is the alias of Peter Parker, an orphan raised by his Aunt May and Uncle Ben in New York City after his parents Richard and Mary Parker died in a plane crash. Lee and Ditko had the character deal with the many struggles of adolescence and finances.
This tutorial is made for Spiderman fans that would like to draw him with the very muscular body they are so familiar with. Some art teachers would have students draw a light stick frame, and then add ovals, then the final edges, but that's a lengthy and subtle process. Those that go on to draw in middle or high school will do well to learn more about how that works, but elementary students tend to need quicker results.
This tutorial shows students how to draw some basic muscle-y shapes and then connect them for a finished body. It will provide the silhouette that is needed and the erasing is kept to a minimum. Students can then get on to the really fun part … drawing Spiderman's costume!
Preview of the step by step Spiderman tutorial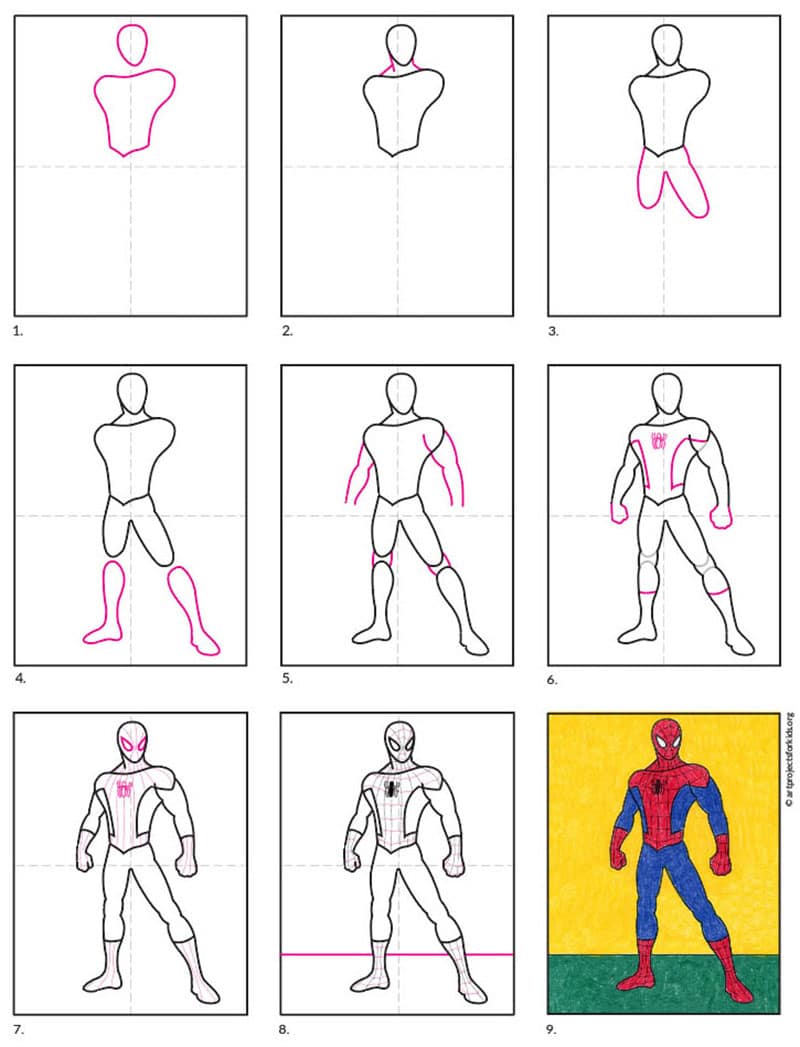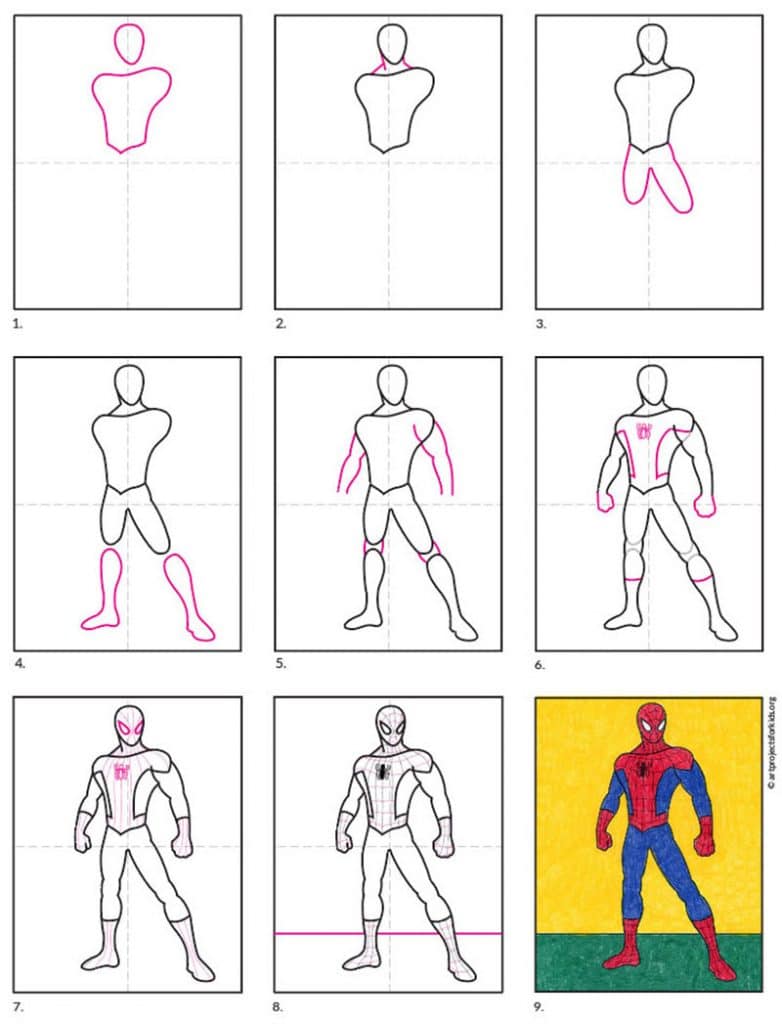 RECOMMENDED MATERIALS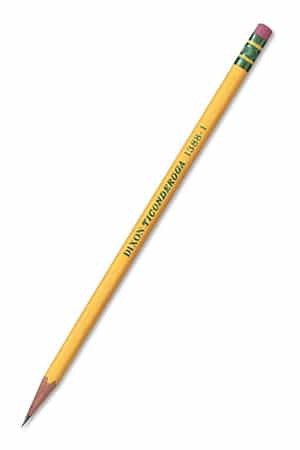 Pencil. The Ticonderoga brand are the most reliable, make nice dark lines when you need them, and are the easiest to erase. Buying the pre-sharpened ones will save busy teachers a lot of time.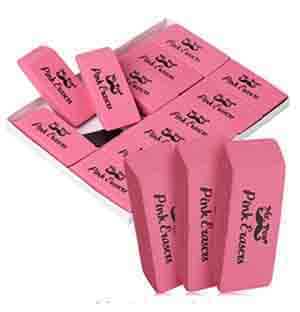 Eraser. Large ones you can hold in your hand do a much better job than just the pencil tip erasers, especially when erasing leftover pencil lines after tracing.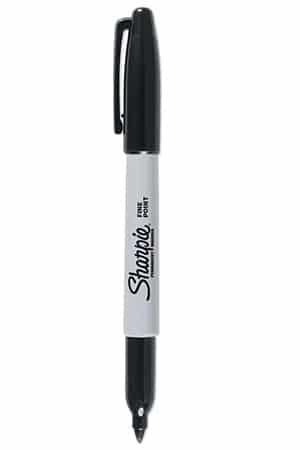 Black Sharpie Marker. These fine point permanent markers make nice black lines, have a good tip for coloring, and never bleed when they get wet. Use them with good ventilation and add extra paper underneath to protect your tables.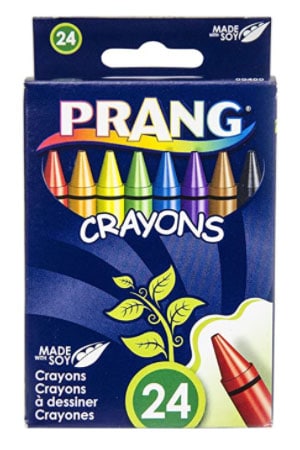 Prang Crayons. These are a bit softer than other crayons so they sometimes look like oil pastels. They also have a some nice brown shades that Crayola does not have unless you buy their larger boxes.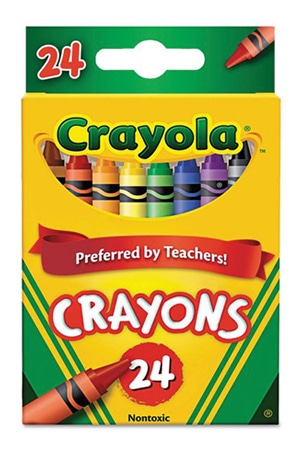 Crayola Crayons. The reliable brand that always works well. The 24 pack has some of my favorite golden orange and yellow colors that seem a bit richer and warmer than the ones Prang has.
DIRECTIONS
Time needed: 1 hour.
How to draw Spiderman
Draw an oval head and the torso as shown.

Connect the two with a neck.

Start the top of the legs, one is closer and thus longer.

Add the bottom leg shapes.

Connect the legs with a knee. Start the top of the arms.

Erase the gray lines, add the hands and other details.

Draw the eyes, spider and vertical lines.

Add the horizontal lines and ground line.

Trace with a marker and color.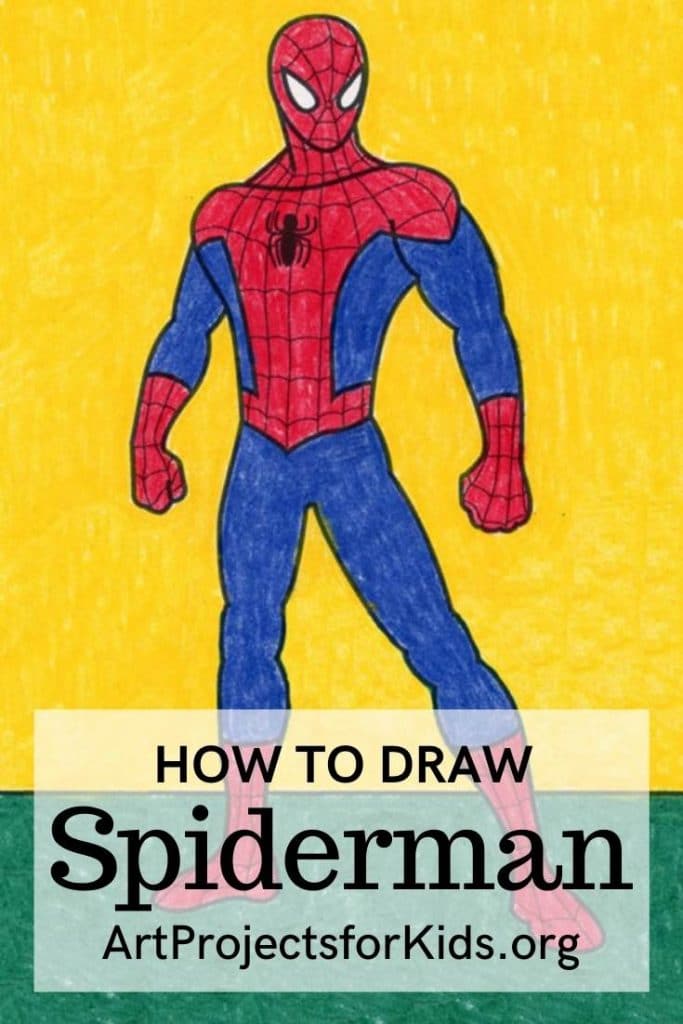 More Fun Superheros to Draw