My favorite Frida Kahlo for kids project is a simple portrait with a few key features. Draw her hair up, with flowers and classic heavy eyebrows, and there's not much mistaking whose portrait you are drawing.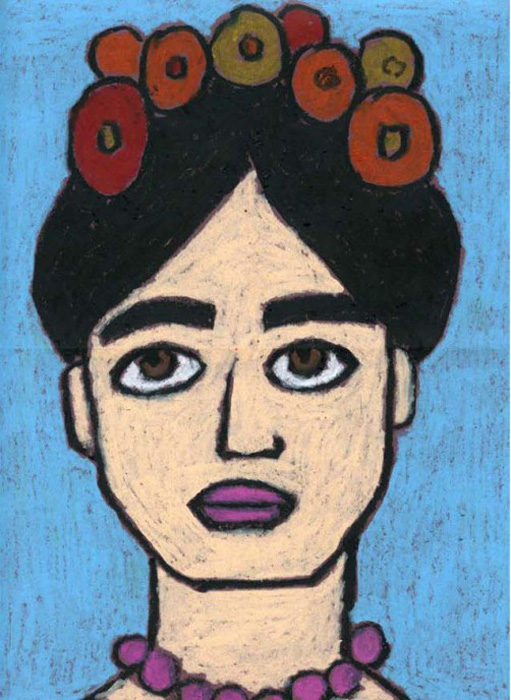 Frida overcame many obstacles in her life, but she always found a way to continue making art. That's a pretty good message for children of all ages to hear and hopefully come to admire.

DO YOU LIKE THIS PORTRAIT PROJECT?
There are many more like it in my "Draw Self Portraits" ebook in my PDF Shop. It's a collection designed to show show students just how varied the world of self portraits can be.
You can find themes for: Paul Klee, Cubism, Statue of Liberty, Big Abstract Face, Hundertwasser, Doodling, Lego, Sunglasses, Modigliani, My Goals, Chuck Close, Half Portrait, Minecraft, Wanted Poster and Lichtenstein. Just click on the binder or title to learn more.
MATERIALS
• Download Frida Kahlo PDF tutorial
• Black paper* (I recommend card stock or ease in erasing)
• Pencil
• Ruler
• Oil pastels* (The non-water soluble make the brightest color on black paper)
*The above product links are referrals. If you click through and take action, I'll be compensated a small amount, at no extra expense to you.
DIRECTIONS
PREP: Print a color copy of my Frida Kahlo tutorial for each student.
1. Draw guidelines on center of paper with a ruler. Follow the steps to first make a drawing in pencil.
2. Trace all the lines with a black oil pastel. Press hard to make a heavy line.
3. Color in the face and background, taking care to go around the black pastel.
Save
Art Projects for Kids
Average rating:
0 reviews