Easy Joan Miro Art Project and Joan Miro Coloring Page
Below you'll find an easy step-by-step tutorial for a Joan Miro Art Project. He was a Spanish artist who loved to create art with childlike qualities.
Joan Miro's work is filled with simple lines and organic shapes. That's why this Joan Miro art project can easily play double duty when you're trying to teach students both about art history AND the Elements of Art.
A quick overview of some of Miro's paintings will show many of the LINES and SHAPES he loved to repeat (both Elements of Art) and are super easy for students to draw and rearrange in their own manner.
One tip for helping your students make their abstract art as colorful possible? Point out that they need to break up the background by making things intersect and touch the edge of the paper. That way when they color, it won't be just one shade all over. The more color, the better!
This project is also included in my "Elements of Art" ebook that is in my PDF shop. It's jam packed with projects that touch on each one of the Elements, and fit neatly onto a 6″ x 9″ sheet of paper so they can go in to something I call a "Recycled Art Journal". It's an art journal system that I developed years ago when I was teaching full time in a classroom setting. I needed something that was inexpensive and allowed students to easily keep all their art in one book throughout the year. It worked so well, that teachers eventually copied the idea for other classroom projects! You can read more about Recycled Art Journals HERE.
Use Button below to Download a PDF Tutorial
Miro Coloring Page
Another Miro Coloring Page
Materials for Joan Miro Art Project
Drawing Paper. This is the good stuff you can buy in bulk for a good price.
Pencils. I like how this brand always makes nice dark lines.
Black Marker. A permanent marker will give you a dark black color.
Note: All of the above are Amazon affiliate links.
Step by Step Directions for Miro Art Project
Time needed: 45 minutes.
How to Draw like Miro
Draw a simple head.

Add the stick torso below.

Draw two bent arms.

Add two bent legs.

Add small circles and hair.

Draw about six large circles that overlap the body.

Add lines and star shapes.

Draw circles on the ends.

Trace with a marker and color.
Miro Drawing with Crayons and Watercolor
Student Inspiration
Save me to your Pinterest Board!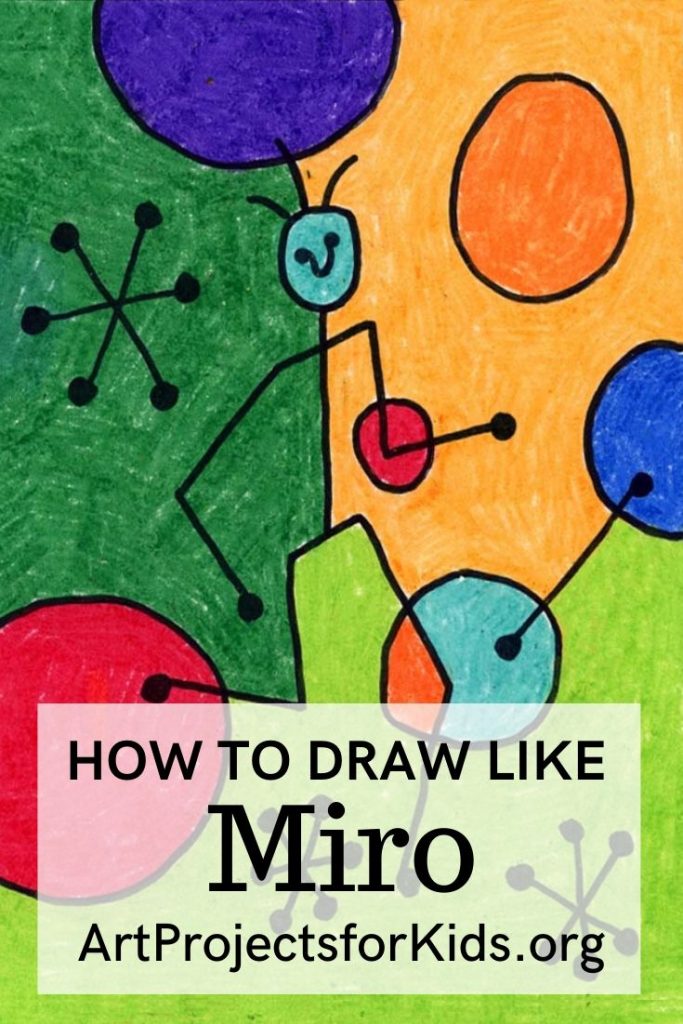 More fun Art History Art Projects