How to Draw a Matisse Inspired Art Project and Matisse Coloring Page
Below you'll find a step-by-step tutorial for how to draw a Matisse inspired art project and a Matisse Coloring Page. It's fun to imitate his colorful paintings with patterns and bright colors.
Henri Matisse was a French artist, known for both his use of color and his fluid and original compositions. Now teachers looking for a Matisse inspired art project have a new tutorial that shows students how to draw in his famously flat style, that included lots of repeating motifs and patterns.
Matisse is commonly regarded, along with Pablo Picasso, as one of the artists who best helped to define the changing world of the visual arts in the twentieth century, especially in the areas of painting and sculpture. His use of color and pattern and intentionally flattening of surfaces was a brand new idea, and helped to inspire many artists who came after him.
For those who have access to painting supplies, this makes an excellent watercolor resist project. Just make sure to use watercolor paper, have students press very hard with their crayons for patterns, and then paint over all with bright watercolors. Scroll down to see a large example.
Use the button below to get this free download!
A Matisse Still Life as a Drawing Project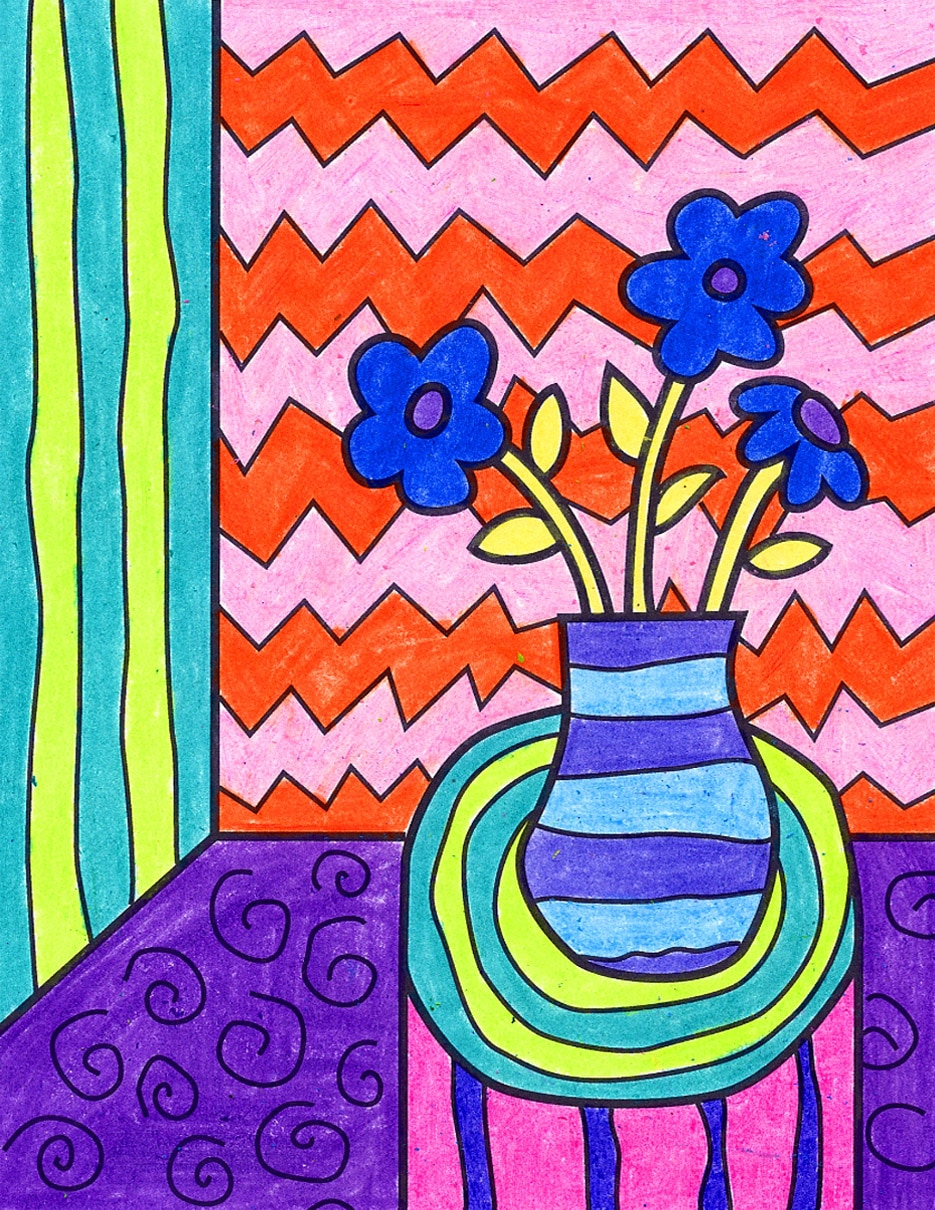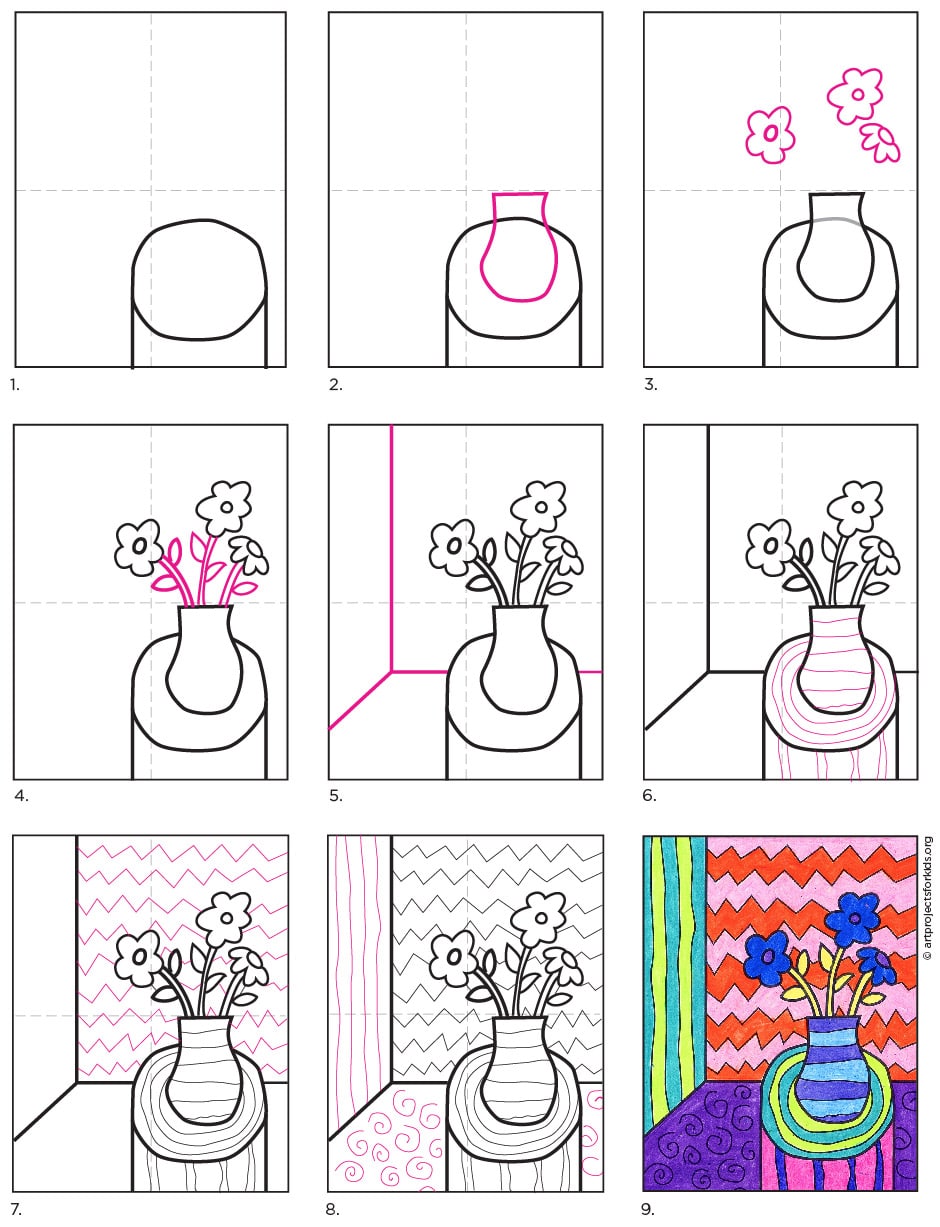 Matisse Coloring Page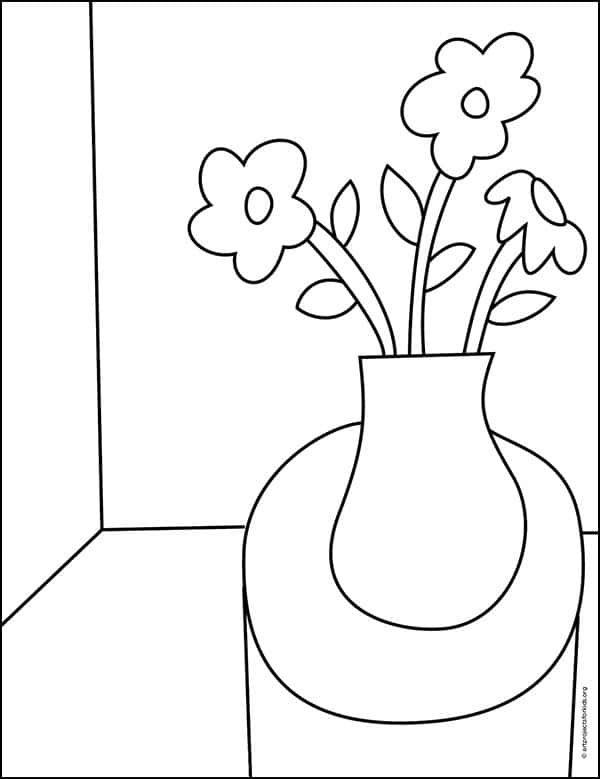 Materials for Matisse Project
Drawing Paper. This is the good stuff you can buy in bulk for a good price.
Pencils. I like how this brand always makes nice dark lines.
Black Marker. A permanent marker will give you a dark black color.
Note: All of the above are Amazon affiliate links.
Step by Step Directions for Matisse art Project
Time needed: 45 minutes.
How to Draw a Matisse Still Life
Draw a vase.

Add a flower in the middle.

Add another flower to the right.

Draw the left flower.

Draw a table.

Draw the lines of the room.

Trace with a black marker.

Add crayon patterns.

Paint with watercolors.
More Matisse Projects