Easy How to Draw SpongeBob SquarePants Tutorial Video and SpongeBob Coloring Page
Below you'll find an easy step-by-step how to draw SpongeBob SquarePants Tutorial Video and a SpongeBob Coloring Page. You can draw him just the way he looks on TV!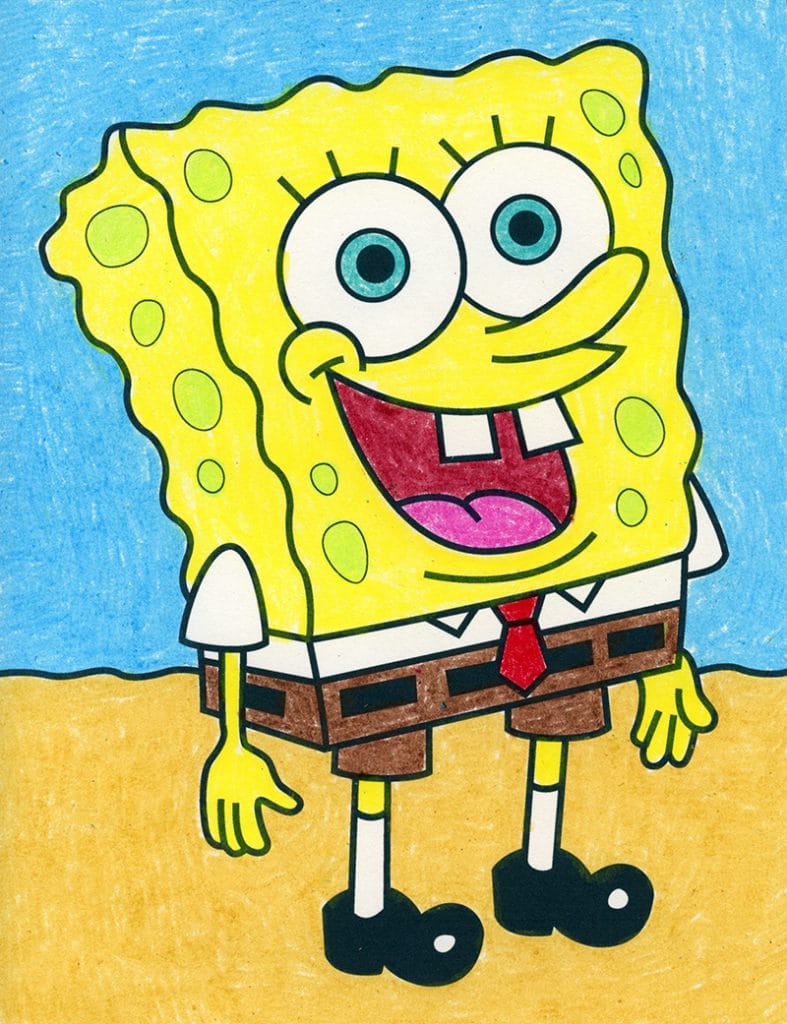 SpongeBob SquarePants Tutorial Video
This tutorial will help young fans learn how to draw SpongeBob with all his goofy details. It helps to start with straight lines for the basic form, and then adding the wavy edges, so students get the best spongey-looking results.
Did you know that SpongeBob SquarePants, an American animated comedy television series was created by a former marine science educator?
Stephen Hillenburg was born in Lawton, Oklahoma, in 1961. He graduated from Humboldt State University in 1984 with a degree in natural resource planning and became a marine biology teacher in Dana Point, California. In 1987, he pursued a career in animation and graduated with an experimental animation degree from the California Institute of Arts in Valencia in 1992. The following year, he began working as a writer and director on Nickelodeon's "Rocko's Modern Life." Stephen went on to work for the network full-time, producing his animated series that eventually became "SpongeBob SquarePants," which debuted on May 1, 1999.
How to Get Started
The best way to get students off to a good start to any drawing project is to show them how a couple of guides can really help as reference points.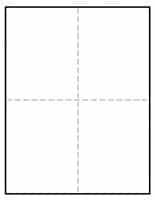 You may have noticed that all of the tutorials on this site have a dashed line running through the center of each step, both in the horizontal and vertical direction. If students make their own centered lines on their own paper, before drawing, they will have an easy reference to follow.
For instance, as seen in Step 1 below, the top left corner of the SpongeBob's body starts near the top the paper, and well to the left the center line. The body then continues to the right and fills up most of the top half of the paper.
Drawing skills are all about seeing where to place one's lines, so having some visual reference point to get started, will always help anyone learn how to be a little more accurate.
Does that mean then that students need to draw a big fat lines down the center of their paper before they start? Goodness no, please don't! That will most likely be hard to erase and distract from any finished art. No, simply fold the paper in half both ways, make a crease, and unfold. The beauty is that by the time the drawing is done and colored in, the creases will disappear.
And now, on to our drawing project.
Preview of the Step by Step SpongeBob Tutorial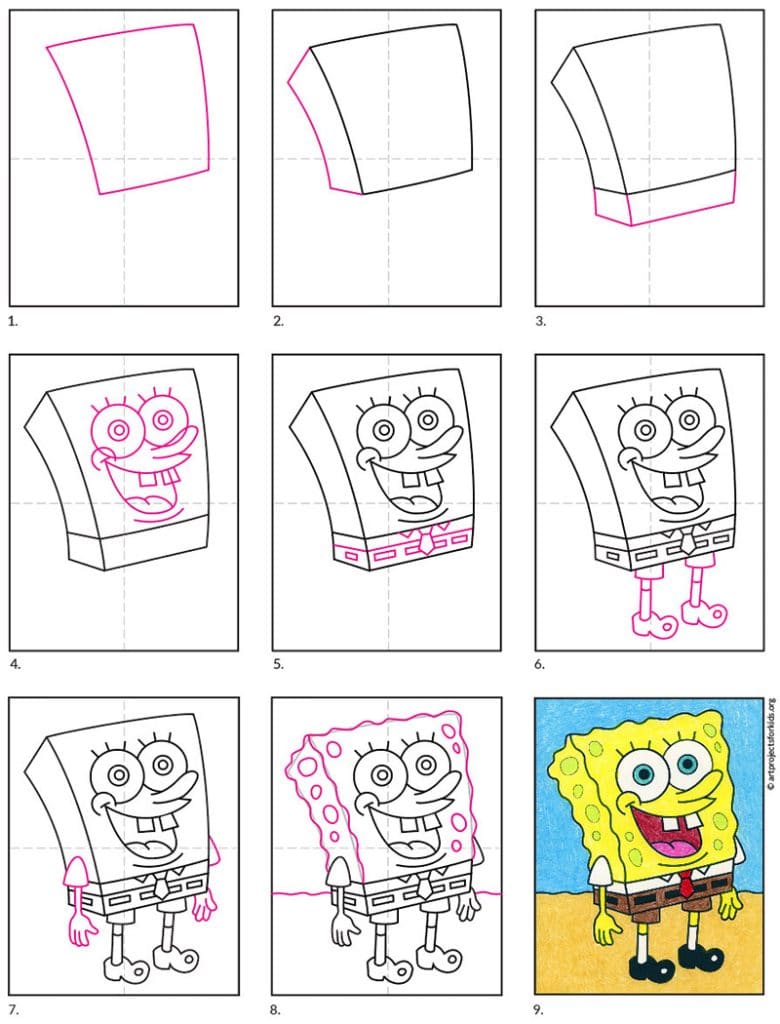 Join "The Daily Draw" below and get this free download!
SpongeBob Coloring Page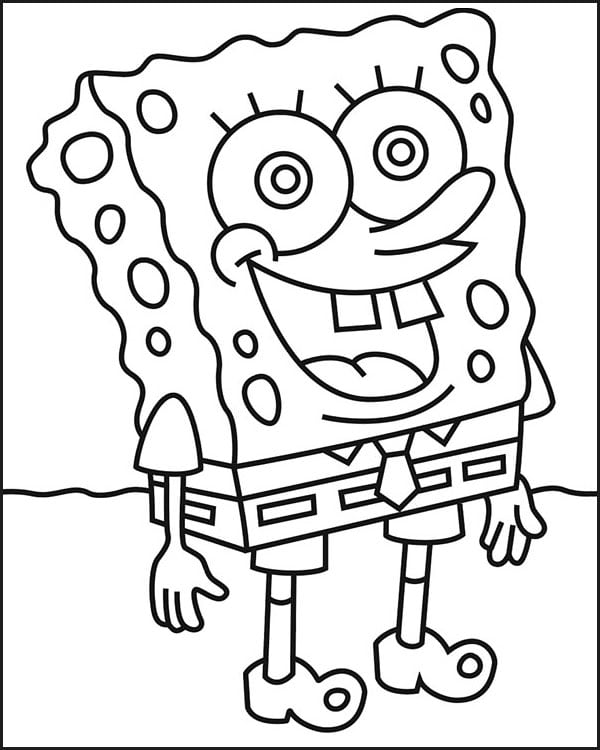 Materials
Drawing Paper. This is the good stuff you can buy in bulk for a good price.
Pencils. I like how this brand always makes nice dark lines.
Black Marker. A permanent marker will give you a dark black color.
Note: All of the above are Amazon affiliate links.
How to Draw SpongeBob Step by Step
Time needed: 45 minutes.
How to Draw SpongeBob SquarePants in 9 Easy Steps
Start with a kind of tilted square.

Add the angled side panel.

Extend the lines down for the shirt and pants.

Draw the face, erase the inside lines.

Add the shirt and belt details.

Draw the legs and shoes below.

Add the two arms.

Add the wavy lines and spots. Erase the straight lines.

Trace with marker and color.
More Fun Cartoon Drawing Projects