For a cat drawing step by step tutorial, it doesn't get much easier, or creative, than making one in the style of an artist named Laurel Burch.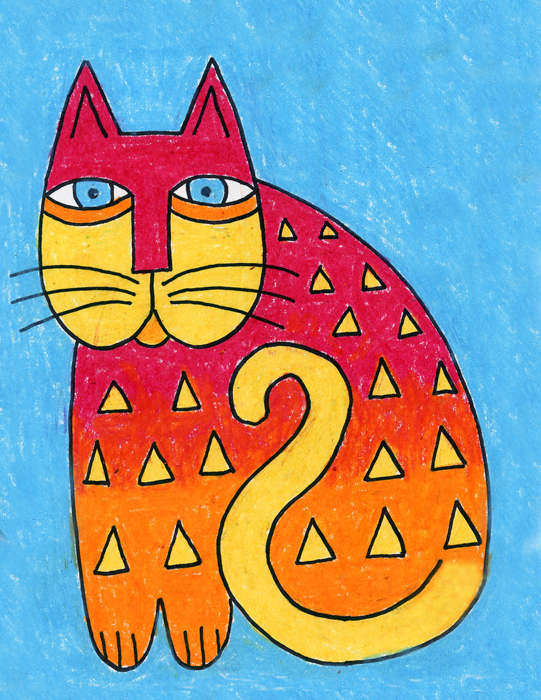 Laurel Burch was not only an incredible artist, but overcame a tumultuous upbringing, learned to live with a debilitating bone disease, started her own business, and broke barriers in the male dominated business world. Love it when great life messages can be intertwined with fun projects, and Laurel's famous cats do just that. The shapes are simple and leave plenty of room to get creative.

MATERIALS
Drawing paper
Black marker
Oil pastels or crayons
*The above product links are referrals. If you click through and take action, I'll be compensated a small amount, at no extra expense to you.
LOOKING FOR MORE DRAWING PROJECT IDEAS?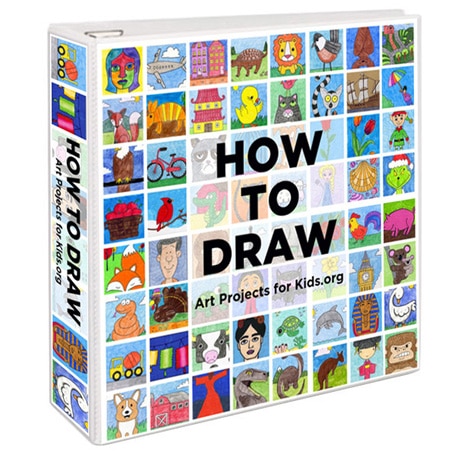 There are 200 fun and easy drawing tutorials made just for young artists in my giant How To Draw ebook.
All were created with lots of hands on classroom testing, and designed to take beginner artists from the first step to the last with clear and simple diagrams.
It's all you need to provide hours of drawing fun with tutorials for Animals, Fish, Insects, Birds, Landscapes, Plants, Transportation, People and much more. Just click on the book or title to learn more.
DIRECTIONS
Fold the paper in half twice to get the guidelines shown in my tutorial.
Draw the Laurel Burch cat according to the tutorial.
Trace the cat drawing with a black marker.
Color the cat creatively with oil pastels or crayons.
ANOTHER LAUREL BURCH PROJECT OPTION
A Laurel Burch cats art lesson can look extra spectacular if you use metallic markers on black paper. The darker the paper, the better.
MATERIALS
*The above product links are referrals. If you click through and take action, I'll be compensated a small amount, at no extra expense to you.
DIRECTIONS
NOTE: For my kinders, consider making a head template to trace to get them started. It really helped to get everyone to draw a cat that filled their paper.
Follow the tutorial share above.
The cat drawing was traced with a marker, and then lots of patterns were filled inside. I don't know who enjoyed the results more today, the students or their teachers.
SaveSave
Pattern Cat with Markers
This pattern cat project gets its bright colors from using Sharpie markers on a paper that is not usually considered for drawing — finger paint paper.
One of my favorite combinations is Sharpies on fingerpaint paper. The color just glides on and it has a rich shine to it when you are finished. The only catch is that it is tricky to draw on as pencil lines are difficult to erase. For that reason, especially for younger students, I would recommend making a cat head template that they trace to get the drawing off to a good start. The body and tail are easy to add on their own.
MATERIALS
• Finger paint paper
• Chipboard or similar for making a template
• Sharpie markers
DIRECTIONS
PREP: If desired, cut cat head templates from chipboard.
Students trace or draw the cat head in the top right part of their paper.
They add the body outline and tail. Simple cat features are added to the face.
Students trace the drawing with a black Sharpie marker.
The inside of the cat body is filled with colorful patterns.
The background gets a filled with a contrasting color and stars.
Save