Easy How to Draw a Romero Britto Cat and Britto Cat Coloring Page
Below you'll find an easy step-by-step tutorial for how to draw a Romero Britto Cat and Coloring Page. It's all about drawing with lots of bright colors and patterns.
Romero Britto Cat Drawing
If students follow these suggestions when they draw a Romero Britto cat, they are sure to create a very vibrant and colorful cat that is sitting on an equally colorful background. Britto's style of drawing is incredibly fun to imitate and learn from.
More about Romero Britto
Romero Britto was born in Brazil and had a modest childhood. Today he is an internationally renowned pop artist. His use of vibrant colors and eye-catching patterns help him spread a message of optimism and love around the globe. It's easy to draw a Romero Britto cat, and try out his colorful abstract drawing style.

This cat drawing project may look pretty simple, but a little bit of planning will help in the process. Here are a few suggestions to give your students, so you can still see the patterned cat when they are done coloring. Too many random colors might camouflage it, and make it hard to see the cat shape itself.

1. When the drawing is done, students need to decide if they are making a warm colored cat on a cool background, or a cool cat on a warm background. The shapes are so abstract that they will blend into each other if they do not choose.

2. The black lines on the cat work best if they are traced several times so they are very thick. They will also help show off the cat shape and make sure you can see it.

3. This is a good project to try layering similar colors of marker. A solid base that has lines or dots drawn on top with a similar color, makes the coloring process a lot easier. An example is dark green on light green, orange on yellow, and red on orange.
Use the button below to download this free tutorial!
Britto Cat Coloring Page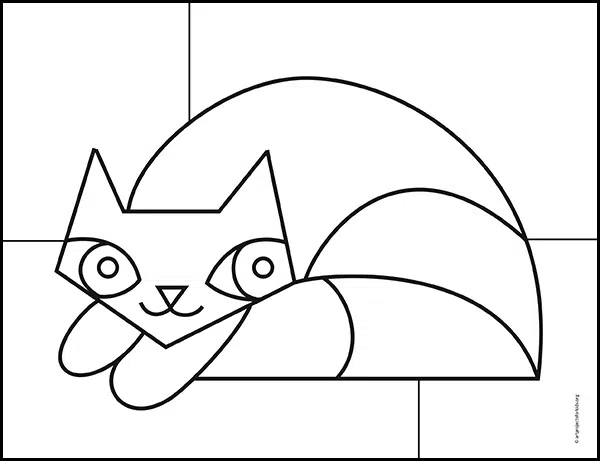 Materials to Draw a Britto Cat
How to Draw a Britto Cat Step by Step
Time needed: 1 hour
How to Draw a Britto Cat
Start the head shape.

Connect the top of the head with two ears.

Draw two paws under the cat chin.

Add a large half circle for the body.

Add three curved lines.

Draw the outside of the eyes.

Draw the inside circle eyes. Divide the background with 4 lines.

Lastly, add more colored patterns on top.

Trace with a very thick black marker and fill in shapes.
Already a Subscriber? Thanks, then use the download button below!
More fun Cat Drawing Projects