Easy How to Draw a Cat Tutorial Video and Cat Coloring Page
Below you'll find an easy step-by-step tutorial video for how to draw a Cat and a Cat Coloring Page. When you want a simple, yet expressive face, this new tutorial might be just what you are looking for.
Cat Tutorial Video
A quick google search for how to draw a cat will show you hundreds of options, whether simple or realistic or cartoony or full body or close up. This tutorial is designed to help young artists draw just the face of a cat, with a rather serious yet cute look. Only a few simple shapes are needed to put this kitty together, and once complete, could be colored in many different ways.
If you prefer to draw an entire cat, but want to keep it simple, just scroll down to see the Easy Cat tutorial. It's perfect for those just learning how to draw, as it only calls for drawing a few simple symmetrical shapes too. Two fun options to choose from!
Preview of the Step by Step Cat Tutorial
Cat Coloring Page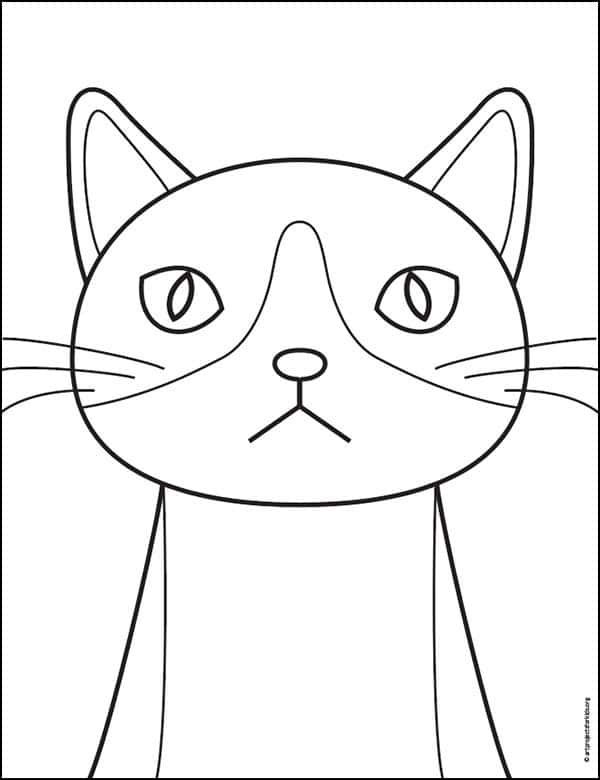 Materials for Cat Project
Drawing Paper. This is the good stuff you can buy in bulk for a good price.
Pencils. I like how this brand always makes nice dark lines.
Black Marker. A permanent marker will give you a dark black color.
Note: All of the above are Amazon affiliate links.
How to Draw an Easy Cat
Easy Cat Coloring Page
Step by Step Directions for Cat Face Project
Time needed: 45 minutes.
How to Draw a Cat Face
Draw an oval.

Add two symmetrical eyes.

Draw the nose and mouth.

Add the line for the black fur.

Draw two large ears.

Add an edge to the ears.

Draw the whiskers on each cheek.

Finish with the shoulder lines.

Trace with a marker and color.
More Fun Cats to Draw