Easy How to Draw a Bunny Tutorial Video and Bunny Coloring Page
Below you'll find an easy step-by-step tutorial video for how to draw a Bunny and a Bunny Coloring Page. Use it for a Line Art bunny project or color it in naturally — both make a great spring art project for kids!
Bunny Drawing
Bunny Drawing Video Tutorial
There must be an artist somewhere who originated this look of a furry bunny line drawing, as many variations have been all over Pinterest for awhile now. It is a great idea, having the black and white drawing on the colored background, but the examples I saw were either to complex or way too simple. As in, coloring page simple.

Who needs that when the basic bunny head is really pretty easy to draw? And if students then lightly plan some rows with a pencil, lots of skinny marker lines can be added in an organized way.

Lastly, cut him out, leaving a bit of a white edge, glue to a sheet of your favorite color of paper and you have fun drawing with lots of CONTRAST too. (Psst, one of the Principles of Design!)
Join "The Daily Draw" below to get this free download
Bunny Coloring Page
Easy Bunny Face Drawing
Spring and bunnies just go together, regardless of the holidays you may celebrate this time of year. So adding a large (and might I add pretty cute!) bunny drawing to your collection of spring art projects is a no-brainer.

This tutorial in particular is one of those that is perfect for younger elementary students, even kinders. Even if they are just learning how to follow step by step instructions, this might be a good one to try out. The recognizable shapes and lines (circles, half circles, curves, zig zags) are all familiar and easy to recognize. The fact that they are all placed symmetrically on the paper is a plus too.

There are lots of coloring options for this bunny, once the drawing is finished. Students could go natural with a combination of brown, grays and white, or completely abstract like a made up Easter bunny too. The sample shown above was actually layered with crayons, gray and gold first, brown on top. Not all crayons will do that, but it's always nice to know some do, in case that's all that is available.
Easy Bunny Face Tutorial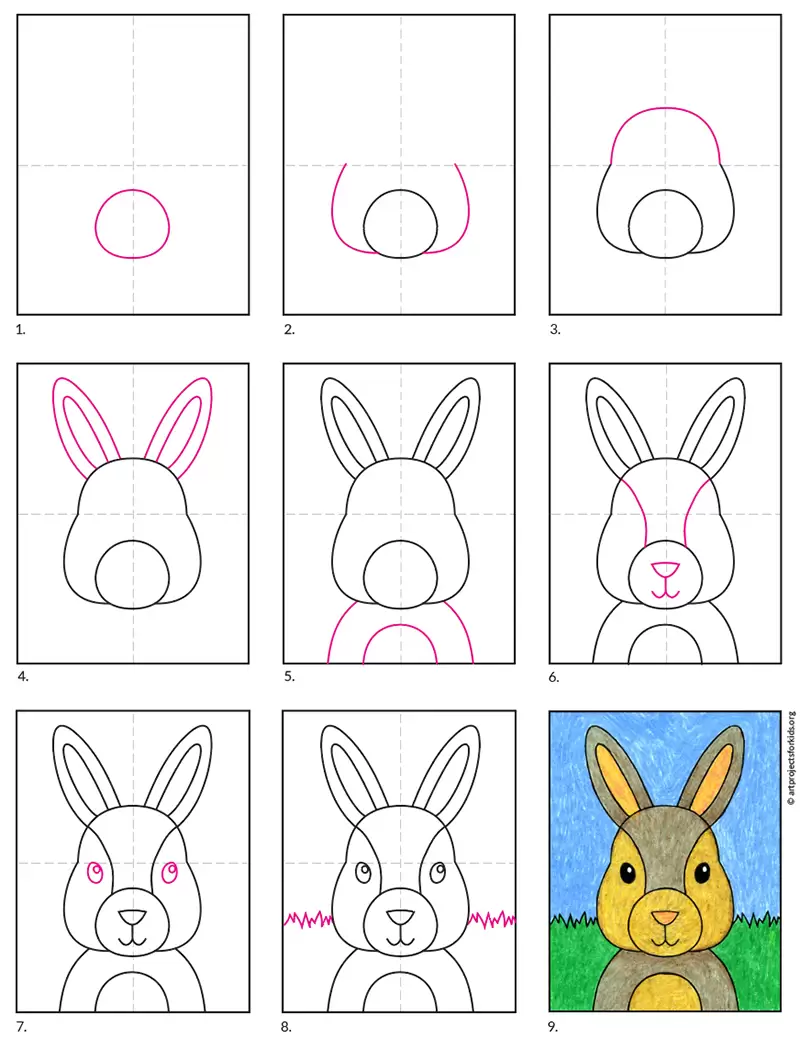 Materials to draw a Bunny
Drawing Paper. This is the good stuff you can buy in bulk for a good price.
Pencils. I like how this brand always makes nice dark lines.
Black Marker. A permanent marker will give you a dark black color.
Note: All of the above are Amazon affiliate links.
Step by Step Directions
Time needed: 1 hour
How to Draw a Simple Bunny Face
Draw a circle.

Start the cheeks.

Draw the top of the head.

Add shoulders and ears.

Add mouth and eyes.

Trace with a thick marker. Draw rows lightly with pencil.

Start fur lines with a thin marker.

Continue until they are filled. Erase the pencil lines.

Cut out and glue to a sheet of colored paper.
---
Save me to your Pinterest Board!
More Bunny Drawing Projects