Gee's Bend Quilt Art Lesson: How to Make a Paper Quilt Project
Try this paper quilt collage for a Black History Month art Project. Students can learn about a little about civil rights while trying this lesson inspired by the women of Gee's Bend.
The Quilters of Gee's Bend
This Black History Month art project was inspired by the women of Gee's Bend, who live in a small and remote black community in Alabama. When the women of this small town began quilting in the 19th century, it arose only from a physical need for warmth. However, over the years they have been credited for actually reinvented of the art form by making hundreds of quilts considered by many to be masterpieces. Quilts from Gee's Bend have been exhibited at the Museum of Fine Arts, Houston, the Philadelphia Museum of Art, the Whitney Museum of American Art, and others. In 2006, the U.S. Postal Service even issued ten commemorative stamps featuring images of Gee's Bend quilts.
Lessons from a Paper Quilt Project
Quilters from Gee's Bend start by painstakingly taking apart old clothes by hand so as to use the ENTIRE piece of fabric. To be clear, they didn't use MOST of it to make something new, they used ALL of it. You can pass on this message to your students by requiring them to use ALL of their paper used to make this collage.
Gee's Bend and Dr. Martin Luther King
This community also has a pretty fascinating connection to Dr. Martin Luther King. You can read the book "Belle, the Last Mule at Gee's Bend" to find out more. I had no idea this town played they a key role in the civil rights movement too. Amazing people.
Inspiration for students in Germany
This comes from a video that a teacher made with her students in Germany. It looks like they went with a more free form approach, which is fun for older students who are often able to add more details. The overhead shot shows students arranging all their own rectangles to look like one BIG quilt, which was saved in this beautiful digital way. You can see the example HERE. It's a reminder that sometimes quick video "installations" of art can be as charming as something that is physically put together too!
Use the Button below to Download a PDF Tutorial
A Gee's Bend Coloring Page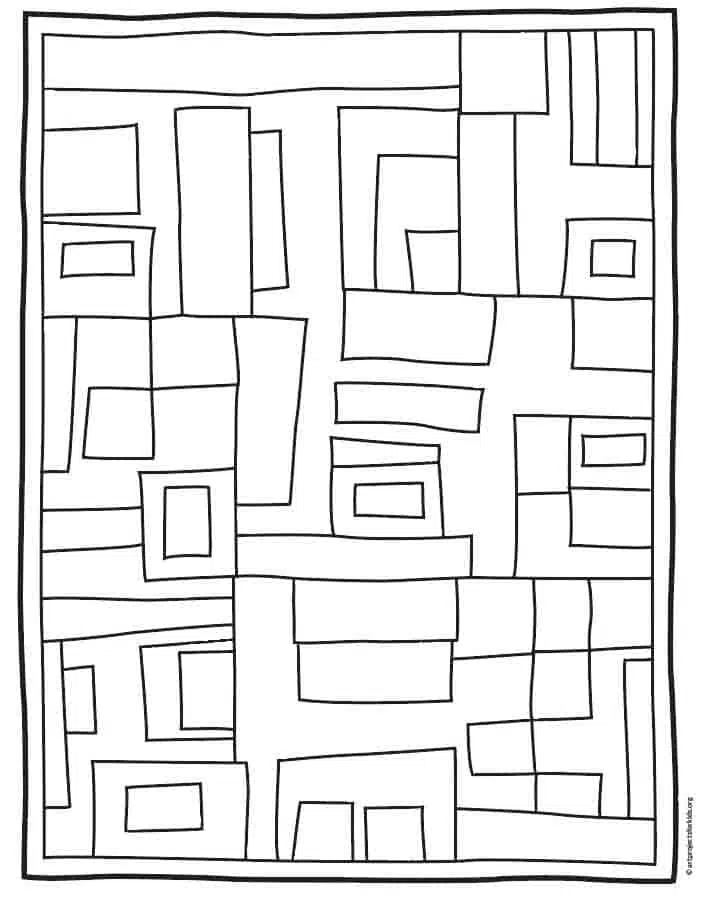 Materials to make a Gee's Bend Collage
Recollections Card stock paper
Paper cutter
Scissors
Glue stick
Penny Sleeves
Scotch tape
*Affiliate link. If you click and take action, I may be compensated in a small way.
Follow Up Project: Color a Gee's Bend Mural
Now it's easy to make a classroom mural to celebrate the creative work the Gee's Bend quilters.
All you need to do is purchase a Gee's Bend Quilt template from my PDF Shop, have each student color a page, and then tape or glue it back together according to included directions.
It makes a special work of art for your classroom, and because everyone takes part, a collaborative experience as well.
Directions to Make a Gee's Bend Collage
Time needed: 1 hour
Gee's Bend Collage
Teacher Prep: Purchase card stock with a palette of five colors. The background color is cut in half, the rest into panels of 5.5″ x 2.75″

Start with background color and one of each four panels.

Cut panels 3 times to make halves, quarters and eighths.

Cut smallest 1/8 piece two more times to make a 1/16 and 1/32.

To assemble the collage, take the 1/2 size rectangle and make a balanced arrangement. Glue in place with a glue stick.

Take the 1/4 size rectangles and arrange them on top and glue down.

Take the 1/8 size rectangles, arrange and layer and glue.

Next, arrange the 1/16 pieces on the paper and glue.

And finally the 1/32 size pieces. You're done!
Gee's Bend Trading Card Art
• Place four background cards on the table and four remaining cards are cut up into strips and squares, etc. Glue to the backgrounds in any arrangement desired. Important: Students must use ALL of their cut up paper. Layers are fine, it just needs to be all used up, just like the Gee's Bend women did with their clothes.
• Slide each card into a penny sleeve. This will help smooth out all the pieces and add a look of lamination.
• The cards are taped together on the back side with clear scotch tape.
• Each student can keep their own quilt, or the entire class could put theirs together to make a collaborative piece.
More Black History Projects