Easy How to Draw a Valentine Bear Tutorial Video and Valentine Bear Coloring Page
Below you'll find an easy step-by-step tutorial video for how to draw a Valentine Bear and a Valentine Bear Coloring Page. There's nothing like a hand drawn Valentine card!
Valentine Bear Drawing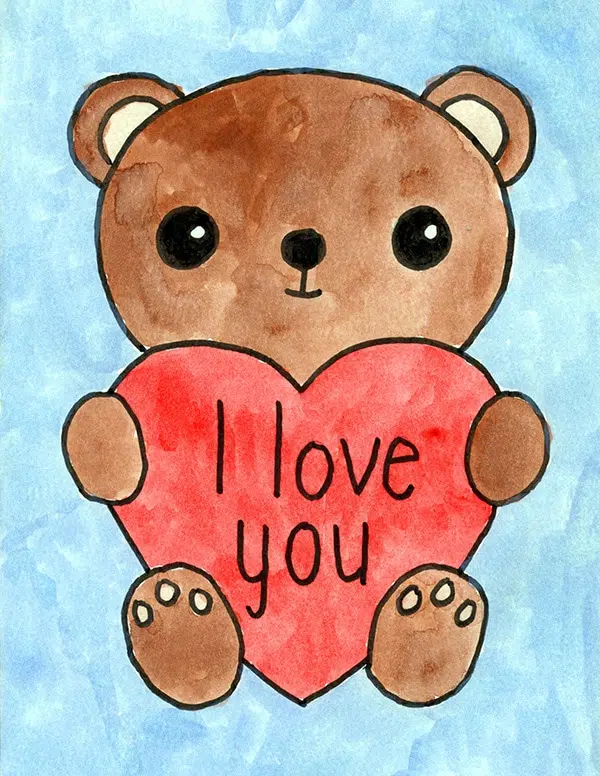 Valentine Bear Tutorial Video
Learning how to draw overlapping shapes is one of the first ways students learn about depth.⁠ An easy example can be found with this How to Draw a Valentine Teddy Bear tutorial.⁠ Students first draw the object in front, (the heart) and then what is behind (the bear).⁠ The overlapping shapes create the look of the bear holding the heart, instead of just leaning up behind it.⁠
Children that are just learning how to draw do their best work when they have what I call anchor points to refer to. For instance, asking them to "place their pencil in the center of a sheet of paper and draw up and back to the center for half of a heart" is so much clearer than just asking them to "draw half a heart". That's why I recommend folding paper before drawing to first get a horizontal and vertical guide in place. They help take all the guesswork out of getting that large heart centered on the sheet of paper. Once the heart is in place, drawing the rest of this simple teddy is a piece of cake.
Use the Button below to download a PDF Tutorial
Valentine Bear Coloring Page
Materials for Valentine Bear Project
Step by Step Directions for Valentine Bear Project
Time needed: 1 hour
How to draw a Teddy
Make guidelines. Draw half a heart.

Finish the heart.

Draw a head above the heart.

Add eyes, nose and mouth.

Draw two ears.

Add two medium paws and two larger feet.

Add spots to the feet.

Write a message in the heart.

Trace with a marker and paint or color.
Draw a Valentine Bear with a Heart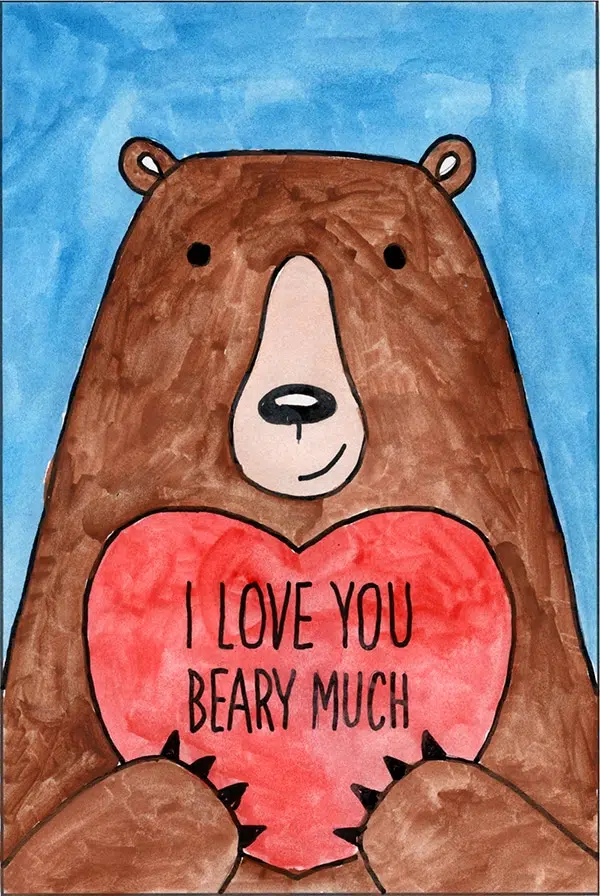 One of the best reasons to learn how to draw, aside from all the learning skills they offer, is the chance to make a little work of art for someone special on a special day. One of those days comes up next month, and when students learn how to draw a Valentine Bear, they have all kinds of options of how to make a beautiful handmade Valentine card.
This bear is so simple to draw, not to mention the paws and heart, that it makes it a very doable drawing for even very young artists. They hardest part will be deciding how to finish it off — paints, crayons, markers?
If the drawing looks a little taller than my other letter size projects, it's because it is proportioned to fit well on a folded 9″ x 12″ sheet of paper. This obviously makes a pretty card, and the smaller art is easier to finish in one class session too.
Use the Button below to download a PDF Tutorial
Valentine Bear Drawing as a Card
Valentine Bear Coloring Page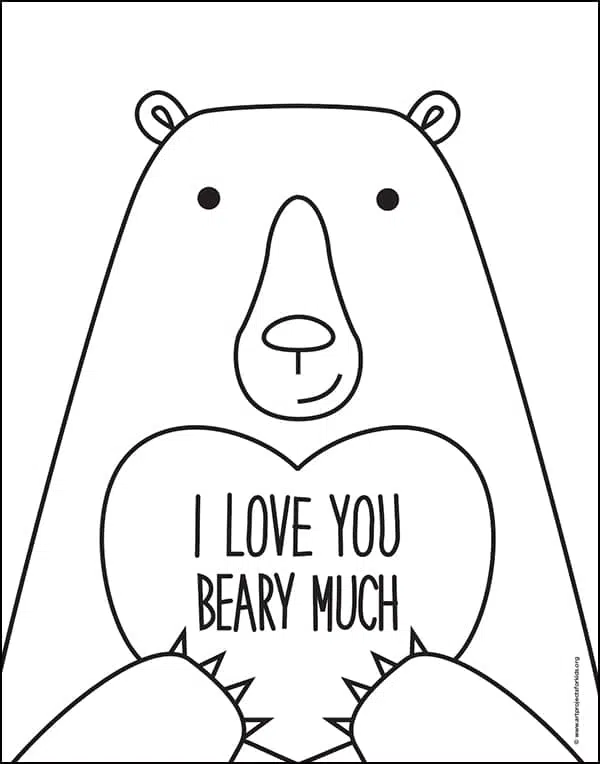 Student Art Inspiration
More Valentine Drawing Projects