Easy How to Draw a Cupcake Tutorial Video and Cupcake Coloring Page
Below you'll find an easy step-by-step tutorial video for how to draw a Cupcake and a Cupcake coloring page. All the options for decorations are just too much fun!
Cupcakes Drawing
When students learn how to draw a cupcake, they can go on to use the theme in so many creative ways. These were drawn on trading card size paper (2.5″ x 3.5″) and placed in a trading card sleeve. The repetition of a theme and cartoon style drawing would also make a great Pop Art lesson.
If the color seems extra bright to you, it happens for two reasons. One, is that I used Sharpie Brush markers to color them, and two, is that they are colored on finger paint paper. The glossy finish makes the colors just pop off the page.
The only drawback to using finger paint paper is that it is tricky to draw on with a pencil. The lines don't erase very well. At all, actually. The solution is to use it only when drawings are extra simple like these cupcakes. If fact, you might just hide the pencils for this project and have everyone start drawing with a black marker. The small size of the paper makes it easy to offer a few practice sheets for everyone.
To help young students make their cupcakes with different frostings a toppings, I've made what I call a "Cupcake Cheat Sheet". You can download a copy below.
Use the Button below to download a PDF Tutorial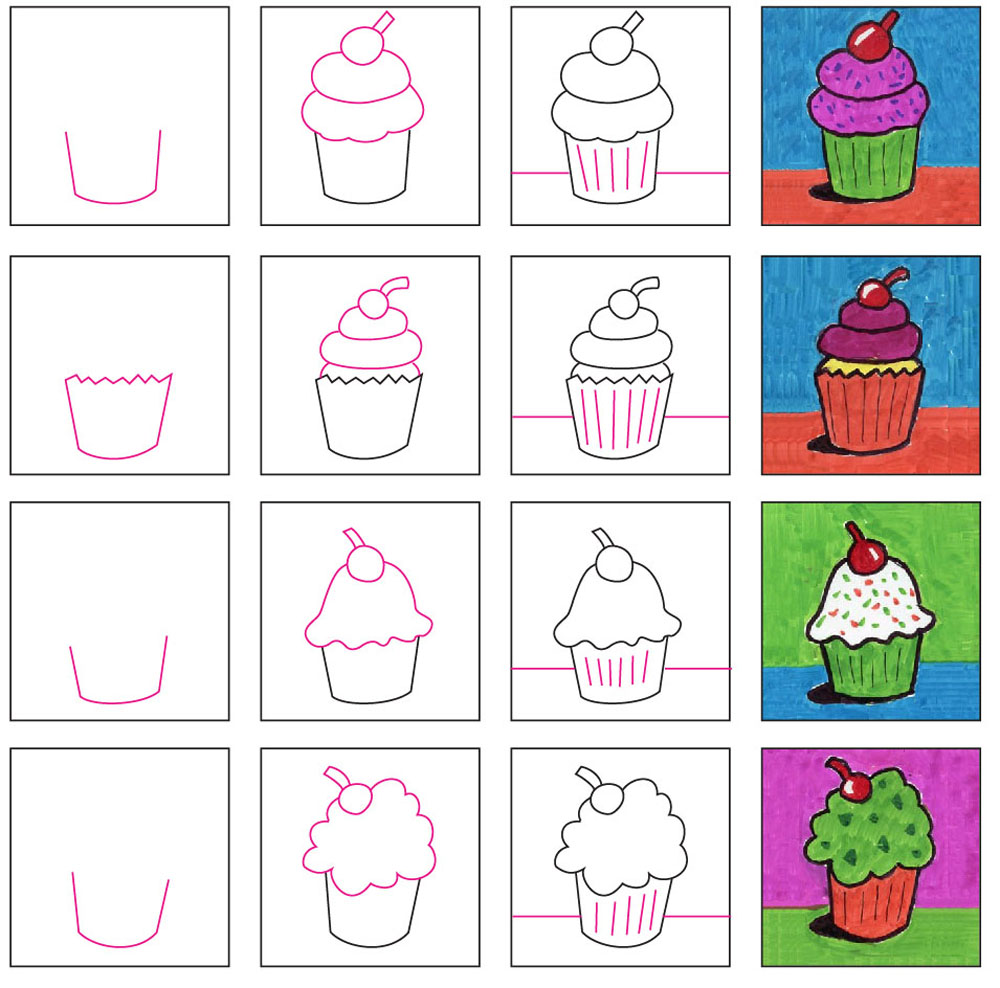 Coloring Page
Materials
Drawing Paper. This is the good stuff you can buy in bulk for a good price.
Pencils. I like how this brand always makes nice dark lines.
Black Marker. A permanent marker will give you a dark black color.
Note: All of the above are Amazon affiliate links.
Step by Step Directions
Time needed: 1 hour.
How to draw a Cupcake
Draw the cup, frosting, cherry and details.
This large and simple cupcake drawing gives students a chance to add some details they might not normally have room for. The big swirls of frosting could have some highlight spots added, and the paper holder with some some crease lines too. Keep it simple with some shading, or go to town adding lots of fun sprinkles and candy on top. Both are sure to make a beautiful cupcake drawing!
Cupcake Coloring Page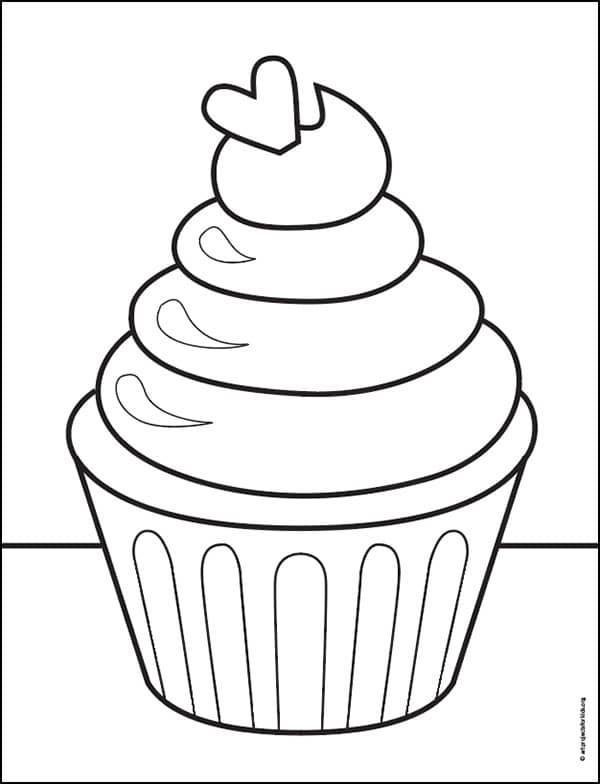 Another Cupcake Idea
More Fun Drawing Projects