Expand on a basic how to draw a cupcake lesson by making MANY of them, adding lots of bright colors, and maybe a shadow or highlight (or both).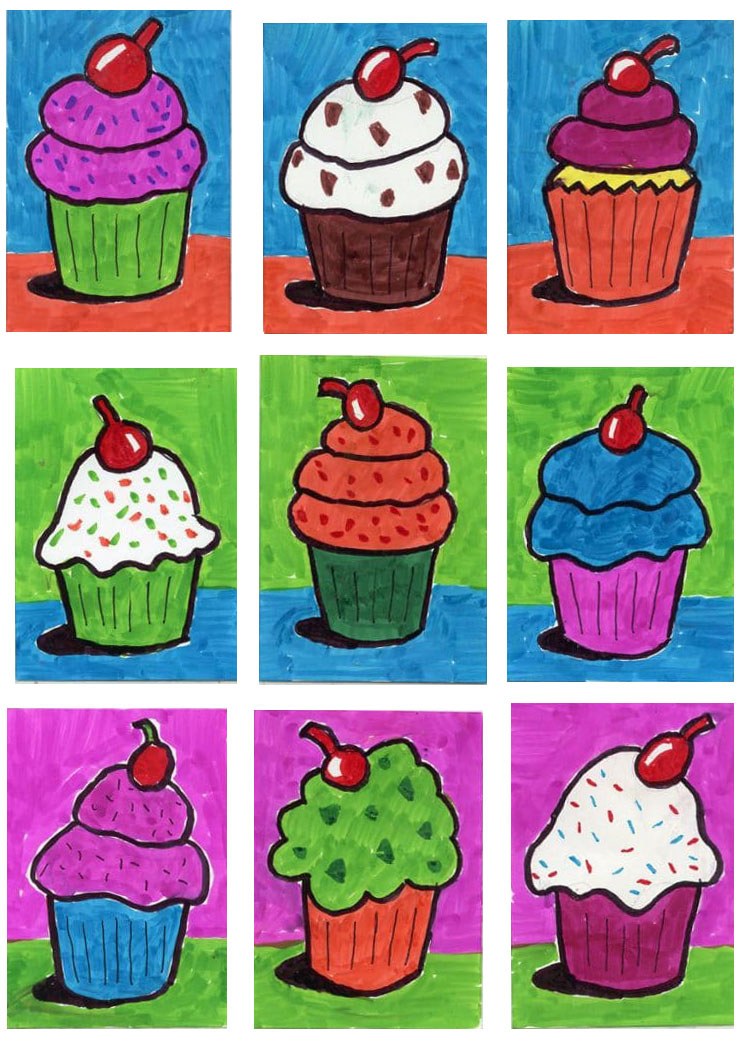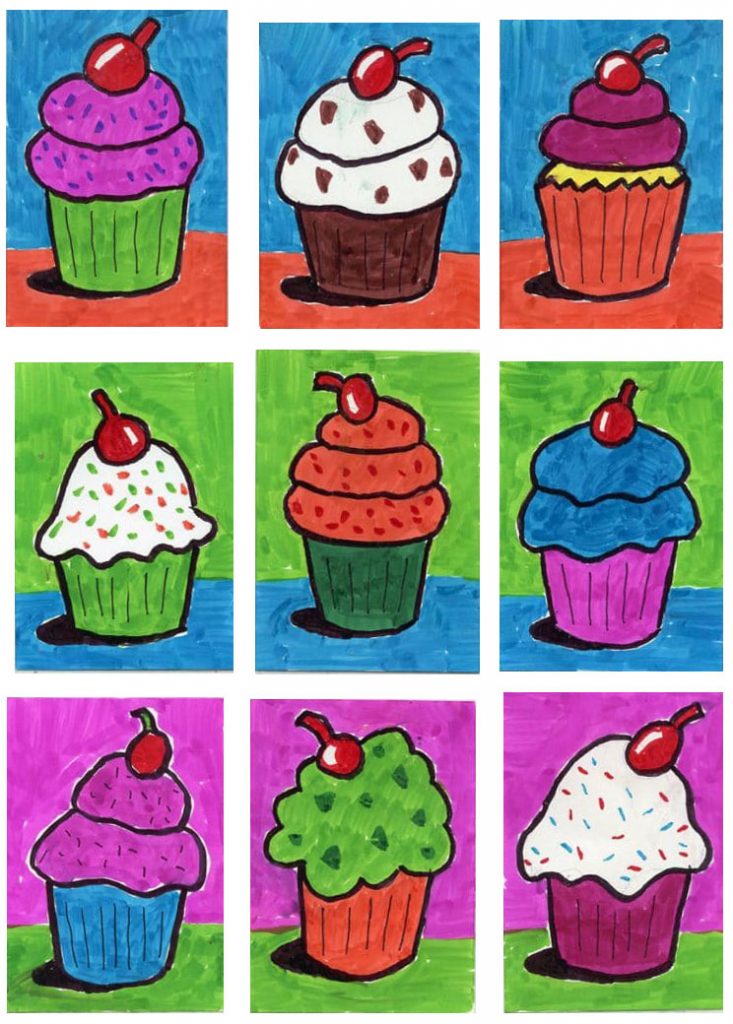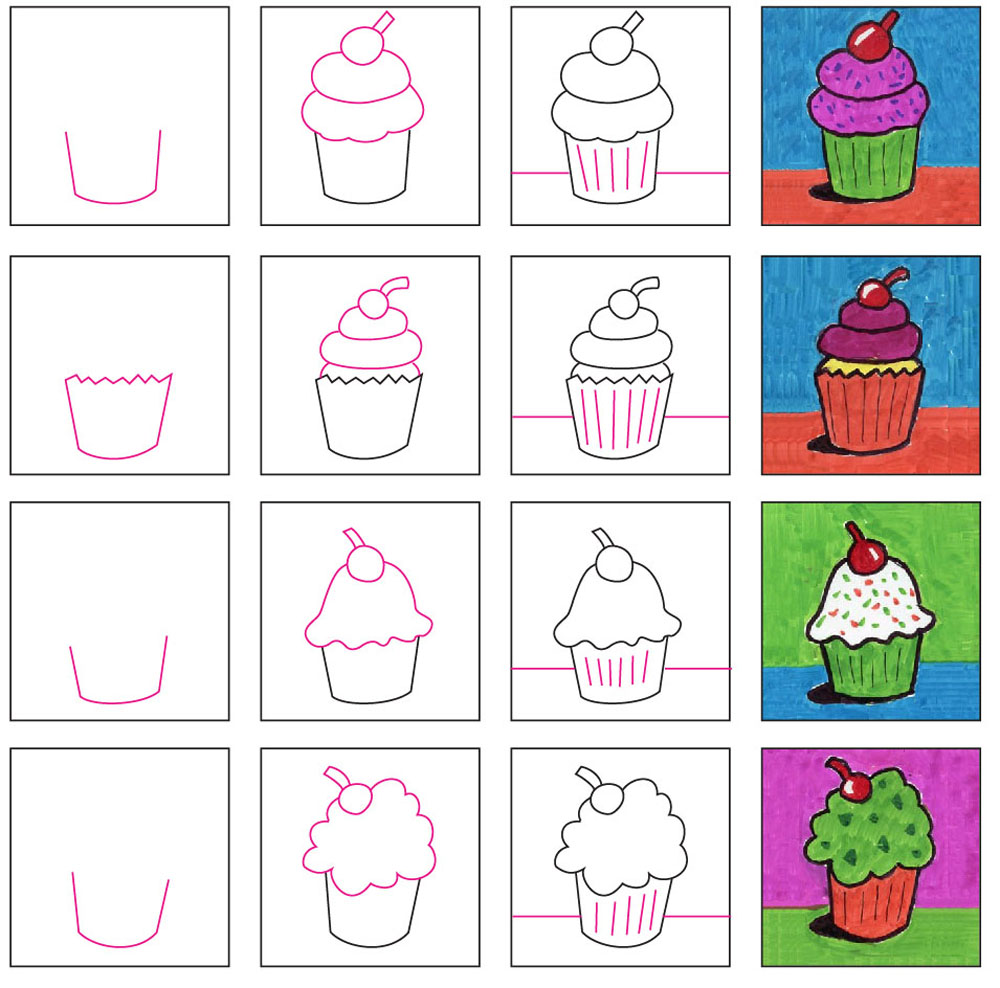 These cupcakes were drawn on trading card size paper (2.5″ x 3.5″) and placed in a trading card sleeve. The repetition of a theme and cartoon style drawing would also make a great Pop Art lesson.
If the color seems extra bright to you, it happens for two reasons. One, is that I used Sharpie markers and two, is that they are colored on fingerpaint paper. The glossy finish makes the colors just pop.
The only drawback to the fingerpaint paper is that it is tricky to draw on with a pencil because you can't erase lines very well. At all, actually. Therefore I bring it out when drawings are extra simple like these cupcakes. If fact, you might just hide the pencils for this project and have everyone start drawing with a black marker. The small size of the paper makes it easy to offer a few practice sheets for everyone.
To help young students make their cupcakes with different frostings a toppings, I've made what I call a "Cupcake Cheat Sheet". You can download a copy below.
MATERIALS
*The above product links are referrals. If you click through and take action, I'll be compensated a small amount, at no extra expense to you.
LIKE THIS VALENTINE PROJECT?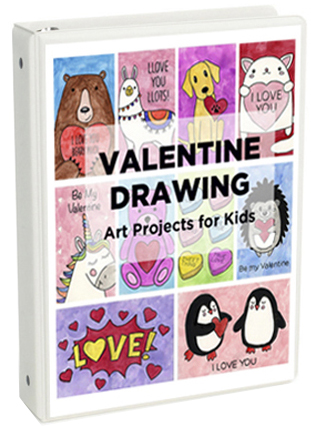 There are a lot more fun and easy ones in my new VALENTINE DRAWING ebook. 
It contains 25 tutorials of things to draw as stand alone art, or perhaps very sweet homemade cards.
Each project includes easy to follow step-by-step tutorial, a full size line drawing for reference, and finished color sample. Just click on the title or book to learn more.
DIRECTIONS
Time needed: 1 hour.
How to draw a Cupcake
Draw the cup, frosting, cherry and details.

Draw the cup, frosting, cherry and details.

Draw the cup, frosting, cherry and details.

Draw the cup, frosting, cherry and details.