Mix a little body science with your art lesson by making these revamped Pasta Skeletons. Craft sticks provide a much needed sturdy base.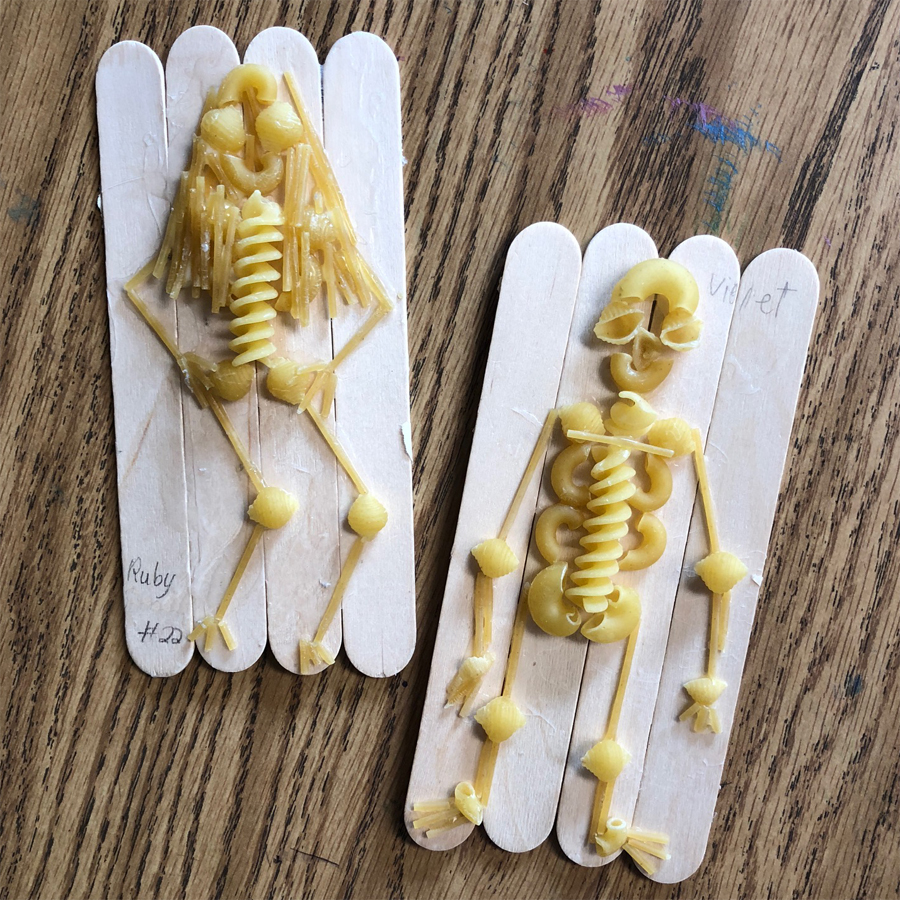 TIPS FOR MAKING YOUR BEST PASTA SKELETONS
Everyone can learn some basic skeletal proportions with this lesson (as in arms don't come out from necks!), however keep in mind…
Older students (3rd through 5th grade) will be able to add much more detail
Students can make their own boards by counting out their needed sticks and then taping them together. The boards will at first be floppy, but after the glue is dried, sturdy and ready for all kinds of display.
Craft glue is essential to helping things dry quickly and stay in place. I bought large bottles and kept small amounts in little plastic souffle cups with lids. Extra craft sticks were good for spreading it around.
MATERIALS
Standard craft sticks (20 per student) or Jumbo craft sticks (4 per student)
Masking tape
Craft glue (it dries SO much faster than Elmers)
Pasta: Macaroni, spaghetti, shells and twists
Skeleton System for reference: Here's one I found. Try dragging it to your desktop for a copy.
DIRECTIONS
Time needed: 45 minutes.
Make a Pasta Skeleton
Align about 20 craft sticks and tape with masking tape on the back.

Use craft glue to create the head, spine and shoulders.

Add curly ribs and shell hips.

Use straight strips for arms, fingers, legs and feet.
Let dry on flat surface overnight,