Mix a little body science with your art lesson by making these revamped Pasta Skeletons. Craft sticks will not only add to the earthy look, they will provide a much needed sturdy base.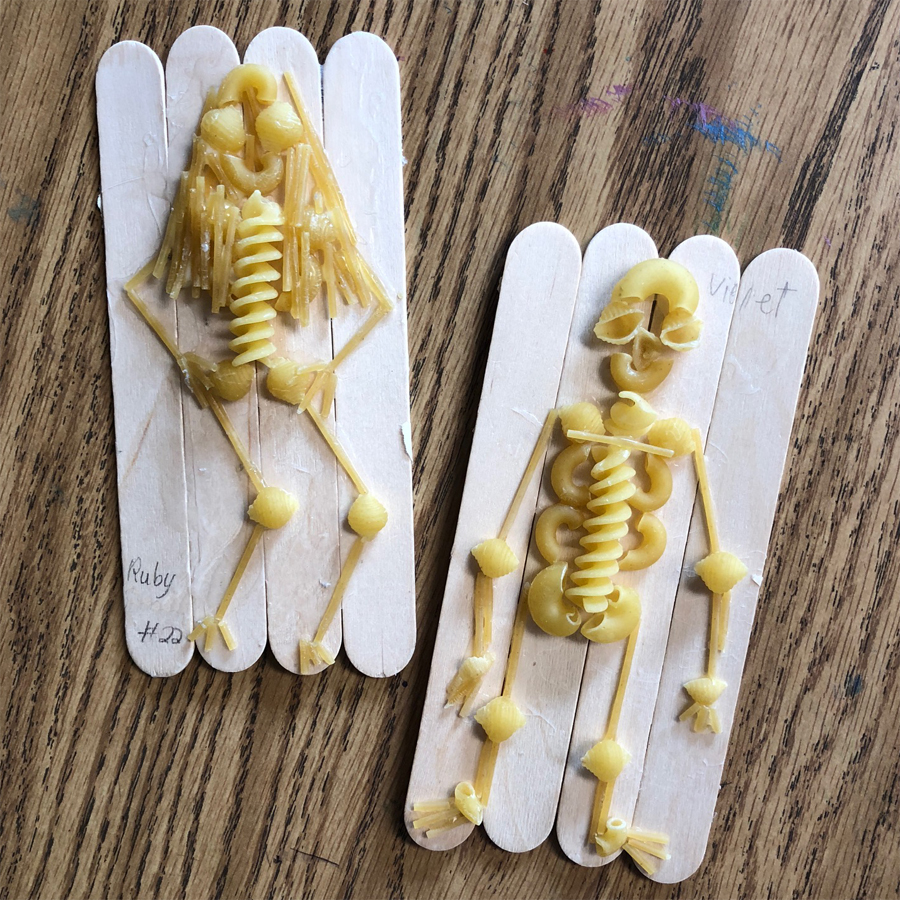 TIPS FOR MAKING YOUR BEST PASTA SKELETONS
Everyone can learn some basic skeletal proportions with this lesson (as in arms don't come out from necks!), however …
Older students (3rd through 5th grade) will be able to add much more detail
Students can make their own boards by counting out their needed sticks and then taping them together. The boards will at first be floppy, but after the glue is dried, sturdy and ready for all kinds of display.
Craft glue is essential to helping things dry quickly and stay in place. I bought large bottles and kept small amounts in little plastic souffle cups with lids. Extra craft sticks were good for spreading it around.
PASTA SKELETON MATERIALS
*The above product links are referrals. If you click through and take action, I'll be compensated a small amount, at no extra expense to you.
DIRECTIONS
To make a quick and sturdy board, students line up 20 popsicle sticks vertically and secure them with masking to the back. Small pieces at first, then a couple large to make sure they are all attached.
Share the variety of pasta shapes. Brief the students with a simple sketch illustrating the proportions and the placement of shoulders, hips and joints.
It's best to spread the glue on the board, and then place the pasta on top. Start with the torso and glue the head, spine, ribs and hips. Next add the shoulders, arms, legs, hands and feet.
Let the skeleton dry on something flat until the glue is clear. The board will be stiff when the skeleton is all dry. I recommend signing names on the front with a pencil, so you can read it but it doesn't look as distracting as a dark marker might be.
LIKE THIS HALLOWEEN PROJECT?
There are lots of fun and easy ones in my new HALLOWEEN DRAWING ebook. It contains 25 tutorials that help young artists draw new shapes, and the more experienced with a place to begin before adding their own twists, and details, and shadows.
Each project includes easy to follow step-by-step tutorial, a full size line drawing for reference, and finished color sample. Just click on the title or book to learn more.