Halloween Cat Collage Projects
A Halloween cat collage project, that works with one of the Principles of Design — Variety. The more variations of Peek a Boo cat poses, the better.
Save
SaveLarge, small, peeking from the sides or the top, the combination makes for a very playful looking collage.
This sample came from an art trading card class, but the idea could be applied to just a grid like collage too.
ANOTHER OPTION FOR YOUNGER STUDENTS
If you like the idea but need a larger, simpler version for younger students, here's another approach. Start with a larger sheet of paper, and make fewer cats, and then you have room to add in a few details.
As for the paper, I was gifted some large orange stuff from a parent, and didn't fully appreciate it until is was all gone. If you can find some on Amazon that you can afford, this makes a great project for lower lever elementary students.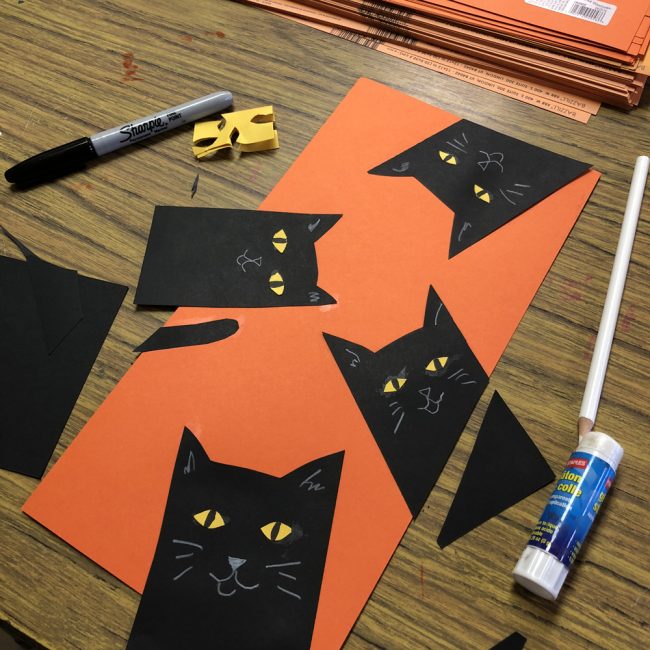 A SIMPLER VERSION FOR KINDERGARTENERS
Kinders are usually just learning how to cut and draw things in a centered format, so the peeking in view might be a little too confusing for them.
My solution? Give them one large cat template to trace and cut (you can see pencil lines on black paper). They can cut out little triangle eyes, and then use JUST a black marker to add detail to their background.
My experience from working with lots of kinder teachers over the years is that the focus on that age is all about learning to add details. The more details they can draw, the more details they talk and later write about. The two skills go hand in hand.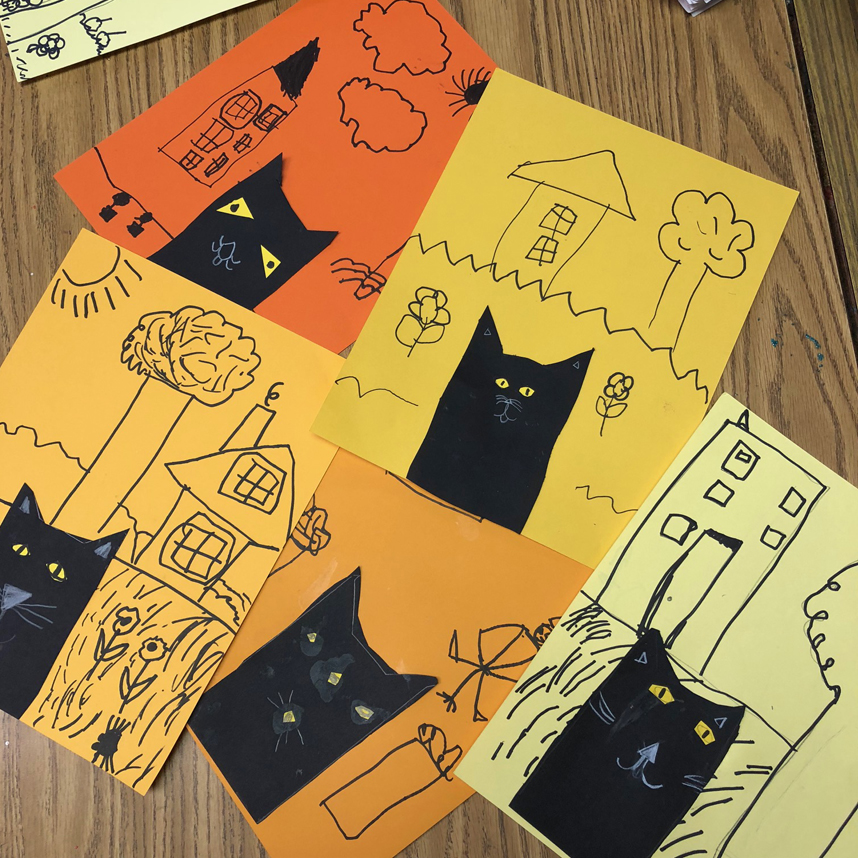 MATERIALS
FOR CARD PROJECT: Card stock paper, orange and yellow, 8.5″ x 11″
FOR LARGE PANEL PROJECT: Card stock paper, orange, 12″ x 12″
Cardstock paper, black
Black Sharpie marker
Trading card sleeves
Scissors
Glue stick
Paper cutter
DIRECTIONS FOR TRADING CARD CATS
Prepare 9 black and 9 orange trading cards measuring 2.5″ x 3.5″.
Draw in pencil the outline of a cat on a black card. Try to make many options large and small, coming out of the short or the long side of the card.
Cut out the black cat and glue it to an orange card.
Draw, cut and glue small yellow eyes to each cat.
Draw black eyes inside the yellow with a marker.
Repeat to make a total of nine cards with as many variations of cats as possible.
DIRECTIONS FOR LONG PANEL OF CATS
Cut paper in half to make 6″ x 12″ panels. Also cut black card stock paper into appropriate size rectangles for more efficient cutting of cats.
Older students can draw and cut their own simple cat shape with ears, but younger (kinder and 1st grade) will probably need templates. They make enough to fill their paper, with at least one coming in from each side.
Students use small rectangles of yellow card stock to fold in half, draw and cut out two matching eye shapes.
The eyes are glued to each cat, and the inside slits added with a thin black marker.
Cats are placed in their final arrangement and glued in place. If there is black overhanging the orange, it is trimmed off.
DIRECTIONS FOR SINGLE KINDER CAT
Students use a large cat template to trace and cut.
Yellow eyes are cut from small pieces of paper (use your discretion as they whether they can cut out their own shapes, or need a guide.
The eyes are glued on the cat, and marker lines added inside.
Students use a white pencil crayon to draw a mouth and whiskers.
The cat is glued to the orange paper, and background details are added with ONLY a black marker.