You may have learned how to draw a house as just one basic shape, but they often are asymmetrical with additions added to either side. And if you are lucky, a nice picket fence out front.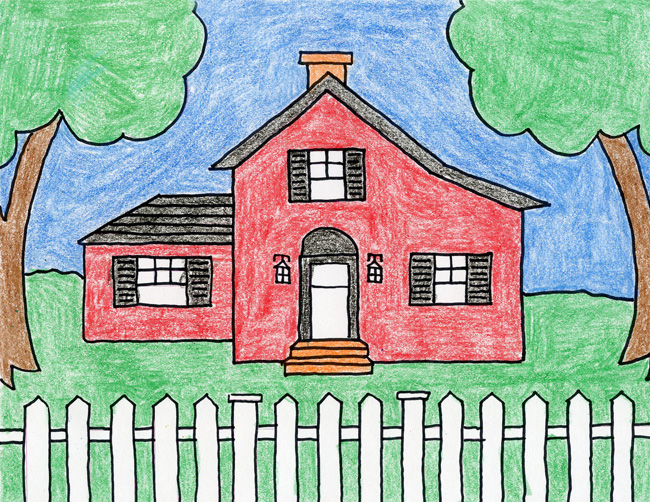 Drawing buildings and any type of architecture calls for a different kind of thinking and working. Lines need to be neat and orderly, which uses a different side of your brain.
You may find that some students who have NO interest in drawing people or flowers, etc. are completely fascinated with drawing buildings. That could be the makings of a future architect, and so for that reason, exposing students to this type of drawing could be the start of something new for them.
LOOKING FOR MORE DRAWING PROJECT IDEAS?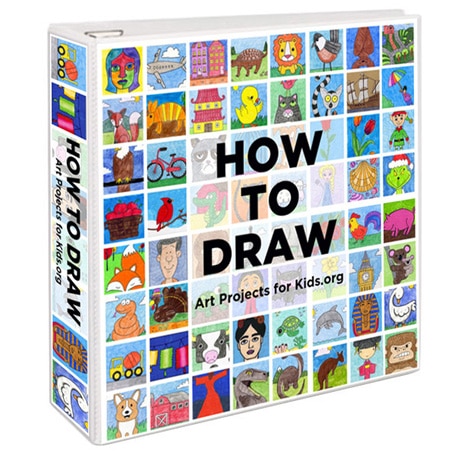 There are 200 fun and easy drawing tutorials made just for young artists in my giant How To Draw ebook.
All were created with lots of hands on classroom testing, and designed to take beginner artists from the first step to the last with clear and simple diagrams.
It's all you need to provide hours of drawing fun with tutorials for Animals, Fish, Insects, Birds, Landscapes, Plants, Transportation, People and much more. Just click on the book or title to learn more.
MATERIALS
Drawing paper
Black Sharpie marker
Crayons
DIRECTIONS
PREP OPTION: Print guidelines on each paper.
Students use paper with printed guide lines or they fold it in half twice to make their own.
Draw the house according to the steps shown in the tutorial.
Trace the drawing with a Sharpie marker.
Color the house with a crayon.