Easy How to Draw a Cowboy Hat Tutorial
Learn how to draw a cowboy hat and then add yourself underneath! This tutorial even includes a little help in drawing the necessary bandana.
The cowboy hat is a high-crowned, wide-brimmed hat best known as the signature piece of clothing for the North American cowboy. Today it is worn by many people, and is particularly associated with ranch workers in the western and southern United States.
John Batterson Stetson is credited for originating the modern day American Cowboy Hat. The original was flat-brimmed, had a straight sided crown, with rounded corners manufactured by Stetson in 1865. These light-weight, waterproof hats were natural in color, with four-inch crowns and brims.
This tutorial shows students how to draw a cowboy hat, and add an easy face underneath. There's even an example of how to add the bandana. This could make a fun self-portrait project when students are learning about the Gold Rush or even just the wild wild west. Who hasn't wondered what it was like to live in those times?
Use the Button below to Download a PDF Tutorial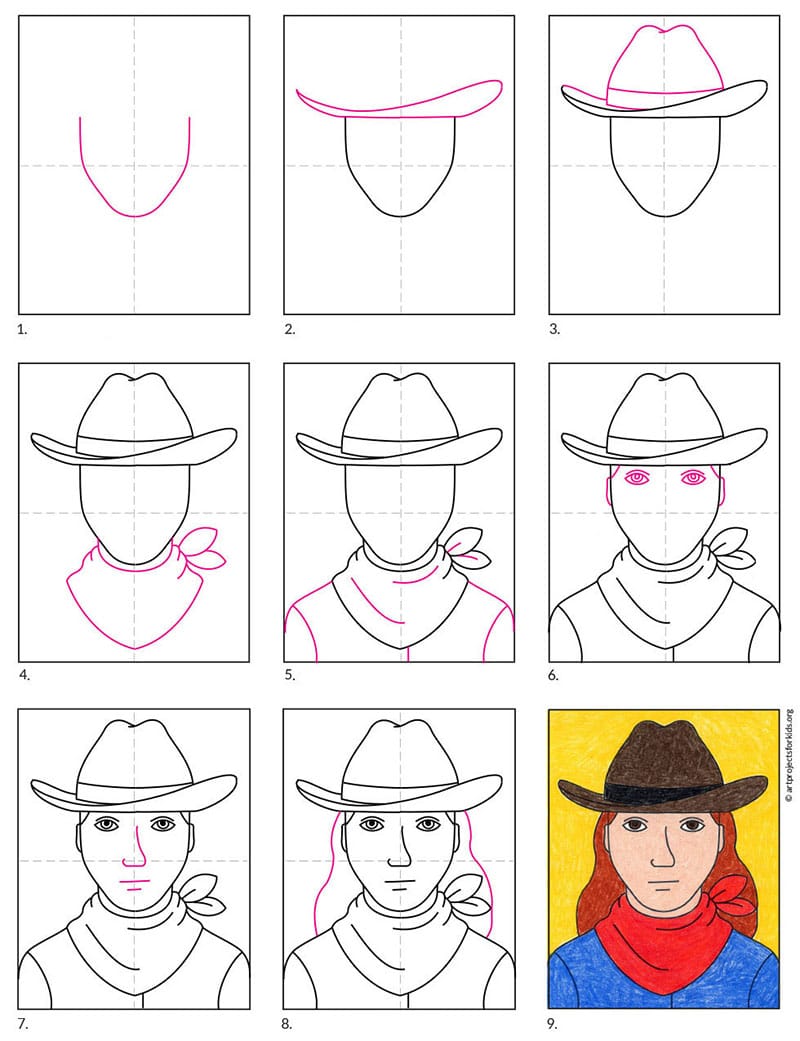 Materials for a Cowboy Hat Drawing
Directions to Draw a Cowboy Hat Step by Step
Time needed: 50 minutes.
How to Draw a Cowboy Hat
Start with a U shape for the head.

Add the hat rim above it.

Finish the top of the hat.

Draw a scarf under the head.

Add the shoulders and the fabric details.

Draw the eyes and the ears.

Add the nose and mouth.

Add more hair, if needed to make it look like you.

Trace with a marker and color.
More Fun Portrait Projects