This is one of my all time favorite back to school art projects. Students to draw themselves with a focus on the eyes, and list their latest goals for the upcoming school year.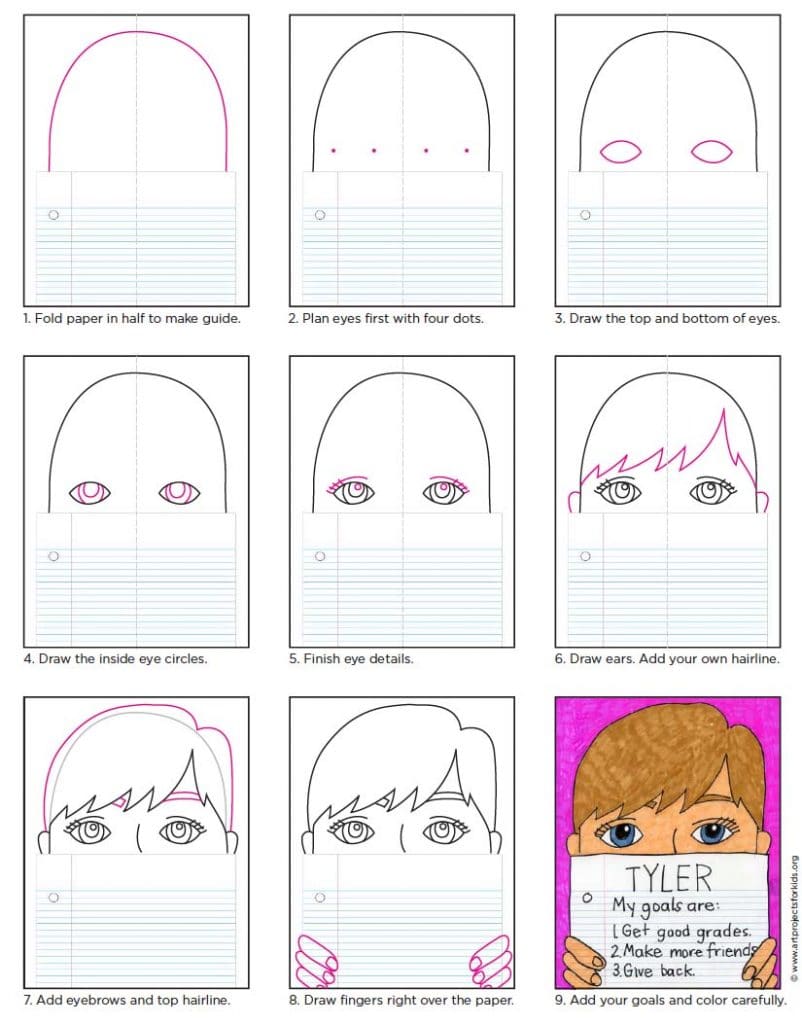 DO YOU LIKE THIS PORTRAIT PROJECT?
There are many more like it in my "Draw Self Portraits" ebook in my PDF Shop. It's a collection designed to show show students just how varied the world of self portraits can be.
You can find themes for: Paul Klee, Cubism, Statue of Liberty, Big Abstract Face, Hundertwasser, Doodling, Lego, Sunglasses, Modigliani, My Goals, Chuck Close, Half Portrait, Minecraft, Wanted Poster and Lichtenstein. Just click on the binder or title to learn more.
MATERIALS
Drawing paper, cut to 8.5″ x 11″
Black marker for tracing
Markers* or crayons, anything with good skin color options
*The above product link is a referral. If you click through and take action, I'll be compensated a small amount, at no extra expense to you.
DIRECTIONS:
Print My Goals template (page 2 of download) on letter-sized drawing paper.
Print a tutorial for students to follow.
Students draw themselves following the diagram.
They trace their drawing with a black marker.
The drawing is colored in with markers or crayons. I like the Stabilo Power brand for their many skin color options.
Art Projects for Kids
Average rating:
4 reviews
Sep 10, 2019
Great Back To School project!
I use this every year with my 3-8th grade students. It makes a great beginning of the year art project and the kids enjoy doing it. Thank you for coming up with such awesome projects!
Jul 2, 2019
Self portrait
This is a great idea for students to start thinking about their learning goals. Thanks for sharing!
Jun 26, 2019
Thank you for this adorable project link!
Thank you so much for this great project! I cant wait to try this with my kids! You are a gem!
Thank you! I'm so glad you like it.
Jun 25, 2019
Very clever portrait idea!
I absolutely love this portrait project! I would love to try it with my kids. I was not able to access it, as it does not seem to be downloadable. Perhaps it needs a different link? Thanks for all that you do!