Learn how to draw a winter landscape with moonlight shadows on white snow. It's a great study in contrast.
Winter Landscape Drawing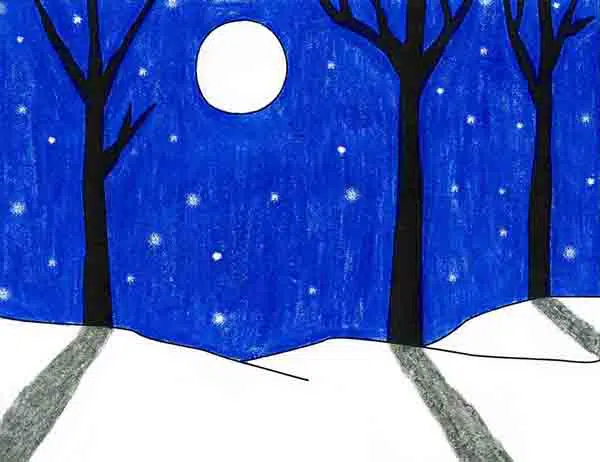 Winter landscape drawing projects needn't be complicated and involve lots of fancy supplies. This one is pretty simple, focuses on silhouettes of trees on a moon lite night, and can be made with just a couple of crayons and a black marker.
This drawing would also make an excellent example of one of the Principles of Design — Contrast. The black trees that cast a shadow against the white snow, are so much more striking than say brown trees against green grass. It's a great way for students to learn how much impact contrast can have in their work.
Use the button below to download a PDF Tutorial
Save me to your Pinterest Board!
Winter Landscape Coloring Page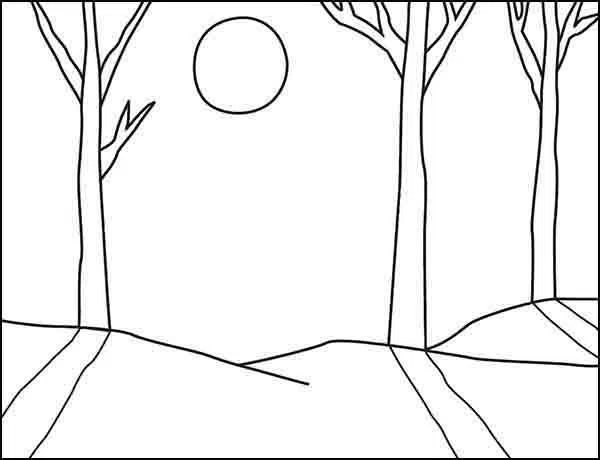 Winter Landscape Slide Show
Winter-Landscape-Slide-Show

Materials for a Winter Landscape Drawing
Black Sharpie Marker. These fine point permanent marker pens make nice black outlines, have a good tip for coloring, and never bleed when they get wet. Use them with good ventilation and add extra paper underneath to protect your tables.
Prang Crayons. These are a bit softer than other crayons so they sometimes look like oil pastels. They also have a some nice brown shades that Crayola does not have unless you buy their larger boxes.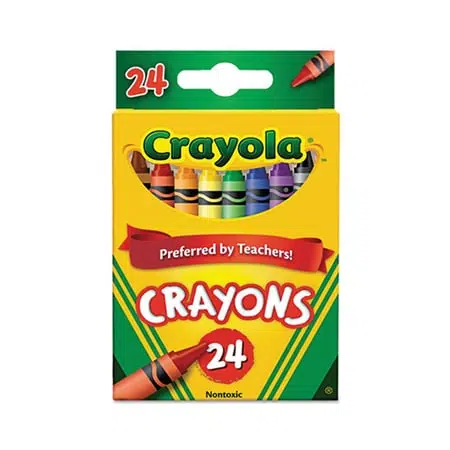 Crayola Crayons. The reliable brand that always works well. The 24 pack has some of my favorite golden orange and yellow colors that seem a bit richer and warmer than the ones Prang has.
Step by Step Directions to Draw a Winter Landscape
Time needed: 35 minutes.
How to Draw a Winter Landscape
Draw the snow banks.

Space out 3 tree trunks.

Add branches to the left tree.

Draw more branches to the middle tree.

Add branches to the right tree.

Draw a moon.

Draw shadows that point to the moon.

Color the trees black and the shadows gray.

Color the sky, leaving spots for snow.
More Winter Drawing Projects