Easy How to Draw a Snowman Tutorial Video and Snowman Coloring Page
Below you'll find an easy step-by-step tutorial video for How to draw a Snowman and a Snowman Coloring Page. There are quite a few to choose from!
Snowman Drawing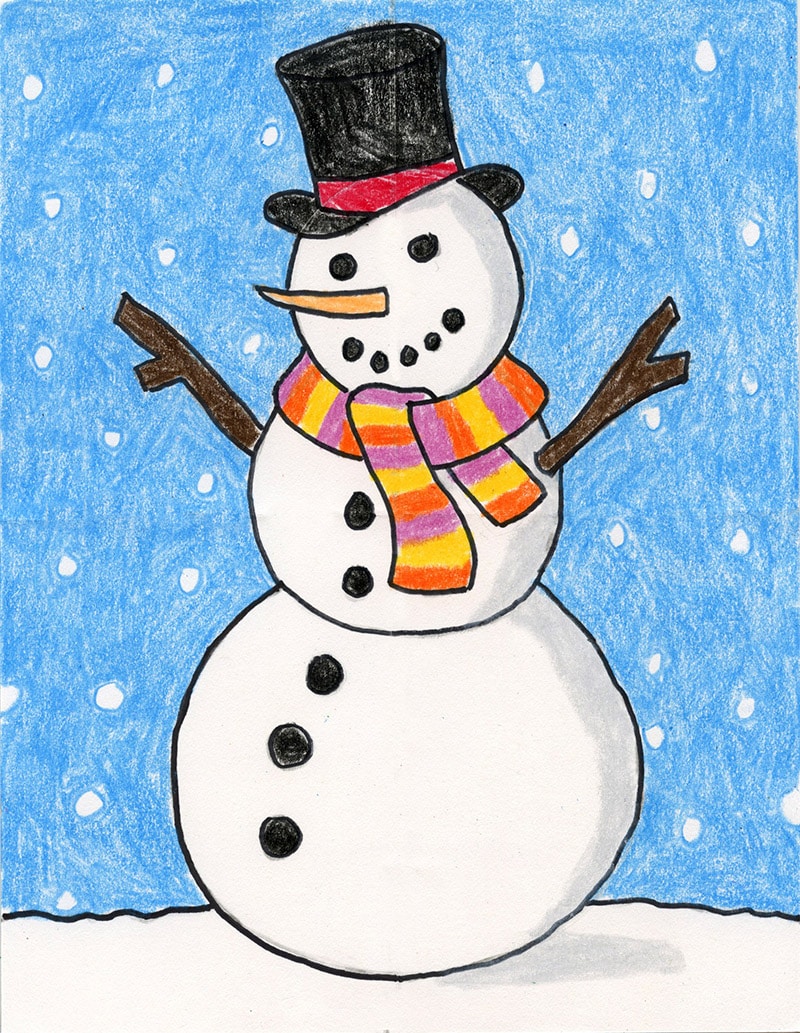 A basic flat snowmen is fine when you are just learning how to draw circles, but after that, why not try to make him look like he has some dimension? Learning how to draw a snowman that looks really round, just might be easier than you think. All it takes is just a little bit of gray color in a few strategic spots, as shown in the sample above.
This snowman uses two of the Elements of Art to add some realism to his body. First, the LINES of the scarf and hat show that they are wrapped around a round head, and not flat circle. Second, the edge of the body and hat have a VALUE change in that they are a bit darker and look like shadows. Together they add up to a snowman that looks like he could dance off the page.
How to Draw a Snowman Tutorial Video
Join "The Daily Draw" below to get this free download!
Snowman Slide Show!
Snowman-Slide-Show

Snowman Coloring Page
Materials for Snowman Drawing
Drawing Paper. This is the good stuff you can buy in bulk for a good price.
Pencils. I like how this brand always makes nice dark lines.
Black Marker. A permanent marker will give you a dark black color.
Note: All of the above are Amazon affiliate links.
Step by Step Directions to Draw a Snowman
Time needed: 1 hour.
Snowman Step by Step Directions
Draw a circle for the head.

Add a larger circle underneath the head.

Draw even larger circle underneath the second one.

Start the hat with sideways "S".

Draw the top hat above the head.

Start the scarf around neck.

Draw the scarf ends and add the face.

Add arms and buttons. Erase the gray lines.

Trace the drawing, color and add some shadows.
A Cute Snowman Tutorial
Draw an Easy Snowman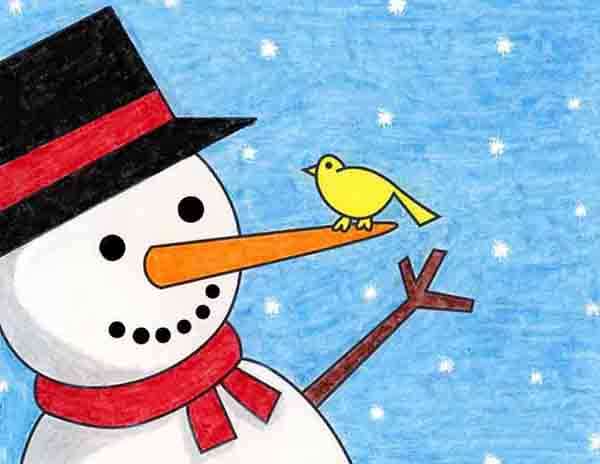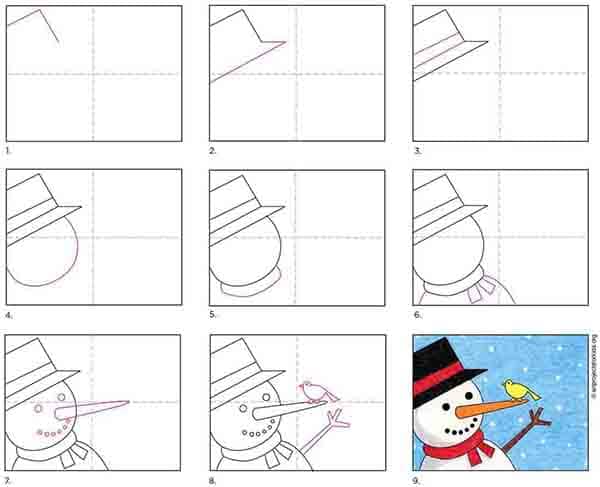 Draw a Snowman on Skis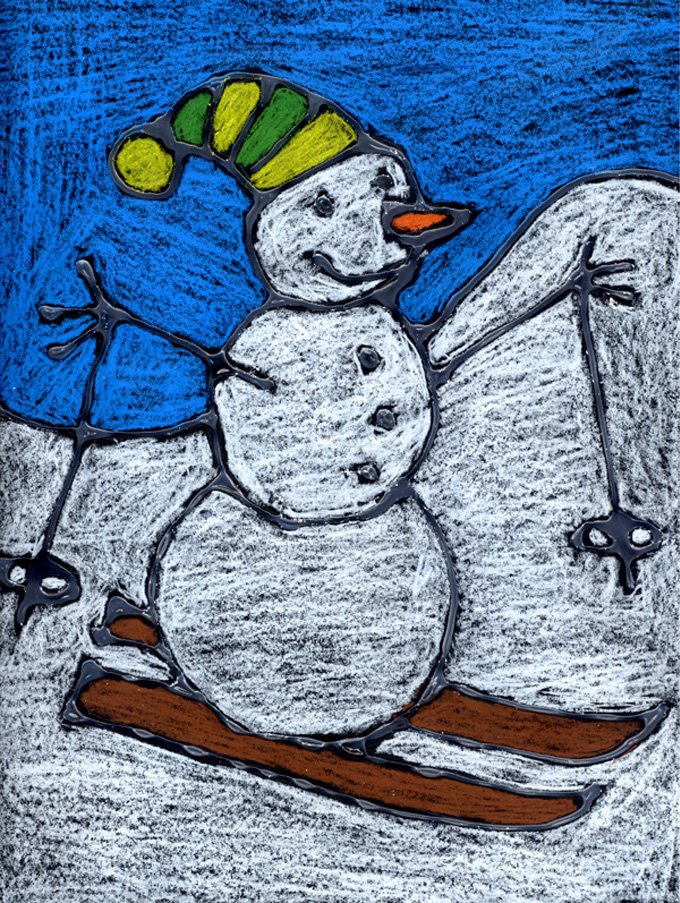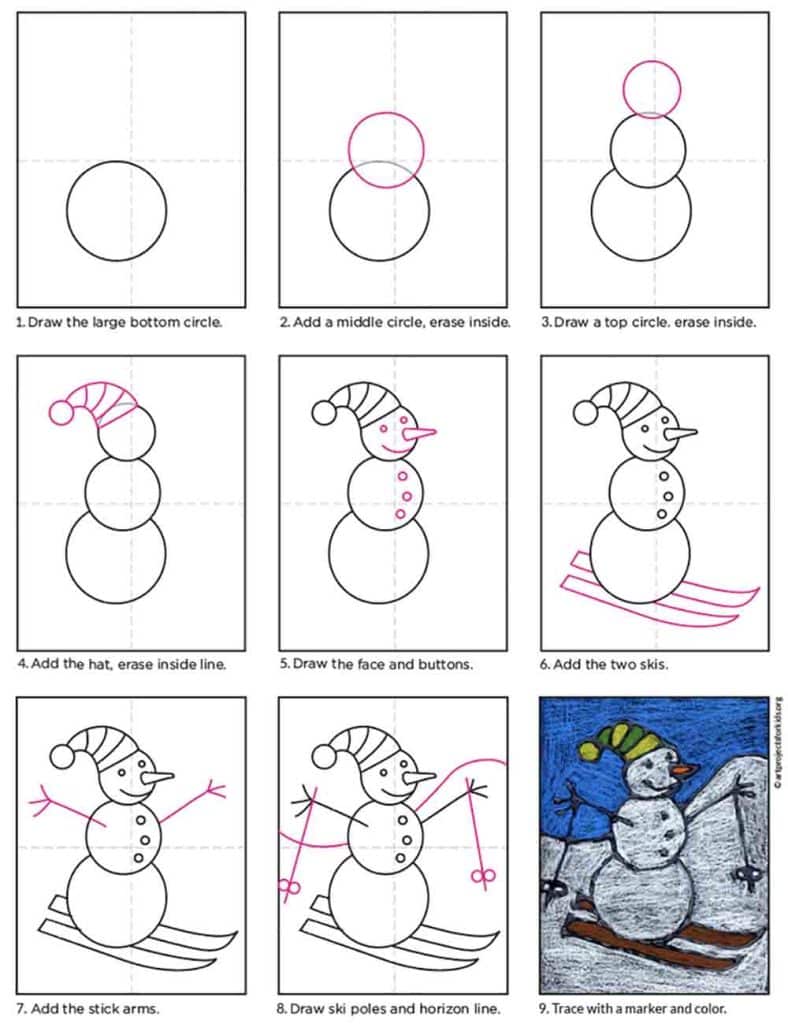 Click on any image to see these Winter Drawing Projects