Here's a cute fox drawing that includes a little perspective lesson too. Keep it simple by focusing on just his face and tail.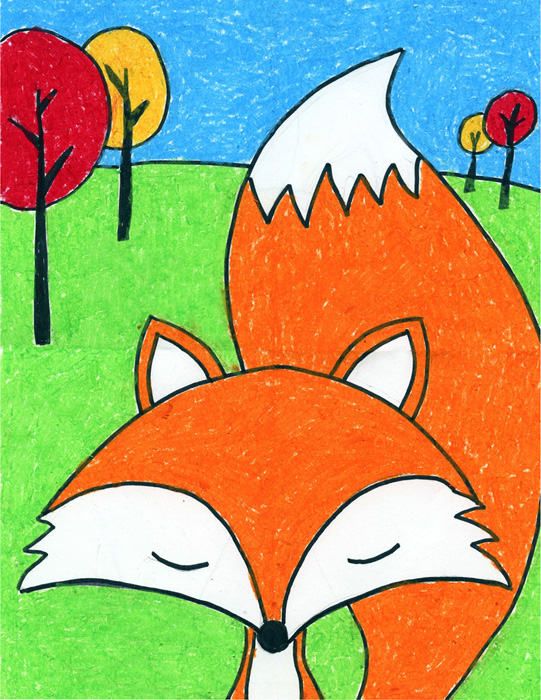 This fox face is drawn large and near the bottom of the paper, so there's a whole lotta room to get creative with the background. One simple idea is add trees that get smaller and smaller. It adds some extra dimension to your drawing.
I like this tutorial for young artists as they can just concentrate on the head and fluffy tail, and not worry about the legs. It's also a great reminder that things you draw can sometimes be so big they don't even fit on your piece of paper. (A simple concept, but sometimes a new one for those just learning how to draw.)
MATERIALS
*The above product links are a referral. If you click through and take action, I'll be compensated a small amount, at no extra expense to you.
LOOKING FOR MORE DRAWING PROJECT IDEAS?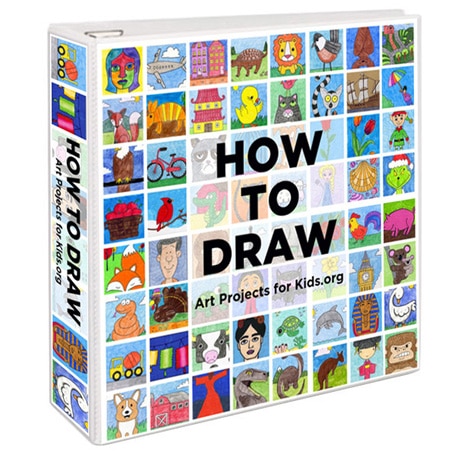 There are 200 fun and easy drawing tutorials made just for young artists in my giant How To Draw ebook.
All were created with lots of hands on classroom testing, and designed to take beginner artists from the first step to the last with clear and simple diagrams.
It's all you need to provide hours of drawing fun with tutorials for Animals, Fish, Insects, Birds, Landscapes, Plants, Transportation, People and much more. Just click on the book or title to learn more.
DIRECTIONS
Prep: Print tutorial for each student.
Draw guide lines on paper or fold in half to make creases.
Use the tutorial to draw the fox in pencil.
Trace the fox with a black marker.
Color the fox with crayons or oil pastels.