This winter painting for kids has some added depth in the sky because the swirl lines were traced with an extra layer of blue paint.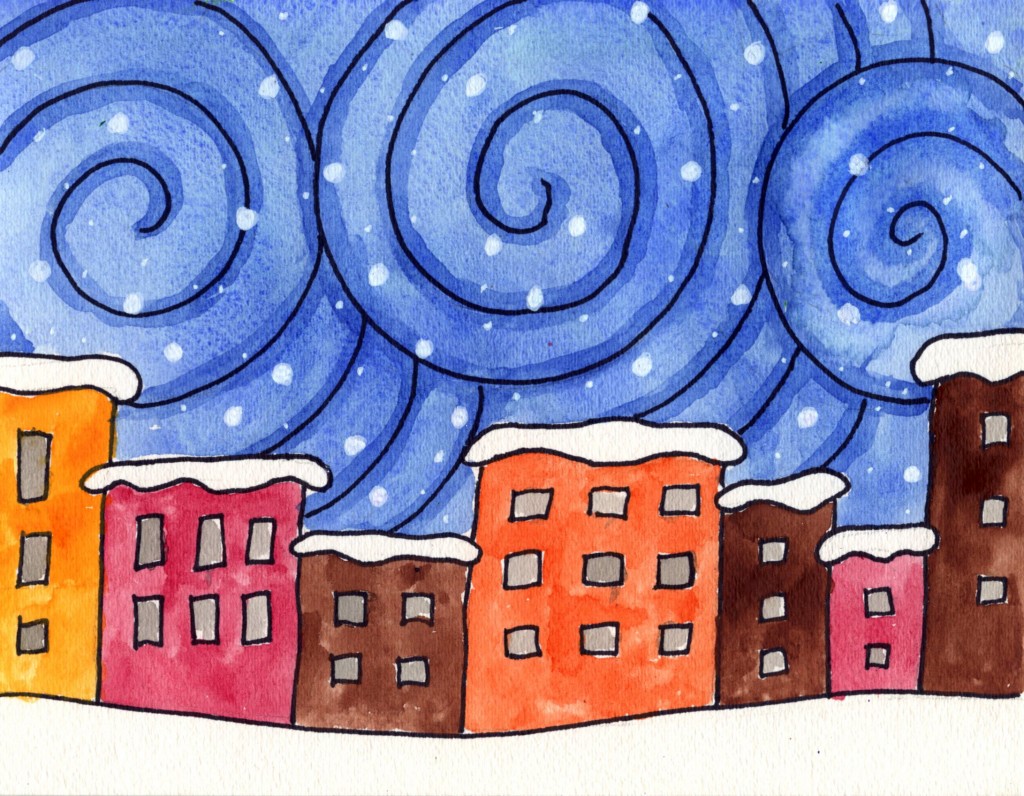 The best painting projects often come from some of the simplest of drawing projects. This snowy city sky is a series of buildings, with snow-topped roofs, sitting below a swirly sky. Easy to draw, and thus easy to paint.
The extra fun little twist to this painting is that the swirls in the sky, which are kind of "Starry Night" looking, are traced again with more blue paint after the first layer is dry. The extra paint creates a deeper layer of blue and makes those swirls look all the more mesmerizing.
For maximum results, I recommend using liquid watercolor paint on real watercolor paper. Years of painting with students taught me that it was the only way to get that really pretty textured color that watercolors are famous for.
MATERIALS
Snowy City Night Tutorial (click to open)
Watercolor paper
Sharpie, Black, fine tip
Watercolor paint, liquid works great
Tempera paint, white (for the snow)
DIRECTIONS
Time needed: 1 hour.
Draw and Paint a Snowy Winter Night
Draw a snow base line.

Draw three large buildings with snow tops.

Add smaller buildings on the left.

Add smaller buildings on the right.

Fill the buildings with windows.

Start the large swirls in the sky.

Continue the swirls in the background.

Trace with a marker and paint the buildings.

Paint the sky. Add another paint line over the swirls.
Splatter white tempera paint when dry.
More Landscape Projects