How to Draw the Great Seal of the United States and Coloring Page
Below you'll find an easy step-by-step tutorial for how to draw a the Great Seal of the United States and Great Seal Coloring Page. It is a principal symbol of our country.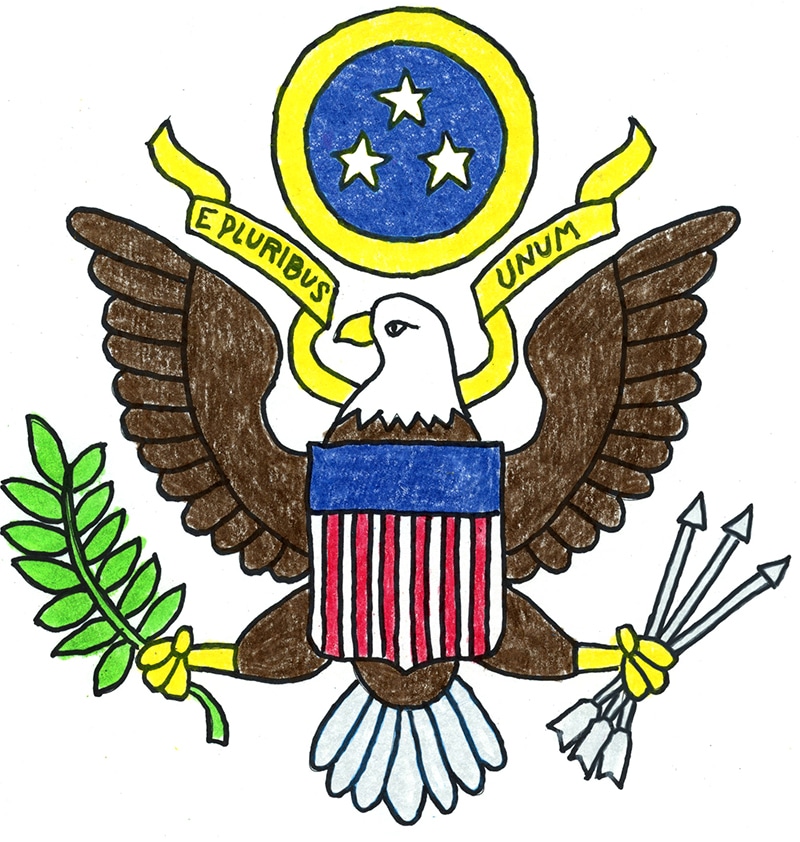 Now students can have some help in learning how to draw the Great Seal of the United States, which symbolizes independence and self-government of our country. At first glance, the design can look pretty complex, but it's really just made from a handful of things that students are probably already familiar with. If students take them all in a logical and symmetrical order, they can end up with a drawing they are sure to be proud of!
Here are a few facts about the Great Seal:
The Great Seal is used as our national coat of arms.
The Great Seal is used officially as decoration on military uniform buttons, on plaques, and above the entrances to U.S. embassies and consulates.
Both the seal and the reverse, which is never used as a seal, appear on the one-dollar bill.
The Secretary of State is the official custodian of the Great Seal.
Thirteen is an important number used in the Great Seal. It represents the original colonies and first 13 states: Connecticut, Delaware, Georgia, Maryland, Massachusetts, New Hampshire, New Jersey, New York, North Carolina, Pennsylvania, Rhode Island, South Carolina, and Virginia.
There are also 13 stars in the crest above the eagle; 13 stripes in the shield; 13 arrows in the eagle's left claw; 13 olives and leaves in the eagle's right claw; and 13 letters in the motto E Pluribus Unum.
Join "The Daily Draw" below to get this free download!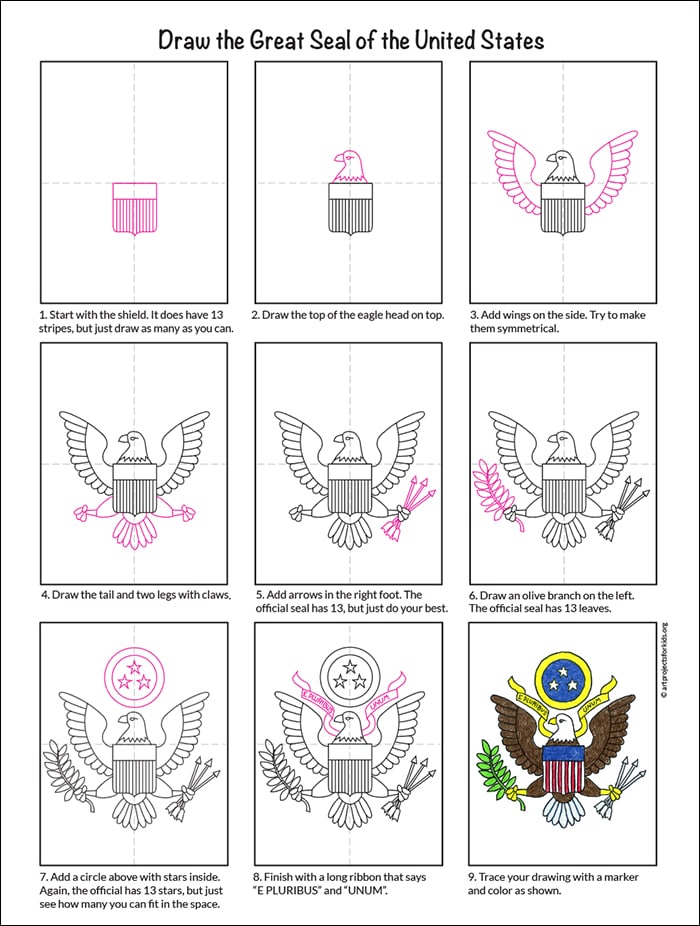 Great Seal of the United States Coloring Page
Materials to Draw the Great Seal
Drawing Paper. This is the good stuff you can buy in bulk for a good price.
Pencils. I like how this brand always makes nice dark lines.
Black Marker. A permanent marker will give you a dark black color.
Note: All of the above are Amazon affiliate links.
Step by Step Directions for a Great Seal Drawing
Time needed: 1 hour.
Step by Step directions to draw the US Great Seal
Draw a shield. The official design has 13 stripes, just try to draw as many as you can.

Draw the top of an eagle head.

Add wings on the sides. Try to make them symmetrical.

Draw the tail and two legs with claws.

Add arrows in the right foot. The official seal has 13, but 3 will be fine here.

Draw an olive branch on the left. The official seal has 13 leaves.

Add a circle above with stars inside. The official seal has 13 stars, just draw as many as you can.

Finish with a ribbon that says "E PLURIBUS" and "UNUM".

Trace with a marker and color as shown.
More Patriotic Things to Draw