How to Draw the Statue of Liberty Tutorial Video and Coloring Pages
Below you'll find an easy step-by-step lesson for how to draw the Statue of Liberty Tutorial Video and a Statue of Liberty Coloring Page. A lesson to draw just her face is included too!
Save
Statue of Liberty Tutorial Video
Lots of students learning about American symbols in their classroom studies, so learning how to draw the Statue of Liberty can be the perfect complementary art project. Not only will they get some good body drawing practice in, they will be more likely to remember her details, like how many spikes are on her crown. Or what she is holding in her hand.
I've experimented with different levels of complexity for learning how to draw Lady Liberty, and this one is now my favorite. And if students fold their paper to get guide lines like mine, they will get some help in knowing just where to start with her head, and so on. The tutorial proceeds with drawing just a basic robed body shape, and then adding her arms and finally a draped section of her robe.
If you like to read matching books to your projects, I have the perfect one for you. A former kindergarten teacher had this one (she found a large version) and I used to read it to the students before they got started. It's got just the right amount of history and illustrations to show all that happened before Lady Liberty came to stand on Ellis Island. "The Story of the Statue of Liberty" by Betsy and Giulio Maestro is an affiliate link, but I only do that for books I know and love.
The Statue of Liberty is one of the most famous structures in the United States. Years ago, when immigrants passed through the halls of Ellis Island, the Statue of Liberty was the first thing they saw. Learning how to draw her can add a great appreciation for what she has come to symbolize.
Join "The Daily Draw" below to get this free download!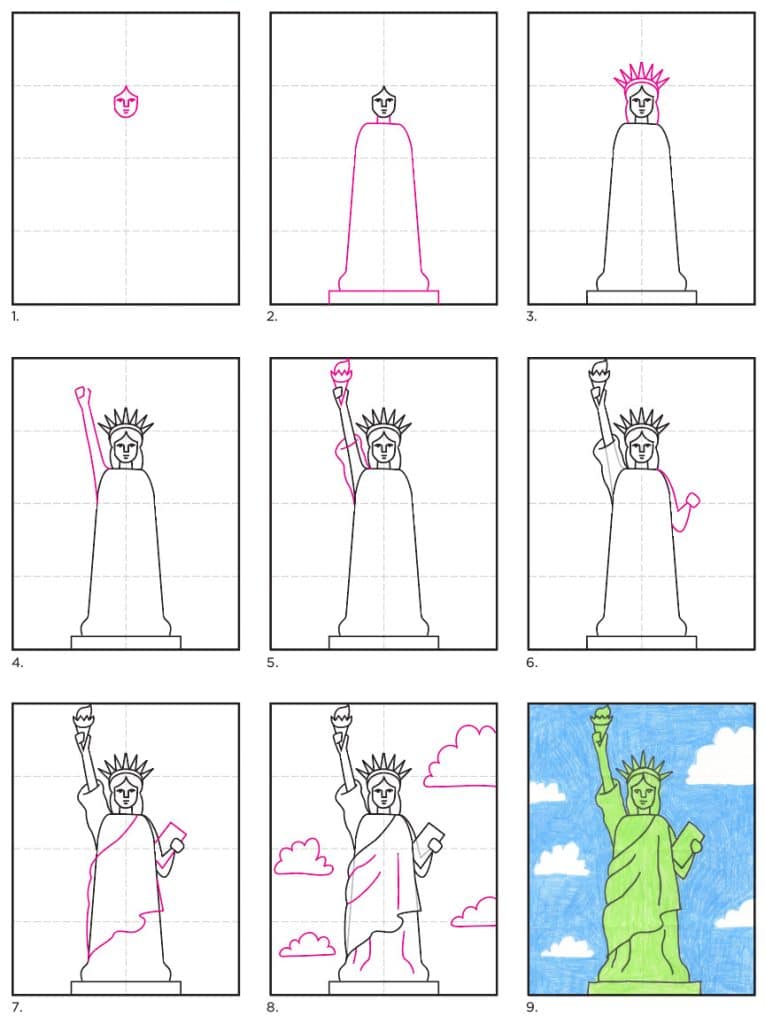 Statue of Liberty Coloring Page
Statue of Liberty Tracing Page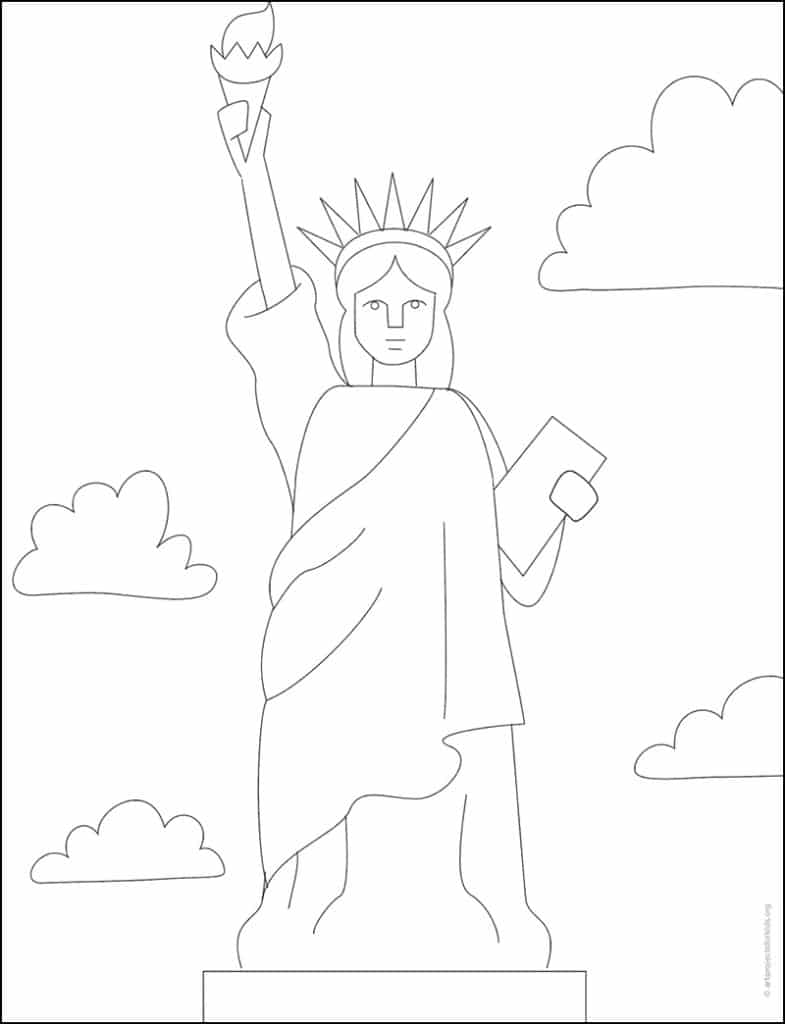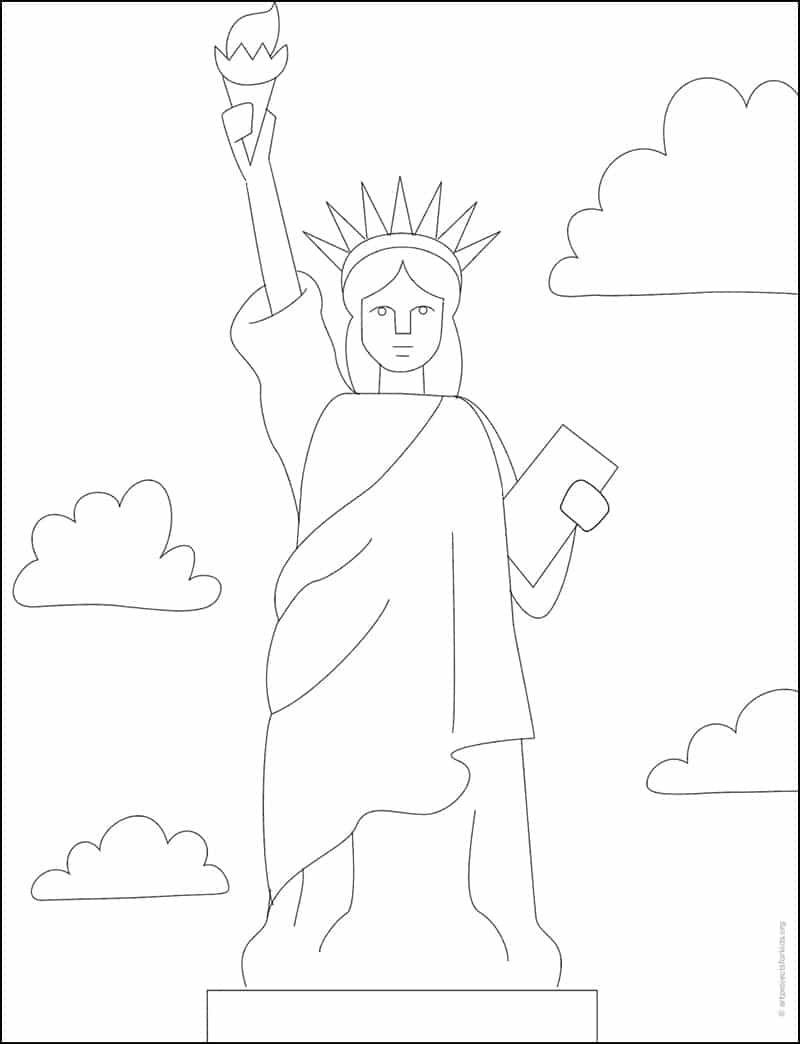 Materials for Statue of Liberty Drawing
Drawing Paper. This is good, sturdy drawing paper that you can buy in bulk.
Pencils. Don't waste your money on the cheapest brand. These make nice dark lines.
Black Marker. The perfect medium size tip marker. Not to thin, not too thick.
Crayola Crayons. They have a few of my very favorite colors, like their light sky blue.
Prang Crayons. These are eco-friendly and can sometimes look almost like like oil pastels.
Note: All of the above are Amazon affiliate links.
How to Draw the Statue of Liberty
Time needed: 45 minutes.
Draw the Statue of Liberty
Draw a face.

Add the robe and platform below.

Draw the crown and hair.

Add a simple arm shape.

Draw the flame and sleeve.

Erase the lines and draw other arm.

Add the robe shape and tablet.

Erase, add fold lines.

Trace and color.
Draw an Super Easy Statue of Liberty
The Statue of Liberty as a Watercolor Resist Project
Student Inspiration
More Patriotic Drawing Projects