One of my favorite winter art projects for kids uses bleeding tissue paper to create a lovely swirl of snowy skies with a very random blend of color.
All you need to make these lovely blue and purple winter skies is watercolor paper, bleeding tissue paper, and water. (Please see the link below for an example bleeding tissue paper, which is very different from regular tissue paper. Regular tissue, or any tissue that does NOT specifically say it is bleeding tissue, will not bleed at all.)
You would think that wetting a bunch of these bleeding tissue paper squares would leave geometric shapes behind, but instead, they swirl together and make a very soft mix of color. It's a great way to have young artists see how pretty gently mixed colors can be, something that is easy to overdue when they mix colors the conventional way. The randomness that happens that makes a kinds of pretty skies, no matter what level your painting skills happen to be at.
MATERIALS TO MAKE SNOWY SKIES
Water in container and brush
*The above product links are referrals. If you click through and take action, I'll be compensated a small amount, at no extra expense to you.
DIRECTIONS
PREP: Cut watercolor paper to ATC size, if making cards (2.5″ x 3.5″)
Cut blue and purple tissue to 1″ squares or smaller, approximately.
1. Students draw an assortment of line trees on the bottom of their cards. Some should be large, some small.
2. The sky is made from brushing water where it is desired, and placing an assortment of overlapping tissue squares on top. Let sit for about 5 minutes.
3. Carefully remove the tissue squares. Let dry.
4. Use a white Sharpie paint marker to add dots of snow in the sky.SaveSaveSaveSaveSave
LOOKING FOR MORE DRAWING PROJECT IDEAS?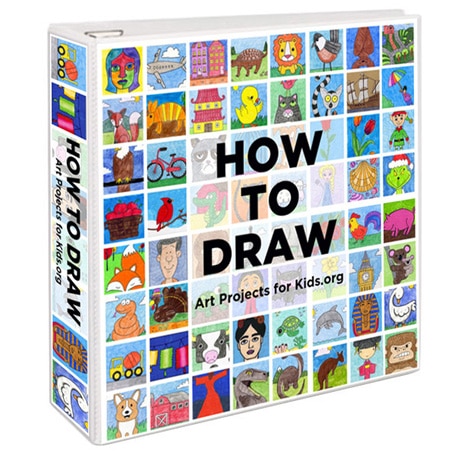 There are 200 fun and easy drawing tutorials made just for young artists in my giant How To Draw ebook.
All were created with lots of hands on classroom testing, and designed to take beginner artists from the first step to the last with clear and simple diagrams.
It's all you need to provide hours of drawing fun with tutorials for Animals, Fish, Insects, Birds, Landscapes, Plants, Transportation, People and much more. Just click on the book or title to learn more.